It starts on the train that takes me from Monterosso to the other four towns know collectively as Cinque Terre.
Couples are either overly affectionate (in the get-a-room way), while others, tipsy from day drinking, are getting into little tiffs (presumably for the make-up sex). It's as if a tiny cupid fairy is flitting through the cars. Passions have been ignited.
These five towns on Italy's Ligurian coast have been luring lovers since the 11th century, and tourism boomed when the rail system connected the rest of the country in the 1970s.
Truthfully, I have been beckoning my partner to take me for about six years with no success. So when I heard that the babes at Riomaggiore-based Italian Fix were coordinating a writers' workshop for June, I was all in for the all-female affair.
So on June 25, Eurail pass in hand, I was en route to a dreamy destination.
Upon arrival, and meeting Amy – the American expat who owns and operates Riomaggiore Reservations with her Italian husband – I was promptly taken up to a spacious studio with a spectacular view of the ocean. Nothing quite like going to sleep and waking up to the sound of waves.
Buongiorno
There are a few café bars that dot both sides of Via Colombo so take your pick in the morning. Although, the best coffee and food is really inside the tiny pasticcerias and panetterias. While they don't offer seating, there are a million stairs that can do the job. Fuori Rotta provided the daily croissants for our workshop and I'm not quite sure when or where I have had better.
Vertical Bar is a sweet spot for lunch (have the tuna salad) or evening aperitivo. Further up the hill, next to the church of San Giovanni Battista, is where you will find Fuori Rotta. The bistro is a lovely scenic spot to start or end the day with panoramas of the town and surrounding.
Buonasera
There are only ten restaurants here, but don't stress over slim pickings. Just make a reservation and relax. There are also a few in-and-outs offering takeaway, but if planning to stay for a few nights, I suggest renting a room with a kitchenette just in case. Mine saved me on a couple of occasions.
On Via Colombo, La Lampara serves a lovely linguine with clams.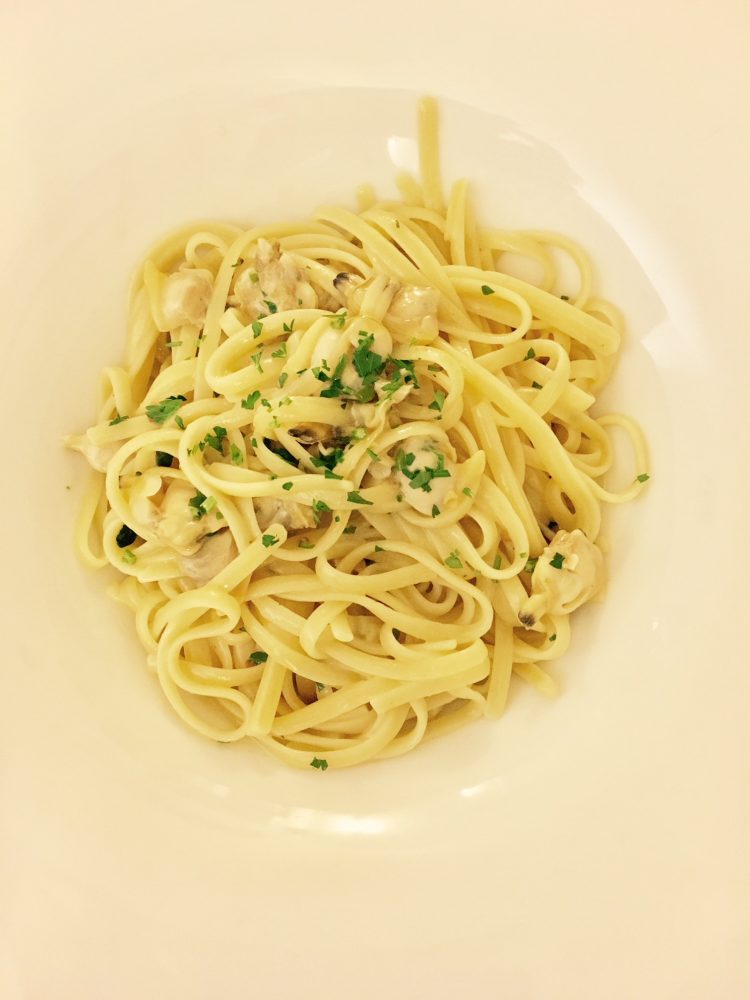 If you prefer a seaside vibe and view, A Pie' de Ma' – located above the train station – will not disappoint.
Down in the marina, it's either Dau Cila, or Rio Bistro… the latter has received rave reviews in the New York Times
The fact there is no beach can actually be seen as a good thing. Personally, I can do with out sand and had zero issues with sunning myself on the flat rocks and jumping in to cool off.
However, if you're the sand-to-sea type, there are options, but go early in the day or risk a crushing crowd.
Hiking between the five towns is a popular day activity and, depending on the trail, can take between two and five hours. Roughly… If you don't get lost. Best to consult with and/or hire a guide before heading out.
After a couple of, let's say, un-delightful experiences, it is worth noting that the whole concept of customer service can get lost in some spots on this coast. Keep it in mind, as it's never quite as shocking if you expect it. But then, if cupid hits you hard enough with his arrow, you may not even notice.
Images courtesy of the author.
 Sara Graham is an entrepreneur and expat currently based in Turin, Italy.
She is also the author of How To Make Big Moves: Relocate Without Losing Your Mind.
When it comes to travel, Sara's beat is relatable luxury: booking boutique hotels that don't break the bank; eating and drinking like a local; discovering what the thinking traveler wants to do in destinations around the world. She draws from a bank of rich experiences ranging from rafting adventures in New Zealand and hiking in Honduras, to hanging out in Brooklyn and brunching in Bermuda. Sara is on Instagram @freshpresse.