by Vejay Steede
Dr Amne Osseyran has always been a high achiever. Breezing through the Bermuda Public School System with an easy grace and unbridled drive to always do her best, Amne has forged a path that would impress even the most iconic figures this island has ever produced. 
I hope that my skill set, developed through my degrees, can directly help others; that I help my people whenever I can and always reach back to pull someone else forward." 
Currently, Dr Osseyran is a key consultant in Bermuda's effort to contain and treat the global COVID-19 pandemic, as well as a General Practitioner at Island Health Services in St. George's. She is also a single mother of four, a former dancer who achieved professional level proficiency, a Berkeleyite who finished at the top of her class in every year she attended the academy, and a fully qualified physician of clinical forensic medicine.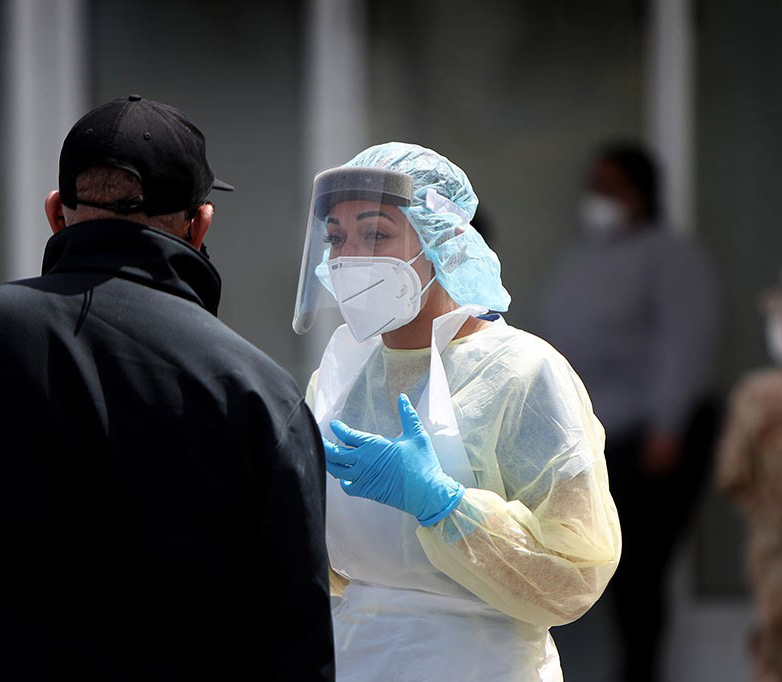 When we consider that Dr Osseyran is in her thirties, these accomplishments become even more astounding. While always a gifted academic and a soulful artist, her passion became forensic medicine through her experiences at the King Edward Memorial Hospital while she was still a high school student. 
"I began volunteering at the KEMH Pathology department under Dr K.C. Cunningham in 1999, where I assisted with tissue samples, pap smear processing and, most importantly, autopsies through an awesome woman, Mrs Donna Stowe. Through this experience I knew that forensics was the path for me." 
From here, there was no stopping Amne. She headed to the University of East London, where she would earn a BSc with Honours in Forensic Science by 2002, finishing in the top 5% of the entire university while pregnant with her first child during her first year. 
Even while she was dazzling the academics in London, she kept her work in Bermuda close to her heart. "I continued working in the KEMH lab during all breaks and was present for the conversion from conventional pap smears to liquid pap testing. I was the person trained by the ThinPrep representative on the equipment and process; I was subsequently responsible for preparing all the pap smears for cytology analysis and taught the full-time staff how to operate the equipment. During the prepping of all the paps I took note of the high levels of HPV and other STDs in our population and the dearth of testing opportunities for males." 
These years saw Dr Osseyran make significant contributions to the detection and treatment of HPV in males: "My experience in the KEMH lab led to the desire to ensure I was well versed in all aspects of the pathology department. I therefore joined the MSc in Biomedical Science course and again began research. My curiosity about the annual testing of women and entire lack of testing on men with regards to HPV… led to my interest in identifying a non-invasive means of testing males. I used the knowledge gained through the ThinPrep training to hypothesize that male urine could be concentrated and stored in the fixative and spun down in the ThinPrep machine for analysis. 
"The research was promising and the abstract for it was published in the UICC (International Cancer Congress Journal) and I was subsequently invited to the global conferences in Geneva. While there I met the man who discovered HPV, and, on a whim, shared my research (that was successful due to help from Dr C. Wilson, and Mrs Wilkinson and the prisoners of Westgate correctional facility); it impressed him a great deal. I invited him to Bermuda and he graciously accepted, attended, gave a phenomenal lecture, and gave me a personal reference and recommended that I attend medical school to fulfil my dream of being a doctor. Shortly thereafter, Professor Harald zur Hausen became the 2008 Nobel Laureate in Medicine." 
Having already impressed bona fide world changers, Amne set out to study, research, train, and help humanity as best she could. Nothing would slow her charge. From Queen Mary College for her MSc in Forensic Medicine to the University of the West Indies Medical School for her MBBS degree, to KEMH, Mid-Atlantic Wellness Institute, and a dozen hospitals in Jamaica for training, Amne's path was intensive and thorough. 
Reflecting on how this path has impacted her growth, Dr. Osseyran offers the following wisdom: "I was forced to understand that my best is not done, nor is my best expected, in order to be rewarded or recognized – those things are never guarantees. This lesson nurtured my humility and through some harsh examples I understood the greater purpose of doing your best – it is me challenging me to be a better me for a greater good. The work rarely gets rewarded, but it will be recognized; even if it's eventually." 
Being the daughter of Government MP Lovitta Foggo, Dr. Osseyran's legacy of service is strong, and her commitment to excellence is decidedly inspiring. "I hope that my skill set, developed through my degrees, can directly help others – that I serve patients with patience, that I am compassionate, and that I always practice with integrity; that I help my people whenever I can and always reach back to pull someone else forward."