Well it's not really my New Hampshire of course, it's definitely theirs, but that's just the thing, they welcome you like a native as long as you bring your manners.
Their license plates say Live Free or Die; however, I might suggest it say Live Free or Don't Give up so Easily.
It is quintessentially New England; calm, reserved, with a dash of practicality and humility. Bermudians say it is reminiscent of genteel Bermuda of the 1950s.
Bermudians say that because there's so many of them in and among the lakes and hills. Maybe 30 families I know of. We only see each other at Hannafords supermarket pushing overflowing carts for reasons only a Bermudian appreciates.
I learnt to ski on King Ridge 30-odd years ago. I was fortunate to have a friend and neighbour with a house on Pleasant Lake and visited enough to form an attachment. King Ridge is now condos.
New London is our home away from home, perched 500 feet above Pleasant Lake with a 20-mile view. It was purchased during the economic meltdown of 2008 from a Boston Red Sox pitcher for half price. Ten acres of woods surround us with a 1,000 more of state owned forest, replete with turkeys, deer, chipmunks, snakes and a black bear which we thought was a St Bernard until it saw us and ran. We were too shocked to run.
New Hampshire is where the Presidential hopefuls come to gauge the considered opinions of right-thinking folk. It is a state that eschews sales tax. We like that.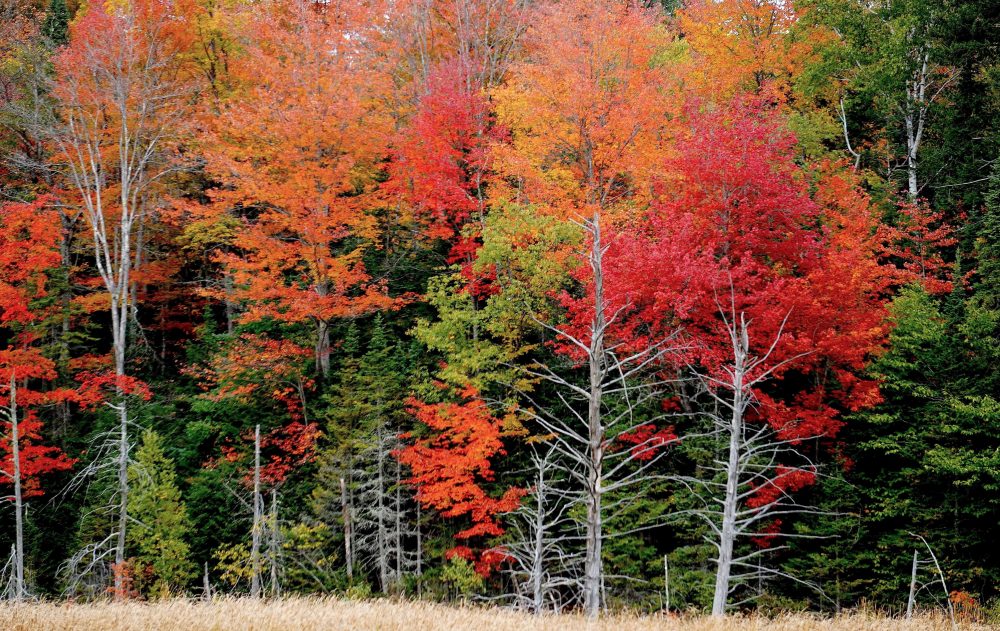 It is a mere 45-minutes from Logan Airport to the first toll booth and three more minutes to the highway state-controlled liquor supermarket. They come from all surrounding states to enjoy those tax free offerings.
New London and Lake Sunapee are only an hour and a half from Logan so you can be in the hills witnessing the fall leaf change only four hours after leaving the Rock. The first ten days of October are the best bet for maximum colour.
The higher you live, the more you get to see. There are drives further north that offer a great show of fall foliage, such as the Kancamagus Highway running along Route 112 just west of the lakes region. There are hundreds of varying size lakes, populated by hundreds of varying size boats. Premium location is always lakeside unless you are Bermudian. We prefer the higher elevations with a view since that lake water can't hold a candle to Bermuda blue and we went up there to get away right? Not have a flotilla parade by all day!
Meredith is a relaxing lakeside town worth a visit in summer, boasting some tasty lobster restaurants, craft markets and fairs.
Numerous prep schools dot the New Hampshire landscape and are a favourite of Bermudians who have mortgaged their homes to pay the tuition and board. There are antique stores in most towns although not antique to us, more along the lines of vintage 19th century but if you really like that sort of thing, cross the state line up route 89 North and take exit one towards Quechee, Vermont. Halfway, there is a two-storey antique mall which is very impressive.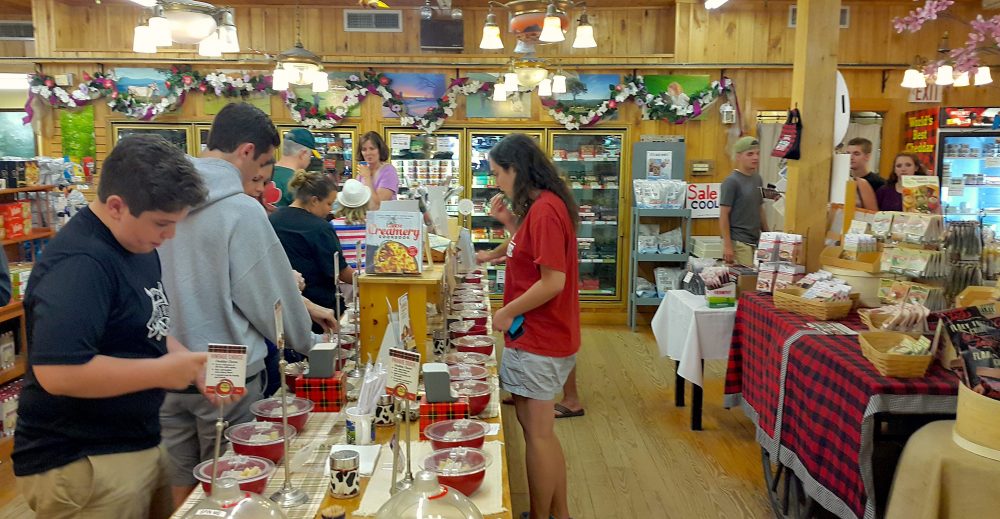 The Cabot cheese store is next door, ideal if you are hungry and have no money. The samples are numerous along with chips, dips and special popcorn.
You can even sample some sparkling wine produced nearby, as we do after all that free cheese.
If you are a fan of rock band Aerosmith, Steve Tyler is often seen in New London and nearby music bars. If you're not a fan then don't expect to see Kim Kardashian!
There are nights that are so quiet you can hear the squirrels' nails as they tunnel through the attic or wherever they crawl hiding the acorns.
New Yorkers can't handle that level of quiet as I have found when they visit. It is also pitch black at night, so dark you can see remnants of the Big Bang.
Farm fresh produce can be found at Spring Ledge Farm along with homemade butter, real milk with cream in old style milk bottles. Fresh corn? How about four ears for a dollar?
Giant heirloom tomatoes, Bison steaks, micro greens and some of the best homemade chocolate chip cookies we should not be eating.
Restaurants worth trying are Peter Christians, The Flying Goose with 17 types of handcrafted beer, The Millstone and Elixir (White River Junction).
The cars stop for you to cross even when there is no crosswalk. It's embarrassing when they stop because you "look like" you want to cross when you really don't.
Bermudians are known to pay their bills and local plumbers will beat a path to your door anytime to haul up that 525-foot deep water pump that silted up.
So that's my New Hampshire.