"One of Bermuda's great talents." That is how Mr Lloyd Simmons is described by national treasure, Mr Gene Steede, which says something.
As if 2022 wasn't enough of a challenging year, Bermuda lost another treasure in the person of Mr Lloyd Simmons. President of the Bermuda Entertainment Union (BEU, formerly the Bermuda Federation of Musicians and Varity Artists, or BFMVA), Entertainer, Cultural Ambassador, Calypsonian, and more, the loss of Mr Simmons is another significant blow for Bermuda.
Listed alongside other greats, such as guitarist/ singer Hubert Smith, trumpeter Ghandi Burgess, and pianist/singer/producer Leroy Simmons, Lloyd was a pillar of hope during a challenging time in the entertainment industry. He is noted to have single-handedly kept the BEU in good financial standing, thus sustaining their status as a registered Trade Union, and having a voice at the table at the Bermuda Trade Union Congress (BTUC).
Lloyd Herman Lester Simmons accomplished much in his 88 years on this earth, and there are numerous friends, extended family, and fellow musicians that remember him fondly. He was always professional, often donning the vivid colours and tropical motif of the Calypsonian; he was indeed one of Bermuda's greatest Calypsonians. By all accounts, Mr Simmons was also a very charismatic performer, and a generally classy human being.
Gene Steede recalled, "As a young man he was a body builder, and he won many contests on the island. He worked as a mason, as a carpenter, and he lost a finger while doing this kind of work. After the accident, he taught himself to play piano. He had a great sense of humour, and loved to make people laugh. He was a well-loved person, and we shall miss him."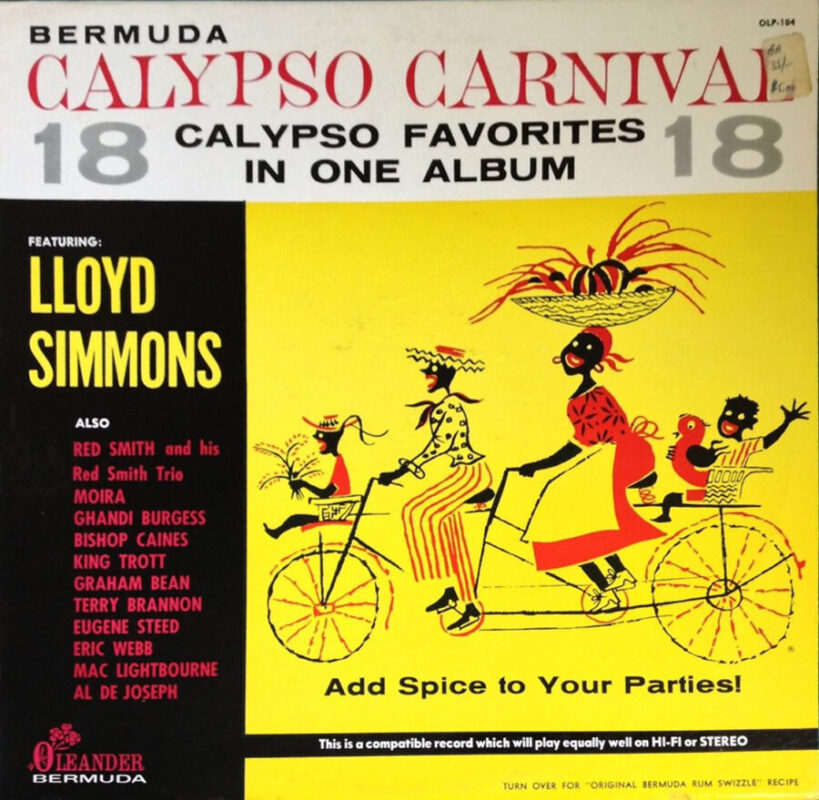 Lloyd pushed out multiple albums – Calypso Carnival, This is Lloyd Simmons, Calypso Party, Lloyd Simmons with Esso Steel Band of Bermuda – and popularized the Calypso sound in Bermuda, along with such local luminaries as Stan 'Lord Necktie' Seymour, the Talbot Brothers, and the Bermuda Strollers. Mr Simmons, for a time, epitomized what Calypso was in Bermuda, providing many a lasting memory for countless locals and visitors.
"He was quite a famous entertainer back in the day. He played a nice, smooth guitar," recalls Cranston Warren, Sr. "He was a skilled guitarist – his chord changes within the calypso songs were smooth!"
In the 1950s-1960s, you would see Lloyd jammin' it up with the likes of Gene Steede, Joe Benjamin, and many others. Contemporaneous adverts in the local papers reveal that he did regular gigs at the Inverurie Hotel in Paget, the Atlantic Beach Club, and other popular spots.
"Lloyd did many things to make a living," Gene Steede shared. "Lloyd played guitar and sang in most of the hotels in Bermuda, and The White Horse Tavern."
Wendell 'Shine' Hayward admires, "What interrupted his (group) performing was that he lost one of his fingers! But he continued to play and perform as a solo artist. As a person, I found Lloyd easy to talk to, and he was always cordial. It didn't matter if we were talking about Union (BEU) work or music in general."
With the spectre of a gradual decline in viable gigs for local musicians, and a decline in international artists coming to work in Bermuda to contend with, Mr Simmons definitely had his work cut out for him. As a matter of fact, keeping a Union for Bermuda's musicians and entertainers alive at all seems to have been a constant challenge; but Mr Simmons was a stubborn unionist, and weathered the raging storm almost single-handedly at times.
Prior to the BFMVA, the Bermuda Musicians and Entertainers Union was started on October 1, 1953. Within the first two years, there were challenges to have regular meetings held and regular dues paid, and they ended up winding up around 1957, after the Annual Returns were not submitted to the Registrar General.
This means that the founders of the BFMVA – most likely – knew what was cut out for them when they established their union in 1968. Membership included Musicians, singers, dancers, promoters and event planners, audio & visual technicians, comedians, DJ's, magicians, actors, artist management, and the like. It wasn't until 2013 that their name changed to the BEU.
Their mission? "To promote, protect, prepare, and preserve entertainers, promoters, technicians and support staff as well as those who are legally authorized to visit and execute such duties in Bermuda." Noble – and needed – indeed.
In his later years, as Gene Steede recollects, Mr Simmons last place of employment was entertaining visitors as they moved through Bermuda Customs and Immigration at the L. Frederick Wade International Airport. There are surely many a visitor – and returning local alike – that will fondly recall Lloyd welcoming them to Bermuda.
Bermuda will always remember Mr Lloyd Simmons as each of his classic Calypso songs is played, or sung. May his soul rest in peace, and may his legacy never be forgotten.