by Annabel Cooper
Spring is around the corner heralding the arrival of warmer weather, kites, fish cakes and Easter eggs. For many, this is a time spent with extended family and friends, sharing food and revisiting traditions passed onto us by our parents and grandparents. 
For those of us in our 40s, it is important that we pass on these traditions to the younger generation, but what if you can't remember or never quite mastered how to create your own kite or make your own fishcake? Don't panic, expert help is out there. 
Kite Flying 
Watching brightly coloured, home-made Bermuda kites flying high and humming loudly above the island's beaches is a highlight of Good Friday. To make your own, however, requires practice and skill, as does flying it. 
One of Bermuda's most outstanding kite makers is Eugene O'Connor Sr, AKA the 'Kite Master'. He has devoted over 75 years of his life to perfecting this art. 
While he enjoys making and selling his own kites, he believes the skill is an important part of Bermuda's culture and heritage and he delights in teaching people how to make their own. He offers in-person and online tutorials and has authored 'The Art of Kite Making', "to help the kids work out how to do it." 
Before you start, you need supplies. To make your own frame, you need sticks, cane, a small saw, hammer, nail, and string for the loop. To decorate you need scissors, tape, coloured tissue paper and glue. To fly the kite, you need the right amount of string and about 8 – 10 feet of old cloth for the tail. 
The best place to get all your supplies, says Mr O'Connor, is The Annex Toys on Reid Street. 
To watch Mr O'Connor's online tutorial, visit: https://www. youtube.com/watch?v=gf0P7dfI5JE; You can also follow him on Facebook, fb.me/BermudaKiteMaster, and Instagram @bermudakitemaster. His book, The Art of Kite Making, is available at Brown & Co and The Bermuda Book Store. 
Fish Cakes 
What to do when you're not flying a kite? Eat a freshly made fish cake in a hot cross bun of course, but if you've never made one before, try Bermudian food blogger Shay Ford's recipe on her blog, My Eager Eats: https://myeagereats.com/bermuda-cod-fish-cakes/. 
She makes it simple to follow, so if you're feeling brave, the kids can help too. If you're going to enjoy yours with tartar sauce however, she recommends homemade over shop-bought, obviously, and there's a great recipe for that too: https://myeagereats.com/?s=tartar+sauce. 
New Traditions 
Who says you have to stick with the old? Why not start some new traditions with your family or friends? 
For a start, cards and trees don't just have to be for Christmas. 'Yarn twig trees', sold in Island Trading, can be used year after year. Add a truly island feel by adorning it with their bikini and swim shorts-wearing starfish ornaments or keep with tradition by hanging decorative Easter eggs. 
Easter cards are available from ESC to let your loved ones know you are thinking about them at this special time of year as well as Easter candles. Other decorative Easter-themed items are also available at Sousa's Gardens.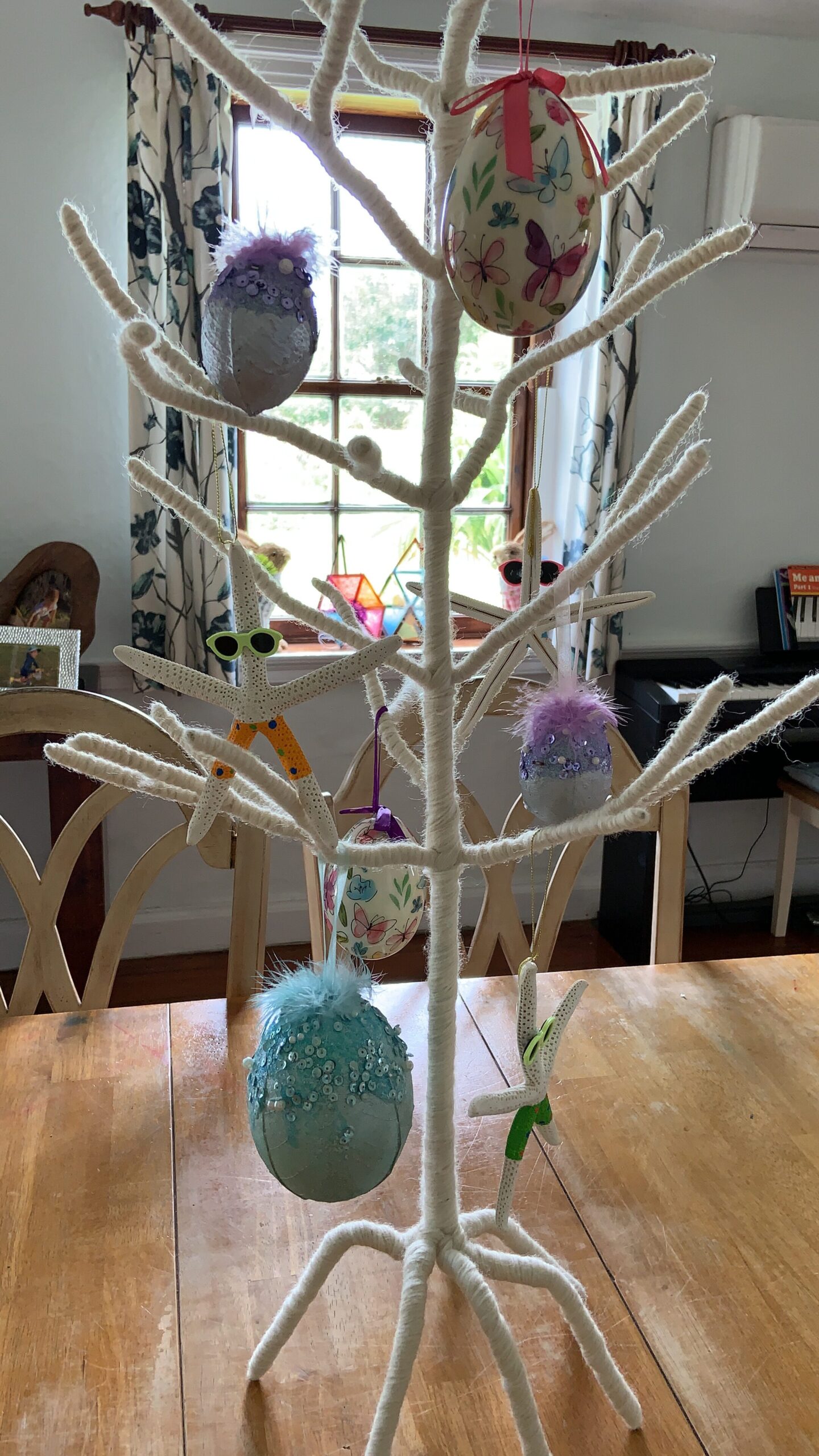 Get Crafty 
Homemade crafts are always precious, especially if they've been made by the young ones in your life. 
Make a simple Bermuda kite using craft sticks, tissue paper and glue, and place it on a windowsill for the sun to shine through. 
How about a homemade hanging egg for your 'tree' using card, ribbon, glitter glue, feathers, and wild imagination? The Stationary Store's Burnaby Street location, has a colourful array of craft items to choose from.