Bermudian is empowering young people in Ghana through his passion for golf
BY Nadia Laws
Life can take you in some incredible and unexpected directions if you're willing to take some risks, and step outside your comfort zone.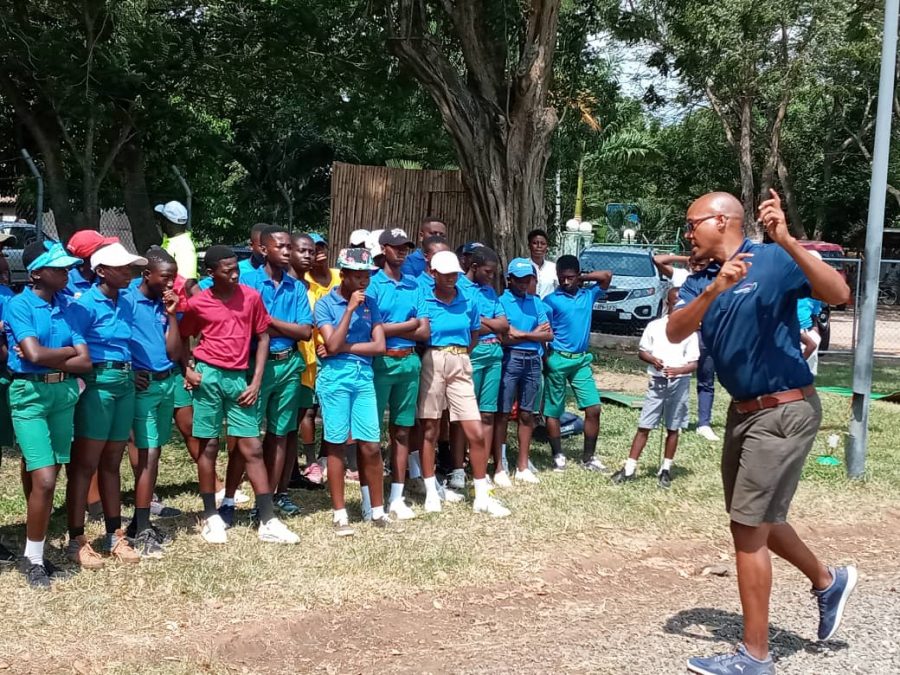 So learnt Quinton Sherlock, a former Bermuda College lecturer and educator, who left the Island six years ago to move to Ghana in West Africa.
"I initially came here in 2013 to study for a Master's degree in African Studies at the University of Ghana in Legon," Mr Sherlock explains. "My expectation was to learn more about the history and the culture of the country, but then while in my second year of my programme, my path took a sudden turn. I became engrossed in the world of philanthropy through one of my contemporaries whose wife needed support running her NGO."
Mr Sherlock agreed to fill in for his friend's wife by overseeing her non-governmental organisation (NGO) for eight months while she handled some urgent business abroad. That one decision changed the trajectory of his life.
"Through the NGO, I helped young people in an urban slum area called Chorkor," he says. "It's a densely populated area with a lot of poverty. The other volunteers and I would go into the community hoping to make a positive impact through the NGO's afterschool programme, which helped children with their homework, and also a feeding programme within the slum."
Following that experience, Mr Sherlock got an idea. He saw there were many other small communities around Ghana in need of support, so he launched Ace It Foundation in 2015, with the aim of empowering the next generation of student athletes. Based in Gomoa Fetteh, a coastal town in the Central Region of Ghana, Mr Sherlock's NGO has successfully provided academic support, as well as beginner and intermediate golf lessons, to dozens of young people in the community.
"We're starting to see some of the rewards now and feel a sense of success when we look back at what we've accomplished," Mr Sherlock says. "We started out just doing vocabulary and reading comprehension activities with the young people, but then added in golf classes to the curriculum as well. I've always been an avid golfer and started playing the sport at age ten. It's offered me a lot of opportunities such as travelling through the US to represent Bermuda, scholarships for university and much more."
In fact, he recalls his first visit to the African continent was through a professional golf tour in Morocco in North Africa.
"To put it plainly, golf is a huge passion of mine. It's an honour to share this sport with those who wouldn't otherwise have access to it," Mr Sherlock says. "The hope is that we can create some opportunities with these young people through golf and the good news is we're already starting to see that come to pass."
Mr Sherlock has admittedly learnt a lot about himself since moving to Ghana. By his late teens, he recalls going through "a period of soul searching" and becoming interested in learning more about his identity as a person of African descent.
"That desire was welling up within me, and I knew I had to explore more," he explains. "Throughout my life, one thing I've always been okay with is making leaps. When I make up my mind to do something, I just go for it."
Stepping foot in Ghana for the first time was a bit of a culture shock. Everywhere he looked, there were black people – and instead of being surrounded by ocean, all he could see was land, mostly undeveloped land.
"I saw it as a land of opportunity in that it's fairly easy, once you notice a gap, to get something established here in Ghana," he says. "The university is what got me here, but working with young people has always been my passion and is what keeps me here."
In addition to being an educator and working with the Family Centre, a local non-profit in Bermuda, Mr Sherlock served as President of the Bermuda Junior Golf Association and Ocean View Golf Club for four years before his departure. He says the Ghanaian people are "very welcoming and friendly", which has helped to ease the transition in moving there. Still, adjusting to life abroad hasn't all been easy.
"It's a different environment and as much as I may romanticise 'coming back home to Africa', you also have to be real about it. Here, I'm considered an outsider, and that comes with a certain level of interaction. People may try to take advantage of you in certain situations if you're not vigilant and aware. It's not that they're bad people, but they just don't have access to what you do."
While working at the NGO consumes most of his time, Mr Sherlock also teaches golf in the city at Achimoto Golf Club, one of Ghana's top courses. Each week, he also takes a handful of young people from the Ace It Foundation there so they can get real practice on the course.
He said one thing he's most grateful for since the move is the continuous support he gets from friends, family and former colleagues back home in Bermuda. He facilitates annual trips for local residents interested in volunteering in Ghana, with the Foundation's homeschool and junior high school programmes.
"Right now, I'm committed to the project I'm working on in Ghana, but I always consider Bermuda to be home. That's where my family and friends are – and I'm trying to see how I can create options to be in Bermuda a little more, and yet still keep the momentum going here in Ghana."