Traditionally,  thanksgiving dinner includes turkey, mashed potatoes and stuffing — here are some creative recipes with a twist on the classics that will have your loved ones looking forward to them every year.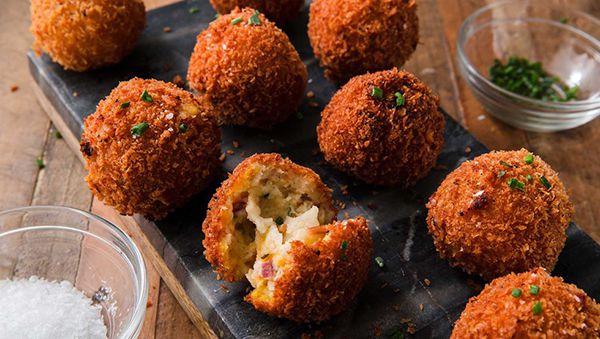 Ingredients
3 cups leftover mashed potatoes
3 slices bacon, cooked and crumbled
2/3 cups shredded cheddar cheese
2 tbsp. thinly sliced chives
1/2 tsp. garlic powder
Kosher salt
Freshly ground black pepper
2 eggs, beaten
1 1/3 cups panko bread crumbs
Directions
In a large bowl, combine mashed potatoes with cooked bacon, cheddar, chives, and garlic powder, and season with salt and pepper. Stir until all ingredients are incorporated.
Place eggs and panko in separate shallow bowls. Use a small cookie scoop to scoop 1" to 2" balls of mashed potato mixture. Roll into a ball in your hands, then dredge first in egg and then in panko. Repeat until all mashed potatoes are used.
Heat 3" of oil in a large cast iron skillet until candy thermometer reads 375°. Fry potato balls in batches until golden on all sides, 2 to 3 minutes. Drain on a paper towel lined plate and season immediately with more salt.
---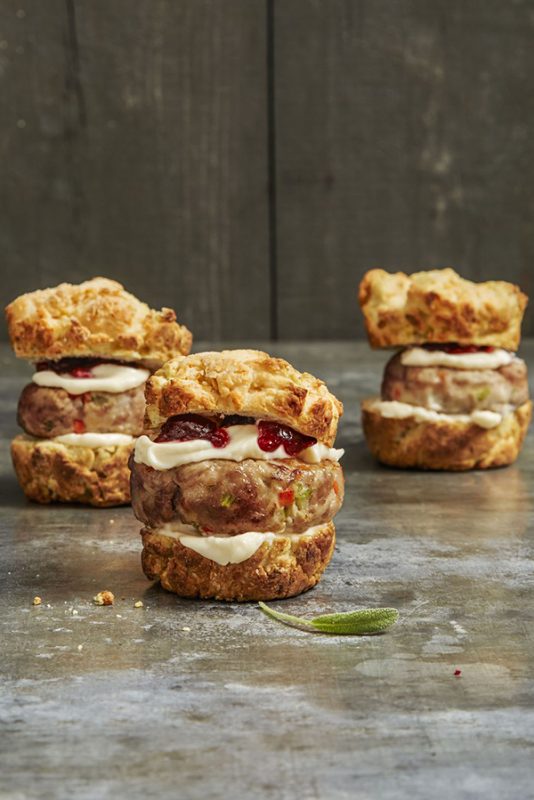 Ingredients
2 medium stalks celery, cut up
1 medium carrot, cut up
1 medium onion, cut up
1 tbsp. fresh thyme leaves
5 large leaves sage, torn
1 tbsp. extra-virgin olive oil
2 1/2 cups all-purpose flour
1 tbsp. sugar
1 tbsp. baking powder
1/2 tsp. baking soda
4 tbsp. butter, cut up and cold
1 1/4 cups buttermilk
1 1/2 lb. ground turkey (93% lean)
1/2 cups mayonnaise
1/4 cups cranberry preserves or sauce
Directions
In food processor, pulse celery, carrot, onion, thyme, and sage until finely chopped. In 12″ skillet, heat oil on medium. Add vegetable mixture and 1/4 teaspoon each salt and pepper; cook 15 minutes or until tender, stirring occasionally. Transfer to medium bowl; cook completely.
Preheat oven to 450 degrees F. Spray two 12-cup muffin pans with nonstick cooking spray. Line large rimmed baking sheet with parchment. In clean food processor bowl, pulse flour, sugar, baking powder, baking soda, and 3/4 teaspoon salt until blended. Add butter. Pulse until coarse crumbs form. Transfer mixture to large bowl. Stir in buttermilk, then one-third of cooked vegetable mixture until just blended. Divide among cups of prepared muffin pans (about 3 tablespoons each). Bake 15 minutes or until golden brown. Transfer biscuits from pans to wire racks; let cool slightly.
Meanwhile, in medium bowl, combine turkey, remaining cooked vegetable mixture, and 1/4 teaspoon salt until just combined. Form into 24 patties (2″ wide); place on prepared baking sheet. Bake 15 minutes or until cooked through (165 degrees F).
When biscuits are cool enough to handle, slice in half. Add turkey patties and dollops of mayo and cranberry preserves.
---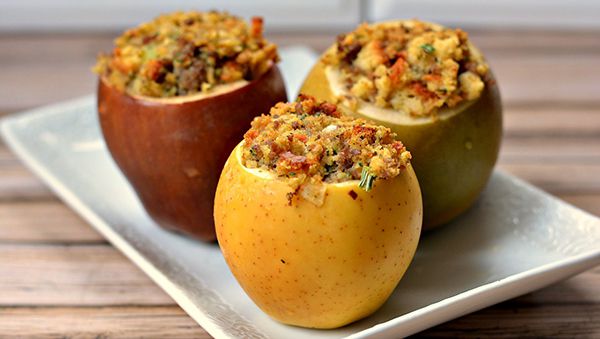 Ingredients
1 Tablespoon oil or butter
1 celery stalk, diced
1/4 cup finely diced onion
1/2 package sausage
1 box stuffing mix
1 1/4 cup Swanson's UNSALTED Chicken Broth (or the same amount of water called for on the instructions for the stuffing)
6-12 apples such as Granny Smith, Golden Delicious and Red Delicious
Directions
Heat the oil in a medium or large skillet over medium heat. Add the onion and the onion and the celery and cook until softened, about 2-3 minutes.
Add the sausage to the skillet and cook thoroughly making sure to break it up into crumbles. Remove from heat.
In a large bowl, stir together stuffing mix and sausage mixture. Add Swanson's chicken broth in the same amount as water is called for on the stuffing mix instructions. Mine called for 1 1/4 cups of water and I used 1 1/4 cups of chicken broth.
Stir the mixture together so that the stuffing is soft and moist. Feel free to add a little more broth if needed. Set the mix aside.
Prepare the apples:
Slice the very top of the apples off.
Use a spoon or a melon baller to carefully scoop out the entire core of the apple.
Repeat this for every apple.
Spoon stuffing in to the apples and place in a high sided baking dish.
Once all the apples are stuffed and in the dish, carefully pour an additional 1/4-12 cup of broth over the apples. Add another 1/4 cup to the bottom of the dish.
Bake uncovered at 350 degrees for about 30 minutes or until the apples are softened but not falling apart. If you don't want the stuffing to brown, cover the dish while baking.
---
Ingredients
8 ounces of Goats Milk, fat free Greek Yogurt, unsweetened Coconut Milk or any Vegan milk you desire
3 ounces unsweetened Pumpkin Purée
1/2 dropper full of Vanilla Stevia Drops, Honey or Maple Syrup to taste
1/4 teaspoon Pumpkin Pie Spice
Pinch of fine Sea Salt
Directions
In a bowl mix together all ingredients well.
Add sweetener to taste.
Pour into popsicle molds or dixie cups with about ¼ inch room at the top.
Lay a sheet of foil on top of the pop mold and poke sticks through.
Freeze for about 2 hours or until frozen solid.
Gently remove pops from molds.
Do you have any unique thanksgiving recipes that you and your family love? Share them with us on social media or email them to us at [email protected]