Delray Rawlins' cricketing journey has taken him from Bermuda to Delhi, Dubai and several places in between. Sydney is the latest stop on a road many expect will lead to a successful career in the English county game, and perhaps beyond.
Spending the winter in Australia is a well-trodden path in the professional ranks, with the hard nature of the game Down Under, and the quality of opposition, often acknowledged as an essential part of any young player's education.
Attached to Sydney Cricket Club, Delray is based near the Balmain suburb of Sydney, some 20 minutes from the city centre and world-famous attractions such as the Sydney Harbour Bridge, the Opera House and Darling Rocks.
In this issue of Big World, Delray talks spin bowling, leaving home, and why Christmas in Australia does not mean missing out on spending the day at the beach.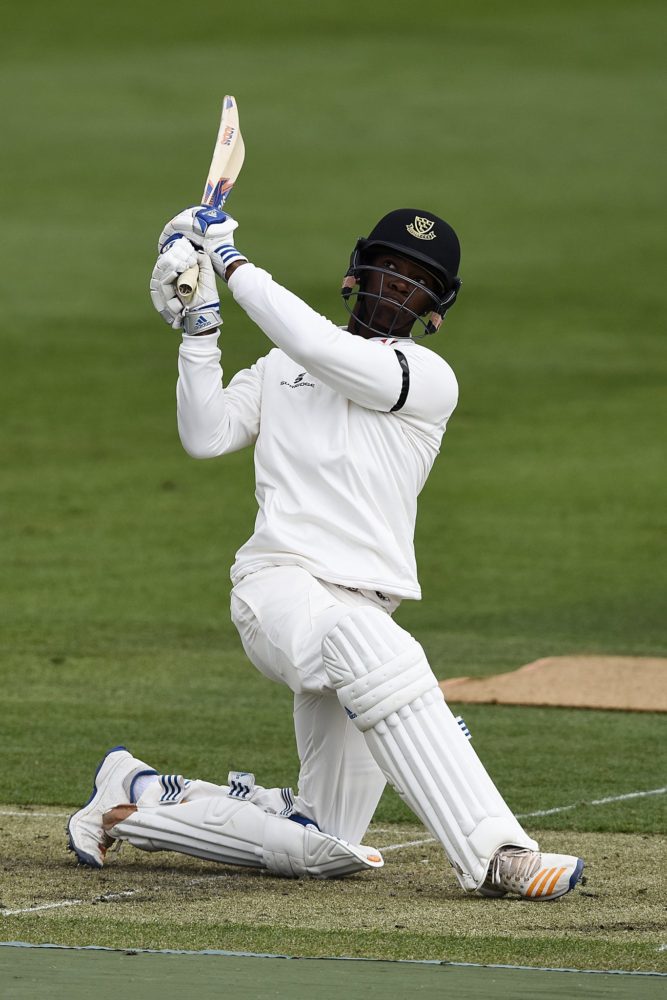 So, Delray, you've been in Australia for a couple of months, how are you finding it?
"Pretty good so far, the weather has been average, but I'm enjoying it. It rained a few times but it's been better and getting warmer the last few days.
"I'm staying in Drummoyne, basically where the home ground is, just outside of Balmain, about 20 minutes out of Sydney. It's a very good area."
What's first on the tourist list? The Blue Mountains, the Harbour Bridge?
"I haven't had a chance to do much exploring yet. The few days I was probably going to do something it rained. Also, more of the Sussex boys are coming out soon as well, so I will do some exploring with them when they arrive.
"I haven't really thought about what to see first. Some of the boys have been here before, so they know some of the good areas to go, and things to see, so I'm going to just roll with it."
You're no stranger to living away from home, but has it been difficult to adjust to being in Australia?
"It definitely takes a while to get used to being in a new place. Obviously I've lived away from home for a while now, over in England, but moving away from home again for five or six months has taken a little bit of time getting used to.
"But I got over things like jet lag, and I acclimatised and everything pretty quickly, and feel that I'm settled in and quite comfortable, and I'm just looking forward to the few months ahead, really.
"I was sort of looking to come last year, but then I was involved with the [England] under-19s, so I couldn't come. Hopefully it will be a pretty big eye-opener."
What does a normal day look like for you at the moment?
"At the moment I'm doing cricket-skills training twice a week with Stuart MacGill [former Australia spin bowler], on Tuesdays and Thursday, and club training on Tuesdays and Thursdays as well. On the other days I'm in the gym and running – not a great deal at the start as I was having a bit of rest after the season. But these next few weeks I'll hit it pretty hard before Christmas, and then after Christmas get right back into it to lead into the season."
Will you and your Sussex team-mates get together over Christmas?
"They're actually all playing for other club sides all within 20 minutes to half an hour of here, so we're all around each other, which is quite nice. We'll see quite a lot of each other, which is great.
"And I won't miss out on being at the beach at Christmas. I'm looking forward to it, actually. I've heard a lot about Manly Beach. I'm looking forward to spending Christmas in Sydney."
24 hours in Sydney
If you're heading Down Under the chances are you'll have more than a day to explore Sydney, but if you do find yourself short on time, here's a guide to making the most of it in one of Australia's largest cities:
9am – Breakfast
As with any city there are plenty of options for starting your day the right way. Two spots that standout among the crowd are: Two Good Eggs Café a rustic venue situated on Goulburn Street, just around the corner from the Capitol Theatre. And if quality coffee in a relaxed setting is your thing, then Pablo & Rusty's on Castlereagh Street is as good a spot as any.
10am – Taking a stroll
A walking city like no other, Sydney has plenty to see if you don't mind stretching your legs. Walk down to Circular Quay and check out the hustle and bustle of the ferries departing. Wander around the famous Sydney Opera House and discover this incredible architectural landmark building. You can even take a tour and learn more about this unique structure. From here walk around the Royal Botanic Gardens to Mrs Macquarie's Chair; you'll have picture perfect views of both the Opera House and the Sydney Harbour Bridge. Follow the walk around the water, through to The Domain and onto the Art Gallery of NSW, where you can view an extensive range of Australian art.
12pm – A view from above
Walk back into the city and head up to the Sydney Tower Eye observation deck for magnificent 360-degree views across the city. If you're game enough why not venture out onto the Skywalk for a breathtaking outdoor experience.
1pm – Animal magic
Zoo or Aquarium, or both, in Sydney the three best options to get up close and personal to some of Australia's wildlife. Darling Harbour houses the Sea life Sydney Aquarium, and the Wild Life Sydney Zoo, while a short ferry ride away is Taronga Zoo, home to some 3,000 animals from around the world.
2.30pm – Lunch on the beach
Catch a train to Bondi Junction, then jump on a bus from the Bondi Junction Interchange to Bondi Beach and grab lunch at one of the world's most famous beaches! Enjoy the array of fabulous cafés and restaurants, then go for a walk along the beach—or if you have some spare time, why not try out the Bondi to Coogee coastal walk.
5pm – Sunset from on high
If you have a head for heights then you cannot visit Sydney without climbing the Sydney Harbour Bridge. A must for any visit.
7pm – Dinner
Head to The Rocks, Sydney's historic precinct, for an afternoon cocktail and dinner. Grab a drink at The Argyle in its gorgeous cobbled-stone courtyard, followed by dinner at New York inspired steakhouse The Cut, or modern Japanese at Sake Restaurant and Bar.
9pm – A little light entertainment
Head back to Sydney Opera House, where this always something going on in the evenings, from live music, to ballet, opera and comedy.