As traditional as our shorts, one of the best ways to spend a summer's day, or evening, is totie your boat up to someone else's, hop from one to another, or in and out of the water, enjoying a raft-up.
With so many spots around our beautiful island to drop your anchor, you are spoiled for choice. Do you want cliff jumping, partying, a family-friendly area or all of the above? How can you keep yourself and everyone on board safe? What should you take with you? What if you don't own your own boat? And, where are the best places to go? We give you the lowdown.
MANGROVE BAY AND KINGS POINT
Ideal for parties and family-friendly raft-ups, Mangrove Bay is always a hive of activity during the summer and never more so than on the final day of the Cup Match holiday when Bermuda's boating community – along with copious friends and family – heads out west for the Non-Mariners Race. With shallow, protected waters and small islands with their own beaches extending out to Kings Point, this is a great spot for exploring, floating, paddling and socialising.
SOMERSET LONG BAY AND CAMBRIDGE BEACHES
The protected stretch of water along Cambridge Beaches and Somerset Long Bay is popular for parties and families. As an added bonus, if you have left your drinks or picnic bag at home, or don't want to prepare your own food, you can stroll through the turquoise waters movie-star style and order from Breezes at Cambridges Beaches.
ELY'S HARBOUR
Another piece of west end raft-up paradise, Ely's Harbour is more peaceful than Mangrove and Somerset Long Bays, and there are small beaches and islands to explore. Swimming among sea turtles used to be a given here, but sadly they are now more scarce, but the large parrot fish still make it worth bringing your snorkel and mask.
PARADISE LAKES
Secluded, protected and calm, Paradise Lakes is perfect for big raft-up parties, or, because there are so many areas to anchor, a smaller, more private raft-up. The water is deep so an abundance of floats is a must if you want to relax in the water instead of having a full-day work out.
DEEP BAY
If it's adrenaline you want, raft-up at Deep Bay by Admiralty House Park. A great spot for cliff jumping, you need to be confident of leaving that ledge without screaming too loud, because everyone will be watching you.
POLICE BEACH
Shallow enough to stand in the water instead of on a float, a raft-up by Police Beach is ideal if you have young children. Lots of sand for digging. Great areas for exploring and snorkelling. It's also a good spot for beginners, because, said a friend who speaks from personal experience: "You can literally drag your boat to where you want it and put the anchor in by hand!"
ST GEORGE'S HARBOUR
This gorgeous expanse of water has something for everyone. Cliff jumping from Higgs and Horseshoe islands, views back to St George's and of the other harbour islands, as well as lots of delicious restaurant options from which you can order your raft-up fare.
CASTLE HARBOUR
One of the most picturesque raft-up spots around Bermuda – and that's saying something – is Castle Harbour. With areas shallow enough to stand in and beaches to rival the best in the world, the water is nearly always clear enough to see your toes. It's also huge, so you can spread out from other raft-ups. Frick's Point and beach is always popular and great for snorkelling, particularly around Castle Island.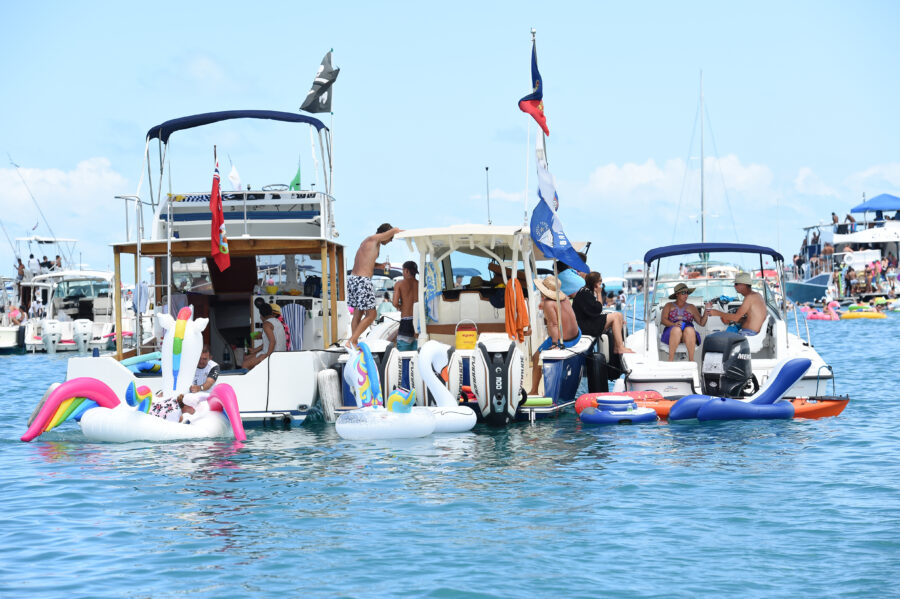 What if you don't have your own boat?
You can still enjoy a raft-up, even if you don't have your own boat or don't want to wait, hopefully, for an invitation.
BDA Watersports at Robinson's Marina, by Somerset Bridge, rents out Boston Whalers and Pontoons if you are confident being your own captain, or chartered private boats with an experienced captain included, if you are not: https://bdawatersports.com/boats/
Island Boat Club membership gives you the option of 'part ownership' without the hassle and added expense of owning your own vessel. Located at Caroline Bay and Boat Port, behind St George's cricket club, the club offers three different membership options: https://www.islandboatclub.bm
HOW TO STAY SAFE
Without wanting to put a downer on this article, where boats and water are concerned, things can go wrong quickly if you don't adhere to some basic safety guidelines. Isaiah Hayward, manager at BDA Watersports and Jack Bridges, owner of Island Boat Club, shared their tips for a safe raft-up:
If you're going to a busy area, operate the boat as slowly as possible. "Have your head on a swivel". Look all around and in the water. Make sure you have a clear path.
Everyone should have a life jacket.
The driver must never be under the influence of anything.
Have a working cell phone in case of emergencies. You always need a way to contact the shore.
Have a first aid kit on board.
WHAT TO BRING
Food and drink, in particular plenty of water, are a must but here are some other fun items that make for an even better raft-up:
Large floats and something to tie them onto the boat with. If they have a cup holder for your drinks, even better.
Noodles
Goggles or snorkel and mask, not just for exploring what's going on under the water, but also for diving down to retrieve something you've dropped.
Floatable Croakies for your sunglasses so they don't end up on the seafloor.
Ice! Drinks are better served cold.
Bluetooth-enabled speakers
A paddle board – it doubles up as a great way to serve drinks.
KEEP OFF THE GRASS
And finally, Bermuda's seagrass has been decimated in recent years, along with our turtle population. If you see some seagrass, please keep your anchors as far away from it as possible.