Want to see a Suzuki SUV decked out with live fish tanks, a painted ceiling and speakers on the roof, alongside fully restored mobylettes, horse carriages, vintage sports cars and customised motorbikes?
How about the Bermuda Motocross Association tackling logs, tyres and platforms on a scrambler obstacle course?
If the answer is "yes", head to Front Street on Sunday, July 2, for the return of Motor Fest which, promises organiser and Bermuda Charge director, David Cahill, will be "jam packed with action, entertainment and exceptional display vehicles".
For the first time, Motor Fest 2023 will include powerboats, the aforementioned scrambler obstacle course, display boats and, to celebrate the event's five-year anniversary, Bermuda Charge has done a call for Motor Fest artwork, with a big cash prize up for grabs. The winner will be on display at the show.
Front Street, said Mr Cahill, "will come alive with more than 50 tents." There will be an Eco-Village, a traditional village and an action arena. There will be two new categories in the Best in Show contest – custom scrambler and original (restored) scrambler – taking the total number of categories up to 13. There will be dance shows, acrobatics, skill demonstrations, Mr Fotogenik MCing and, as always, the grand finale is the big end-of day ride-out.
What is now known as Motor Fest started out in 2018 as a simple ride-out from Dockyard to Clearwater to celebrate Bermuda's motorcycle culture. For fun, it included a small motor show at the end with just two best in show categories, best car and best motorbike.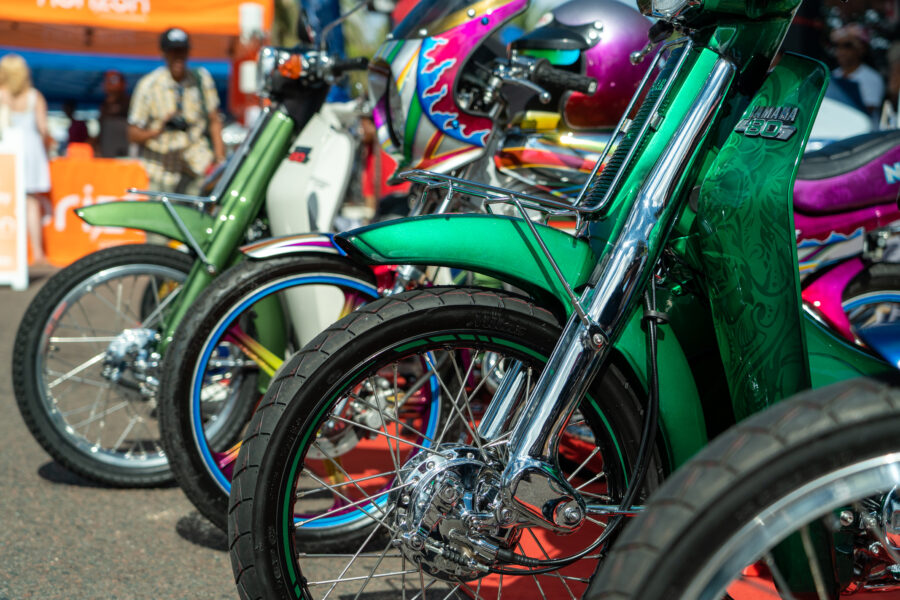 Since then, the event has ballooned in popularity and reputation.
"The contest uncovered the island's true passion for restoring and customising bikes and cars," said Mr Cahill.
"Nobody else decorates their bikes like Bermuda does. So much love and attention goes into it. It's really a tradition over here. Everybody grows up around bikes.
"It's a rite of passage. It forms a part of the national identity. You can see that in the finished articles that we're going to be displaying on Front Street. It's completely authentic."
Sponsored by Scooter Mart for the fourth year running, Motor Fest is a family-friendly event that attracts thousands of spectators. The show will open at noon and is expected to close at around 6.30pm. Entry is free.
Participants can buy tickets to do the ride-out or to enter Best In Show, or both, with $5,000 in cash prizes for the winners. Fifteen per cent of all ticket sales go to Greenrock. This year, Mr Cahill
is expecting 400 riders for the ride-out and over 100 entries across all the Best In Show categories.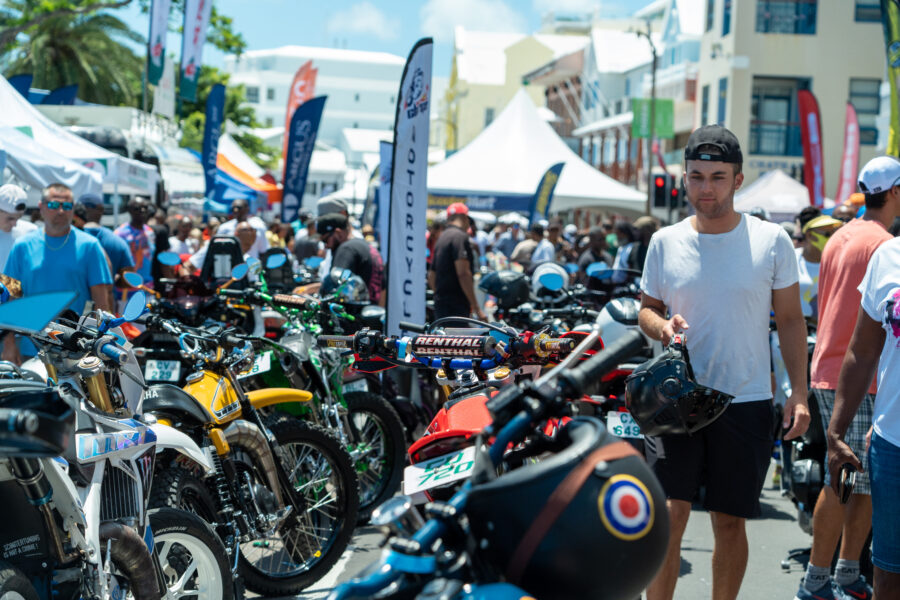 In a sign of the times, electric-powered vehicles are celebrated in the Eco-Village, which last year featured a Tesla and Tesla power-wall as well as displays from many of the local electric vehicle providers.
"It's always formed part of our mission to accelerate Bermuda's sustainable future," explained Mr Cahill, whose own dream vehicle is the all-electric Damon Hyper Sport motorcycle.
"To me, it represents the future of the motorcycle industry."
Until the day comes when he can buy one however, he has settled for a Yamaha NVX bike, custom painted by Zion Thompson in a fistral blue Maclaren colour, and a Kia Nero EV.
While Mr Cahill is the man at the Motor Fest helm, it takes a huge and dedicated team of volunteers and motoring enthusiasts to pull off an event like this. He works with fellow directors Devin Page and Whitney Butterfield, with help from the Pulse Group's Melissa Looby and Raven Pearman, as well as countless others.
"All the motorsports clubs pitch in to help as well," he added, singling out Steve Furtado and Chris Alves of the Let's Ride Bike Club who play a big part in setting up the show, and the Long Riders Motorcycle Club, which supplies a team to help not just with the day, but also with the police escort for the ride-out.
Mr Cahill also credits hobby motorcycle builder, Adam Diel, as having a big influence on the show's strategy.
"He was the person who designed the very popular 'Show Race' at last year's show, where regular riders competed to see who could be the slowest over a measured distance, without putting their foot down," he said.
Originally from Devon in South West England, Mr Cahill's own background is in large conferences and events. After moving to Bermuda he was struck by our "vivid, vibrant motor culture," so he pitched the idea of an event to celebrate this to "local advocates" and Bermuda Charge was founded.
His ambition doesn't stop there, however.
"It's an event of national significance right now, and I see it becoming of international significance," he said, adding that they have brought over international guests in the past and have had international interest in one of their race projects.
The director, operations manager and one of the racers from the International North West 200, Ireland's biggest outdoor sporting event, are also involved.
"It's my mission to make Bermuda famous for its scooter culture," he declares. "When people think of Cuba they picture vintage cars, and when people think of Bermuda, I want them to picture beautifully decorated scooters and motorcycles."
For more information about Motor Fest 2023, go to www.bermudacharge.com or follow them on Instagram @bermudacharge.