There's a reason Bermuda was known as 'the Isle of Devils' to the earliest arrivals. Treacherous reefs, screeching birds and dangerous storms. Generations of tough and talented Bermudians however, have turned this once inhospitable piece of rock into our treasured home.
Welcome to the first issue of RG Home! A publication that celebrates our treasured island, the buildings we live in, the homes they have become and the hard work and financial commitment that makes these properties what they are today.
But what does a 'home' mean in the Bermudian sense? Is it our unique architecture? Is it a result of our history or economy? Is it a culmination of the life and memories of its occupants? Is it all of the above?
EARLY BUILDINGS
One of the biggest influences on building design in Bermuda has been the environment, and the first settlers learned what works and what gets blown away the hard way.
All they had was existing knowledge and available materials, hence wooden frames, lime plastered walls and palmetto thatched roofs, as seen in the 'Settlers' Cabben' at the Carter House Museum. According to Richard Norwood's surveys, some early homes even had two storeys:
"People didn't forget where they came from so, as a consequence, they built similar structures as you would have found on the south coast of England at the time," explains Colin Campbell, senior architect and director of OBM Bermuda.
This didn't last beyond the hurricanes that hit in the 1712 and 1714 period, however.
"At that point the population had grown to such a state that the damage to the island infrastructure was so complete that clearly something had to change," he continues. "Stone structures became very much de rigeur and it's been that way ever since."
And that's something else unique about Bermudian home design. Its close connection not just to the environment but also the landscape.
"There's always been a very strong relationship between built heritage, the environment and the landscape," says Dr. Charlotte Andrews, head of cultural heritage at the Bermuda National Trust. "The use of stone from the island itself. The use of roofs to collect water. The use of cedar. Bermuda's natural and cultural heritage is very intertwined, especially for our built heritage."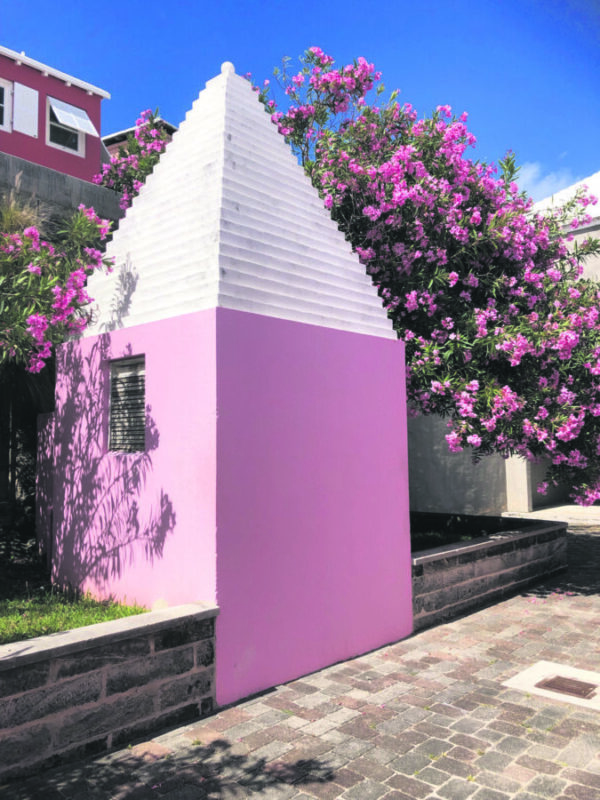 CRAFTSMANSHIP AND DESIGN
Necessity, as the proverb goes, is the mother of invention and Bermudians have proved their worth when it comes to innovation. From white stepped roofs, water tanks and butteries to shutters and narrow house designs with strategically placed windows to create cross ventilation, otherwise known as 'free air-conditioning'.
As more and more Bermudians arrived so did new techniques and ideas, and the credit for this goes to the variety of people who came to these shores from around the world, in particular Portuguese and West Indian labourers and those who were tragically forced to come against their will:
"Those of African Diaspora heritage, have impacted vernacular architecture across the world in a positive way," explains Akilah Swan, director of architectural firm, Aina Curated.
"From the time we had the first settlers to the introduction of enslaved labour and learning different technologies through that. Later on, having Portuguese and West Indian labourers come and become an integral part of our society. We've experimented with the traditional Bermudian architecture, refining it so that it looks the way it does now, where we have that iconic white roof, the chimney, the tank."
"When you look at our historic buildings, they're built out of stone, but they feel so delicate, and so beautiful. The proportions are done so well and that's not by accident," says Ms. Swan. "That's a craft that's instilled."
FOLKLORE, TRADITIONS, FAMILY
Also instilled into Bermudian homes is us. Bermudians past and present. "Many Bermudians live in or buy a home once, then pass them on to family," says Mr. Campbell, adding that this is an "investment in memories, with each home having its own unique story over generations."
Also visible are unusual superstitions and habits, both old and new. If a home is historic, it may have balls on the roof, which people once believed could ward off evil, or concealed shoes in the walls or ceiling either for protection or to bestow fertility on a female household member.
Although we've moved on a bit since then, we still can't resist wetting a new roof with Goslings rum and Ms. Swan remembers her grandmother putting "tank mollies", which are guppy fish, in her water tank.
ADAPTING TO THE MODERN WORLD
More recently, as the way we live our lives changes, so do our house designs, a process driven by advanced building materials and what we see others doing around the world.
"The expectations for what people want in a home have changed over recent years, especially with the popularity of home improvement and real estate shows on TV" says Ben Rego, Sales Agent Manager at Rego Sotheby's International Realty. "People in Bermuda like to follow similar designs as to what they admire elsewhere and see on places such as Pinterest."
He added that people of all generations often prefer more contemporary homes that are a blend of modern and traditional, choosing tile instead of wood, for example, or indoor-outdoor living through bi-folding-style doors instead of traditional cedar ones. An open floor plan, in which the kitchen is the heart of the home is also very popular."
"The kitchen is where life happens," he says. "Families and kids doing homework and everyone amongst themselves for entertaining purposes."
HOSPITALITY
Adapting our houses for our families, entertainment and hospitality is nothing new, but how we do so has evolved.
"We as Bermudians love to entertain," continues Mr Rego. "Having a deep covered porch for outdoor dining and barbequing. Yard space for kids and pets. Those are really important elements for Bermudians and our properties."
Bermudians have long played the part of host and more recently, many have turned their own homes into tourism businesses:
"This interaction with people visiting Bermuda is a big part of our heritage and culture and there's nothing more intimate than having people in our home space," says Dr. Andrews. "Tourism is part of our heritage and way of life in that we're always hosting, we're always trying to provide experiences for others."
Mr. Rego has also seen a "huge increase in Bermudians putting their 'hotelier hat' on," with many renovating or extending their homes to include a rental unit.
FUTURE HOMES
As it was in the beginning, the climate and environment will dictate how our houses evolve in the years ahead.
"There is beginning to be a shift back towards a smaller footprint. Back towards a simpler understanding of life and living. Back towards a connection to nature and the natural world around us," says Ms. Swan. "Also, a respect for craftsmanship and really good design.
"We're going to see people become more environmentally conscious. Solar panels are only going to increase."
Finances will also encourage this, adds Mr. Rego: "I think people want to the best of their ability, to come off the grid for their own wallet's sake and also to minimise our carbon footprint."
Mr. Campbell can also see us making our gardens work harder by growing our own vegetables and fruit trees, and even keeping chickens and bees.
Whatever we choose, or are able to live in, "your home should be a unique reflection of who you are, what you value and what you love," declares Ms. Swan. "Make it yours!"