With the rising cost of food, and increasing concerns about food security brought on by the impact of climate change, people are thinking more carefully about their environmental impact, land management, what they eat, and where it has come from.
Successful land management and growing your own food however, requires knowledge, experience, understanding and skill. Even more so if you want to make a living out of it.
For over 60 years, the Garden Club of Bermuda scholarship has helped students who want to pursue this path in life. What started in 1957 as a horticultural scholarship has evolved to meet the needs of Bermudians or PRC holders wanting to study agriculture, agronomy, environmental sciences, landscaping design, landscape management, floristry and plant conservation, as well as horticulture.
Successful candidates must demonstrate a real passion for their subject and the amount of money awarded varies depending on each student's costs for tuition, room and board, and travel.
Passion for more sustainable and higher quality food, the environment and his Bermudian community is what drives Malachi Symonds, 28, who was a successful Garden Club of Bermuda scholarship applicant in 2017 and 2018.
Originally a Warwick Academy pupil, Mr Symonds went on to Kodaikanal International School in Tamil Nadu, Southern India to complete the International Baccalaureate programme before coming back to Bermuda in 2012, after which he established his own popcorn company – Paddle Popped.
Before long, however, he wanted to return to school and with the help of his stepmother, he found Earth University in Costa Rica, where he successfully undertook a four-year degree in environmental sciences and natural resource management. When he left in 2019, he was a qualified agricultural engineer.
"I chose it because it was hands-on as well as scientific and I got to learn Spanish as well," he explained.
He makes the 'learn Spanish' part sound easy, however it actually involved a four-month immersion course whereby he lived in a Costa Rican home and only spoke Spanish during that time. "It was interesting and fun," he laughed. "I had to figure out how to communicate, use sign language and shake my head for 'yes' or 'no'."
The course was intensive with a strict schedule and involved field work, class work and 'in-field' working, the last of which Mr Symonds said was work experience.
"The rules are, if you miss three classes, you go home," he said. "Whether the course was at six in the morning or four o'clock in the afternoon, you had to be on time. Three lates was a missed class."
Strict timing aside, Mr Symonds said he loved the enormous and secluded campus, which was "the size of Bermuda" and included banana farms, secondary forests, which are woodland areas that have re-grown after being cleared, and virgin forests.
Every aspect of the campus has been designed to support the students' learning: "Everyone was learning the same thing. They only showed one course per year," he explained.
One of Earth University's missions is to prepare young people to contribute to the sustainable development of their home communities while constructing a prosperous and just global society, and that is what Mr Symonds has come back home to Bermuda to do.
In 2022 he leased the farm on Orange Valley Road, opposite Devonshire post office, from the government and has transformed it into a haven of home-grown vegetables, fruit and herbs. He also keeps chickens and regularly has passers by trying to buy eggs or stopping to compliment his farm, even when it isn't a sale day.
The agricultural side of his business, which he calls 'Just @ Farm3Rs' is going from strength to strength. In addition to enthusiastic passers-by and regular customers, he has a contract with Gorhams, supplying them with fruit trees, herbs and a variety of plants, and in the spirit of his alma mater, he would like to lease more plots and is planning more sustainable projects.
The first is a project which turns waste into methane gas for energy and cooking. He has been doing that at his home, but now wants to bring it down to the farm, as well as add a small kitchen.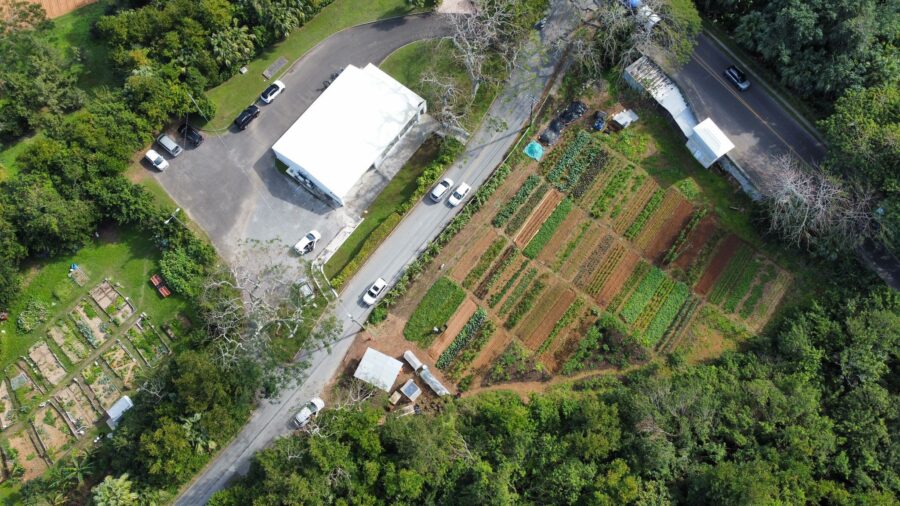 In addition to his work in Bermuda, Mr Symonds has also bought some land in Costa Rica, which he is hoping to use for a new initiative of his called 'change of perspective' or COP:
"It's the ability or the opportunity for young Bermudians to come to Costa Rica and learn Spanish, agriculture, electrical, plumbing and have the chance to actually find themselves. To figure out who they are," he said. "These young adults will be able to come, spend four months and actually learn something, take away something from it, and learn what they want to do.
"The idea of COP is just to help bring back that community aspect of Bermuda. That genuine Bermudian culture."
Mr Symonds said that without the scholarship funds from the Garden Club of Bermuda, his journey would have been much harder:
"It meant a lot. It definitely helped a lot with school," he said. "I was having a hard time financially, and them being there, having that support in Bermuda. The fact that they're such a small community and they're trying to support something that could dramatically change Bermuda was very cherished."
Mr Symonds believes his scholarship application was successful because the Garden Club "may have felt my passion or my drive to finish and get my degree. My advice would be to try and get that passion in words. Try and explain to them what that drive is.
"A part of my application was that I wanted to come back to Bermuda and invest in Bermuda's agriculture, and I feel that I've been doing that to the best of my ability," he said.
Malachi Symonds sells his produce from his farm opposite Devonshire Post office on Fridays between 11am – 6pm.