I recall climbing the stairs to get to the apartment above Richardson's Restaurant (where Amis Funeral Home is now located), on North Shore. Somewhat nervous, we were there to visit my relative who we called 'Uncle Joe.' His real name was Kenneth Charles Trott – but I digress.
Uncle Joe wasn't the reason why I was nervous – it was his wife, the formidable Olive Anne (Richardson) Trott. I didn't know it at the time, but she was the one responsible for bringing the beauty pageants, and other shows (along with celebrities), to Bermuda. She was just such an exuberant, demanding personality that I was easily overwhelmed by her presence.
"Well, look at you!" she burst out as she examined me from head to toe – herself pristine in appearance, as always. And to my mother, "When are you going to let me fix her up and put her in a contest?"
Yup, that's my Aunt Olive. Former Premier Dr Ewart Brown remembered her as, "a special lady with a magnetic personality and a contagious smile." Her life's work has been condensed into a small paragraph in the book Bermuda 1609-2009, 400 years – 400 Portraits.
Always 'dressed to kill' as they say, she definitely had an image to maintain. An anonymous source said of her, "She always dressed very smartly, never plain or ordinary. And when she was out clubbing…WELL!"
Olive Anne (Richardson) Trott was 88 years old when she died in 2011, and I'm sure she looked fabulous, even then. The Royal Gazette remembered her as a person that would "have done a seasoned Las Vegas booking agent proud."
"Olive was, in fact, what I'd call the original phenomenal Bermudian woman." asserts Mr Wentworth Christopher, who took over the pageant aspect of Olive's work in 1972.
Olive compiled an impressive resume. For starters, along with Irma Washington Butterfield, she was instrumental in starting the majorettes in Bermuda. Olive was the first person to bring in entertainers from overseas to perform for a local audience (as opposed to visitors).
International musicians, celebrities, and entertainers all graced Bermuda's shores, courtesy of Olive. Prior to launching the Miss Bermuda Pageant in 1965 (which laid the groundwork for well-known Bermudian Miss Gina Swainson to attain international fame – and local immortality), she brought in overseas promoters to Bermuda.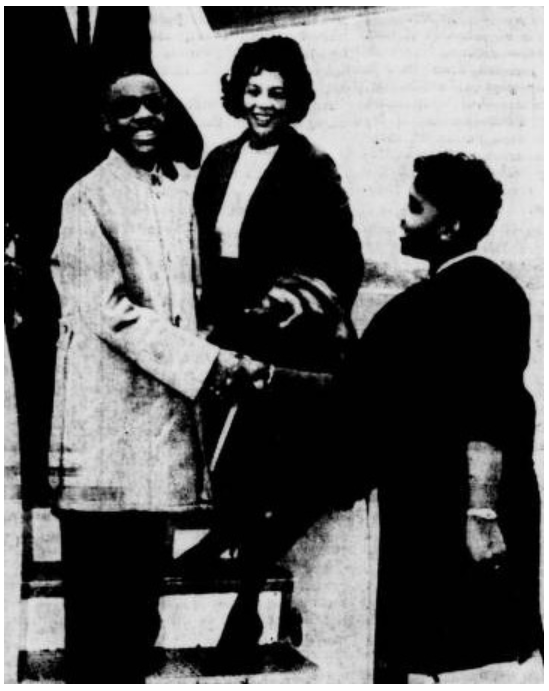 Indeed, it was because of the efforts of Mrs Trott that Bermuda saw the likes of James Brown and Frankie Lymon perform live! Mr Christopher has told the paper, "If I could remember all of it, I still couldn't do her justice."
Do any of you remember Muhammad Ali taking part in a boxing exhibition held at the National Tennis Stadium in 1965? Yes, that was her. As The Royal Gazette reported in 2016, Ali called Olive, "my Bermuda mama."
His visit has a bit of a backstory. According to Mr Christopher, Olive had a friend in Jamaica who was the franchisee for the Miss Universe contest in Jamaica. That friend suggested that Olive become the franchisee for Bermuda. She did, and the first contest, in 1965, went over quite well.
Elaine Simons was the winner of that contest, and she went to Miami Beach to perform in the contest there. It was, coincidentally, the same location where Muhammad Ali had a workout space.
The space for the contestants was private, but nobody was going to say "no" to Mr Ali's wishes (insert Mr Christopher's very hearty laugh here), and he was observing the beauty queens.
Well, Olive noticed Ali's "healthy interest" in the contestants, and told him that if he came to Bermuda and put on an exhibition, he would get to see more of Miss Bermuda. That was July of 1965, and he was here in September. So said, so done!
Once she established the relationship with Muhammed Ali, oftentimes he made special arrangements for her to get the film of his fights shortly after they took place. Bermuda might have had a monopoly on those images were it not for certain transportation issues, but that's another story.
One of Olive's "earliest coups" was scoring "Little" Stevie Wonder for an engagement in 1964. That show was a major success, showcasing Stevie for the genius he is – there were "screams and raves from his highly responsive audiences…," read the paper. Olive knew how to pick 'em!
"Olive had contacts in New York in the entertainment industry," explained Mr Christopher. "She would say 'I must call Sarah (Vaughn) or Dinah (Washington)' as easily as you'd talk about your high school girlfriends!" She also had contacts to showcase up and coming artists like Dionne Warwick.
Despite bringing in greats from abroad, Olive supported local acts as well. Adverts from the time show Gene and Pinky Steede, The Keynotes, The Dancing High Hots, Dan Rawlins and His Boys, The Aldano Sextette, and more, with 'Big Daddy' Gates as MC. The Rosebank Theatre, Hamilton Hall, Clayhouse, and other local venues were hotspots of entertainment.
In all this, she even helped maintain the Richardson's Restaurant on North Shore, with Cup Match being a particularly busy time of year. "We can't make enough," Olive was quoted as saying, referring to their famous beef pies. She used to brag that someone in New York used to get same day roundtrip airline tickets to Bermuda just to get their beef pies! Might that have been Dizzy Gillespie, as some have cited – there just to see Olive? It's probably true.
Her philanthropic side inspired Olive to start The Youth Club, which was situated behind the restaurant. Meetings were held there on a regular basis. The great E.T. Richards came and gave a talk to the young people as well as David Tucker (both lawyers at the time) alongside many other local personalities.
There was even a merry-go-round Olive installed in the back of the building! Neighborhood children would come and play, free of charge. "She had a real commitment to community," Mr Christopher reminisced.
All in all, seeing that she was born on December 25th, Olive Anne (Richardson) Trott was quite the gift to Bermuda. If only there were more like her.