ISLAND GLASS STILL GOING STRONG AFTER MORE THAN FOUR DECADES
Nadia Arandjelovic
It's a milestone for any business to make it past five or ten years in the current climate – but Island Glass is proud to be standing strong after more than four decades. Founded on August 21, 1980, the company, which specialises in stocking and importing custom manufactured doors, windows, glass, mirrors and other products for architects, builders and homeowners, has weathered many storms throughout the years, including most recently the Covid-19 pandemic.
Kim Powell, the HR manager at Island Glass, said: "Covid has affected our business – just like all the other businesses on the island, but we have kept our doors open, and all our staff fully employed. It's been a struggle at times, but we're holding our own."
The hardest spot the business found itself in concerned issues affecting its overseas suppliers. "We've always tried to keep to a reasonable ordering period, but when suppliers literally run out of stock, there's not much we can do about that," said Ms Powell. "Unfortunately, it's a trickle down affect and all of us in the industry are faced with the same issues."
Started by owner Clive Thatcher with just a handful of staff, Island Glass has now grown to 25 employees – all coming together to ensure a quality service for clients. Today, Mr Thatcher's son, Jimmy, has largely taken over the reins, bringing with him new ideas and ways to make the business run smoother.
"I started working for my father when I was a teenager after school, sweeping the floors, cutting glass and helping around the shop. This led to me assisting with installations during school vacations," Jimmy said. "I became a full-time employee with the company in 1997, working in sales, scheduling and quoting. What I learnt watching my dad and from those early experiences is that every company, vendor and employee works differently. Paying attention to what makes a client or technician tick has allowed me to improve the company's efficiency and focus on quality products, which in the long run benefits the client."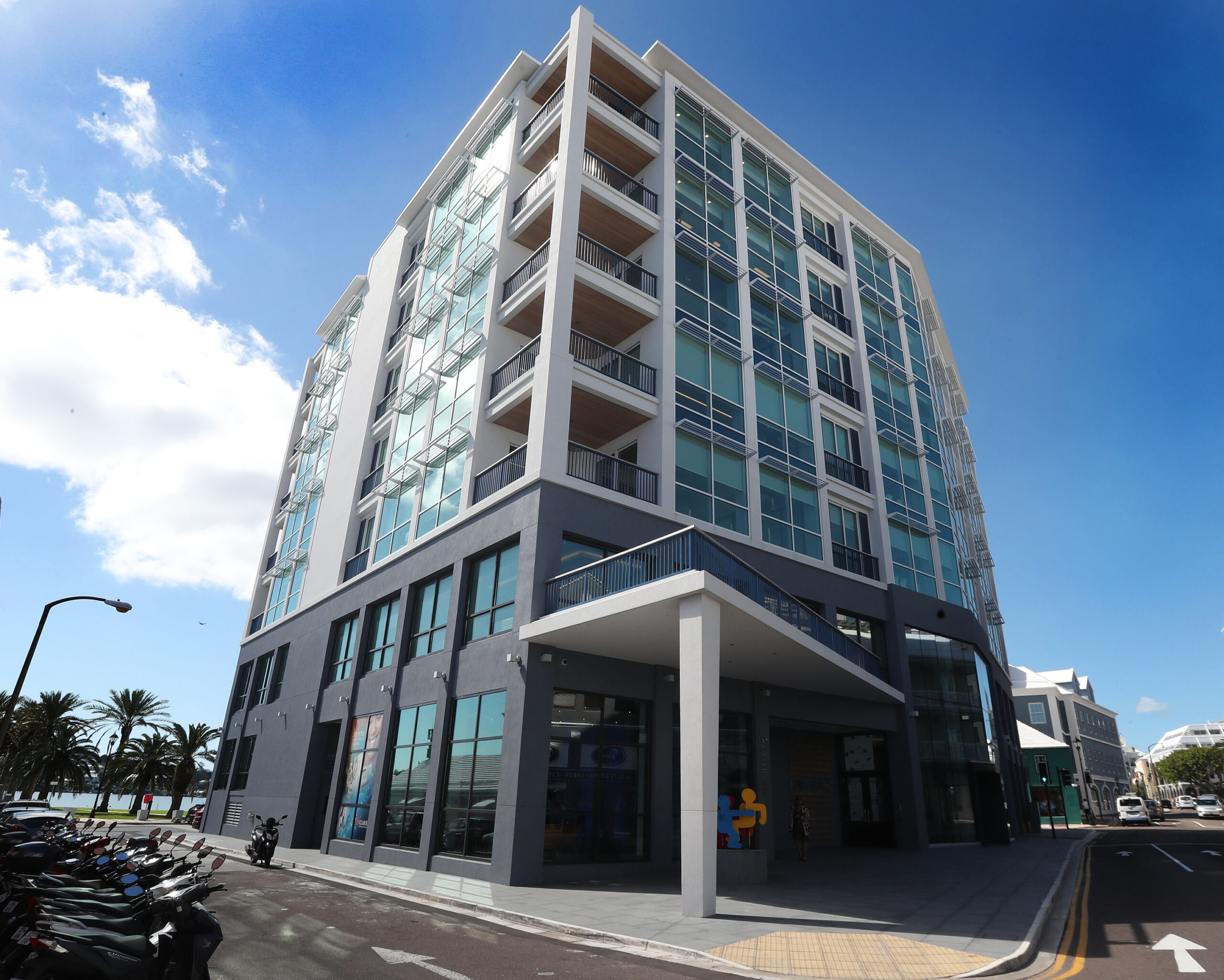 Island Glass continues to thrive by helping residents and businesses turn their property visions into reality. The company's most recent commercial works include the supply and installation of glass at the new Point House building in Hamilton and the Azura Bermuda property on South Shore. Some of its older projects include the Maxwell Roberts Building, the Belmont Hills project, Somersfield IB Centre, and the Bermuda High School for Girls Gymnasium and Innovation Centre.
"We couldn't do what we do without our dedicated employees who are well trained in their fields of expertise," Clive Thatcher said. "One thing we're extremely proud of is the fact we have all Bermudians working in our departments. Both myself and my son, Jimmy, have always strived to hire locals. It's particularly rewarding to see young Bermudians start off as trainees and transition themselves into full-time careers." Island Glass boasts a large showroom, glass and metal fabrication area and a warehouse. Its fleet of seven trucks, in use daily throughout the island, is operated
by specialised teams concentrating on hurricane protection, as well as service, repair and installations of glass, mirrors, showers, doors and windows.