RESTORING BERMUDA'S HISTORICAL BUILDINGS TAKES TIME, LIME AND PEOPLE WHO CARE
Annabel Cooper
Bermuda boasts many buildings dating back hundreds of years. From forts and houses to lime kilns and churches, they all have a story to tell and a lesson to teach about the history of our island and its people. These monuments to times gone by, however, need to be regularly cared for or mother nature takes over and they become lost.
This is what is happening to many of the historical sites at Ferry Point Park in St George's – in particular, the perimeter wall surrounding the Ferry Reach magazine, which housed gunpowder for the Martello Tower, Ferry Island Fort and other smaller forts in St George's. "Today, this magazine is the finest example of magazines built by the British during the early 1800s," said Peter Barrett, director and treasurer of the St George's Foundation.
"It held all the gunpowder. All the original limestone is in fantastic shape. You can see where all the joists were. You had three floors and you could fill this up with 220 barrels of powder." Unfortunately, because invasive casuarinas have taken root in the stone and destroyed the structure, while vandals have stolen the stone, the perimeter wall was at the point of collapse and the magazine roof in danger of the same fate.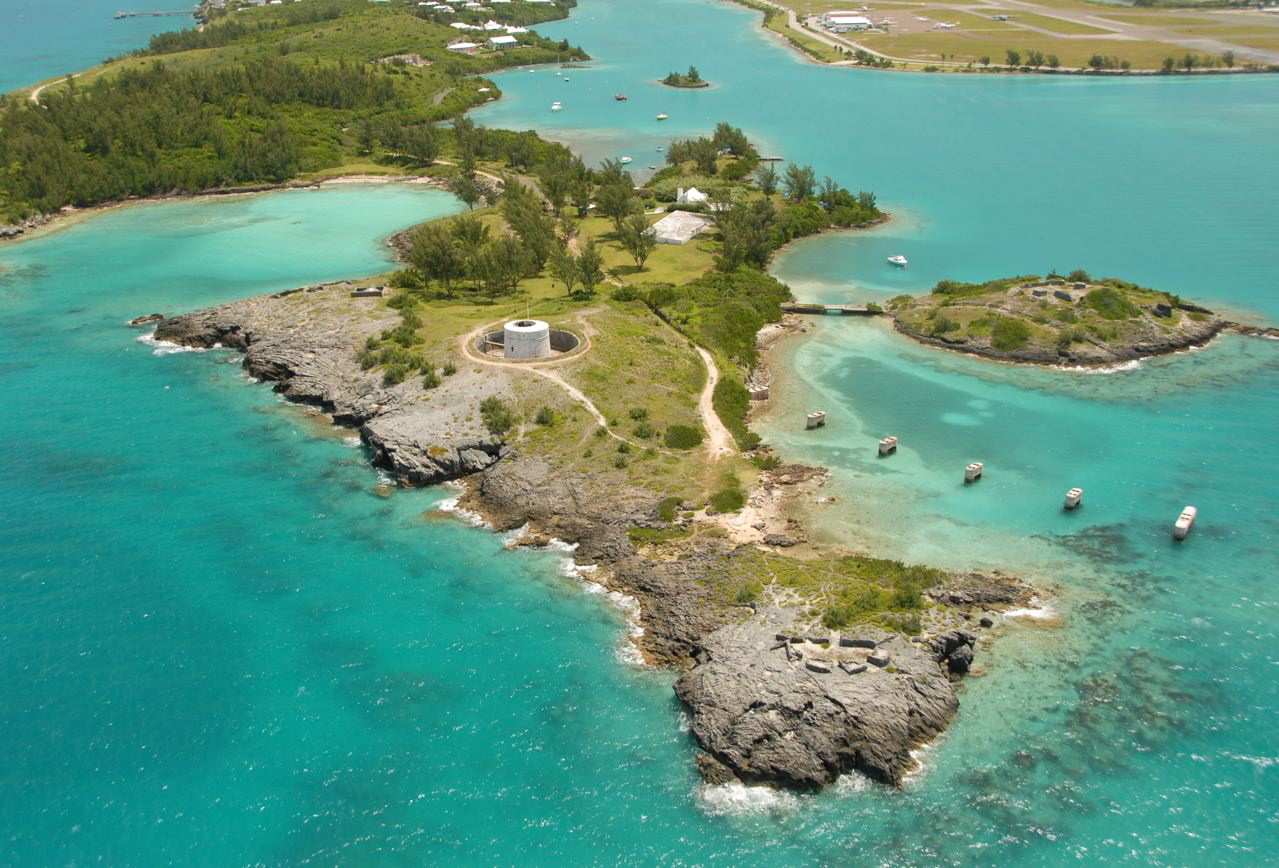 "It's important to restore these buildings because our charitable mandate is to help St George's retain its UNESCO World Heritage status," continued Mr Barrett. "We will lose that status if our heritage sites are lost." To this end, the Foundation has raised money to restore the perimeter wall, after which it hopes to generate more to restore the roof. In order to bring these historical structures back to life, the overgrowth must be removed first. Then, they need to be rebuilt using original construction methods and materials. So no concrete.
The man rebuilding the perimeter wall is Dean Saunders who studied conservation and restoration of stone at West Dean College in the UK and who previously worked with Mr Barrett's father, Leslie, on the nearby Unfinished Church.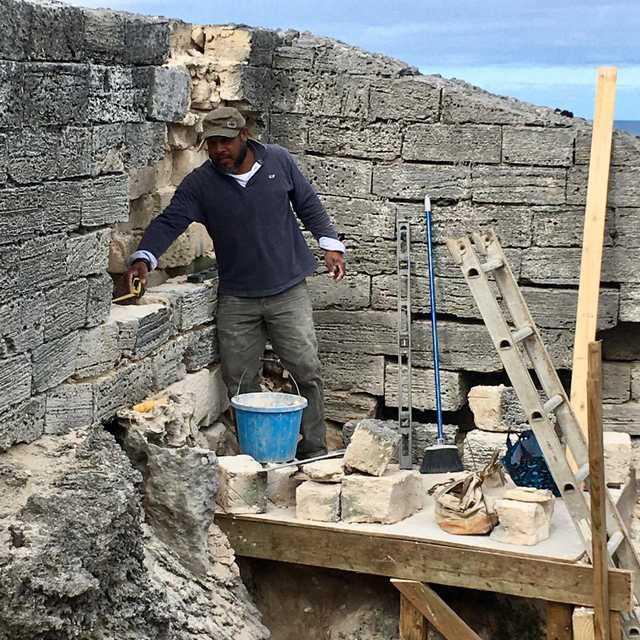 The limestone blocks he uses are all 24 inches long and six inches high, and between 8 and ten inches wide.They are secured using lime.
"Back in the day you used lime water," explained Mr Saunders. "Certain parts you put liquid lime and make like a slurry. You can only put what's there back in the day. You can't use cement. This will last longer than cement because lime gives. That's why it's so important. This will outlast cement. All it needed was a bit of tender loving care."
In addition to using original building materials and doing the work by hand, Mr Saunders also built his own wooden scaffolding: "I use regular scaffolding on my jobs, but you can't fit this here," he said.
"If you're going to do a proper restoration, you need to use the original materials. This wall lasted 200 years," said Mr Barrett.
"And it's going to last 200 more," declared Mr Saunders.