BY ERIN SILVER 
Female athletes may face a steeper climb than their male counterparts when it comes to securing athletic scholarships. But at the Bermuda Pacers Track Club, scholarships offer an equal opportunity for young men and women, since awards aren't given based on gender. 
"You have to be a member of the Bermuda Pacers to be able to receive a scholarship," says Wayne Raynor, president of the track club. "Once you show where you've been accepted, whatever we raise gets divided up among the young men and women. If there are more boys than girls, it gets divided by length of membership. If an athlete has been there only a short time, the person who has been there longer gets more." 
The Pacers is a non-profit youth track and field organisation for people aged 7 to 19. Athletes have the opportunity to train for a range of track events including relay races, 100, 200, 400 800, 1500, 3000 and 5000-metre races, high jump, long jump, triple jump, shotput and javelin. Their mission is to help build character, mental strength, self-esteem and good sportsmanship. The club's focus is on showcasing Bermuda's talented young athletes at the local and international level, while stressing the importance of academics. Founded in 1981 by a group of parents who wanted to promote the development of track and field on the island, the club has about 100 members who practise at the National Stadium from two days a week at the junior level to as many as four times at the senior level. 
Koa Goodchild is one of the Pacers' outstanding female athletes. She is currently on the Bermuda national football team and received a Pacers scholarship. "I attend Howard University. I am a psychology major and criminology minor," says the multi-talented athlete. "Growing up, it is very common for males to receive all the sports scholarships, especially coming out of Bermuda – whether that's football, track, cricket and so on. To be recognised by Pacers for my efforts in sport feels like I am finally being seen for all the hard work I put in." 
Though the one-time scholarships are relatively small compared to the cost of an overseas education, ranging from $500 to $1,000, the significance behind them is what makes them more like a badge of honour. "For this scholarship, I had to fill out the application for the Pacers Track Club," says Ms Goodchild. "In order to be eligible, I had to have been a Pacers athlete and then the money received was based on how long I had been a part of the club. I've never received a sports scholarship prior to this one." 
Being part of the club while balancing academics wasn't easy. "When the demands of my sport first started to increase, I found it quite challenging to keep up with my school work and my sport," says Ms Goodchild. "However, being a student-athlete forces you to be very organised because you don't have any other choice. When you're not at school, you're at practice. When you've done practice, you go home and do homework until it's time to go to bed and make sure you're well rested for the next day. Once you get a good schedule going, there is very little time for distractions so it became easy to find a balance."

Ms Goodchild is now well on her way to pursuing her dreams. "Before entering college, I had intentions of going to law school. However, I am now looking into the clinical psychology route with a focus on trauma psychology. I know that this field can be very challenging but I think that if I'm equipped with the right tools, I can be a huge help to so many people and give back to a community that gave so much for me."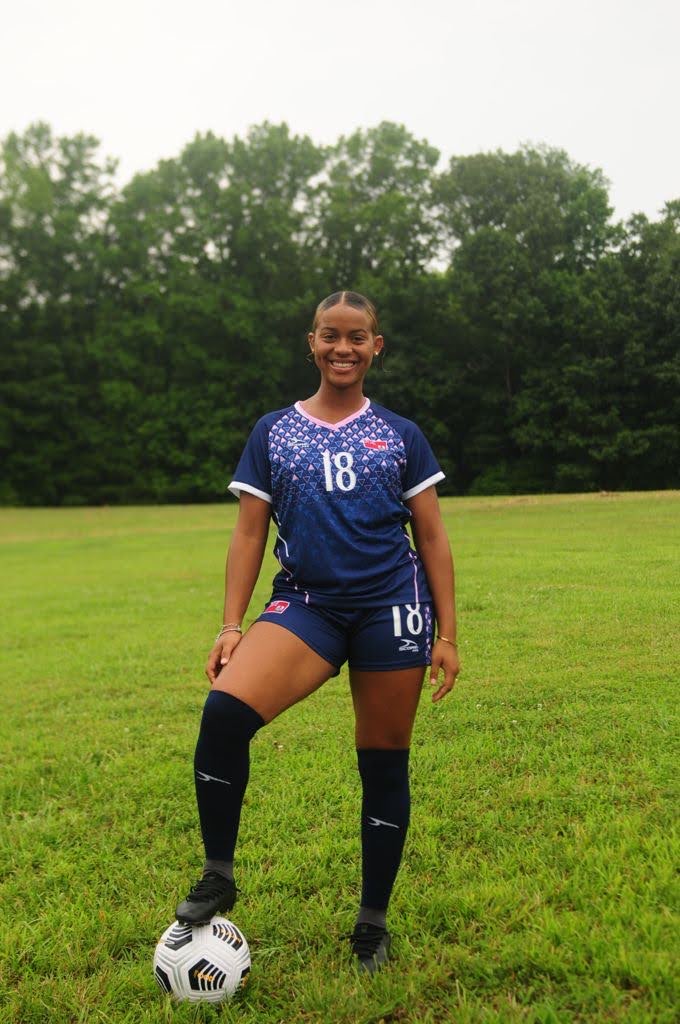 Mr Raynor hopes to set all his other athletes on the same good path. "If kids are doing sports, most time they're fitter, think better and make better decisions. Their performance will improve in school. And all the athletes get to interact with seasoned people and good role models."
The Pacers Track Club gets them on their way. "Student-athletes get lots of encouragement while training. Our coaches are former or current teachers who encourage them to excel in school." 
Discipline and other skills are also learned. "When students come to train, they have to come with proper gear and be ready to train on time. They learn discipline, become orderly and respectful of other people to stay in programme. They are always encouraged to participate or volunteer." 
These skills will help them succeed in everyday life. Mr Raynor adds: "One athlete can now run a track meet by himself — he can build a registration site, put systems together and take it apart. He's doing things he wouldn't normally learn in school and life." 
What the club has done for all athletes is exciting, especially for young females. In fact, five female athletes earned scholarships last year. "As the years go on, I see the associations are recognising females more and more and I am looking forward to the continuance of this appreciation," says Ms Goodchild. 
"Everyone knows that society started off as a patriarchy. We have made huge strides to break that cycle and show the world that we, as women, can do things just as good and some things even better than men can. It warms my heart to see females of Bermuda recognised and celebrated for their achievements in every aspect." 

For more information about the club visit www.pacersbda.com