BY ERIN SILVER 
Devastated by the loss of their son, Kijani Burgess's family did the only thing they could do: they turned their pain into purpose. They established a scholarship in Kijani's honour at Bermuda Institute, a pre-kindergarten to Grade 12 co-educational Christian school in Southampton. 
"As a gesture, to honour the memory of our beloved Kijani Burgess and the impact that his life and accomplishments had on his family and friends at Bermuda Institute, we created The Kijani Burgess Dream Award," said his mother, Antoinette Burgess. 
She established the award with her husband Kevin Burgess and their daughter, Khaeljah, after 16-year-old Kijani passed away following a bike accident in January 2020. 
"Nothing is more important to our family than keeping Kijani's memory alive and knowing that his life continues to have purpose and meaning," Mrs Burgess said. "The Kijani Burgess Dream Award is a way to celebrate and remember Kijani's life, hopes, dreams and ambitions – by financially helping other young people realise theirs." 
This one-time educational award is given annually to a graduating senior who best emulates Kijani's inspiring love of life, perseverance in the face of learning obstacles, love of God and faithfulness, love of friendship and kindness to others and who has shown promise or passion in a chosen field of interest. Funding comes from fundraisers put on by the Kijani Burgess Dream Award Committee and donations from family, friends and the community. The first recipient of the Award in 2021 was Malaysia Burt who described Kijani as "a true friend". 
Known for performing random acts of kindness, his larger-than-life smile and his upbeat attitude, Kijani dreamed of exploring the world, helping his community by building houses and redeveloping Bermuda and working as a movie director and producer. He loved photography, creating short films and videos and writing film scripts. A visual learner, Kijani excelled in these areas until his life was cut short by tragedy. 
"On the day of the accident, January 13, 2020, Kijani wrote a final assignment that read, 'Someday my life will become so great people will remember me,'" said Mrs Burgess. It gave Kijani's family another idea. 
In addition to the scholarship, the family joined with his friends in his Grade 11 class at Bermuda Institute and launched Pain Into Purpose Bermuda, a campaign to raise awareness of road safety issues and to encourage others to perform random acts of kindness. As part of the concept, the community is asked to wear blue, Kijani's favourite colour, to remember those who lost their lives on Bermuda's roads. The inaugural Blue Day was held on January 17, 2020. 
The pandemic pushed the organisers to use social media as well as traditional media to get the word out about the Blue Day Campaign. The campaign was expanded this year to highlight not only road fatalities, but also people who suffered a loss of limb or other traumas. From January 2016 to the end of March 2021, 8,380 people visited King Edward VII Memorial Hospital because of a road traffic accident.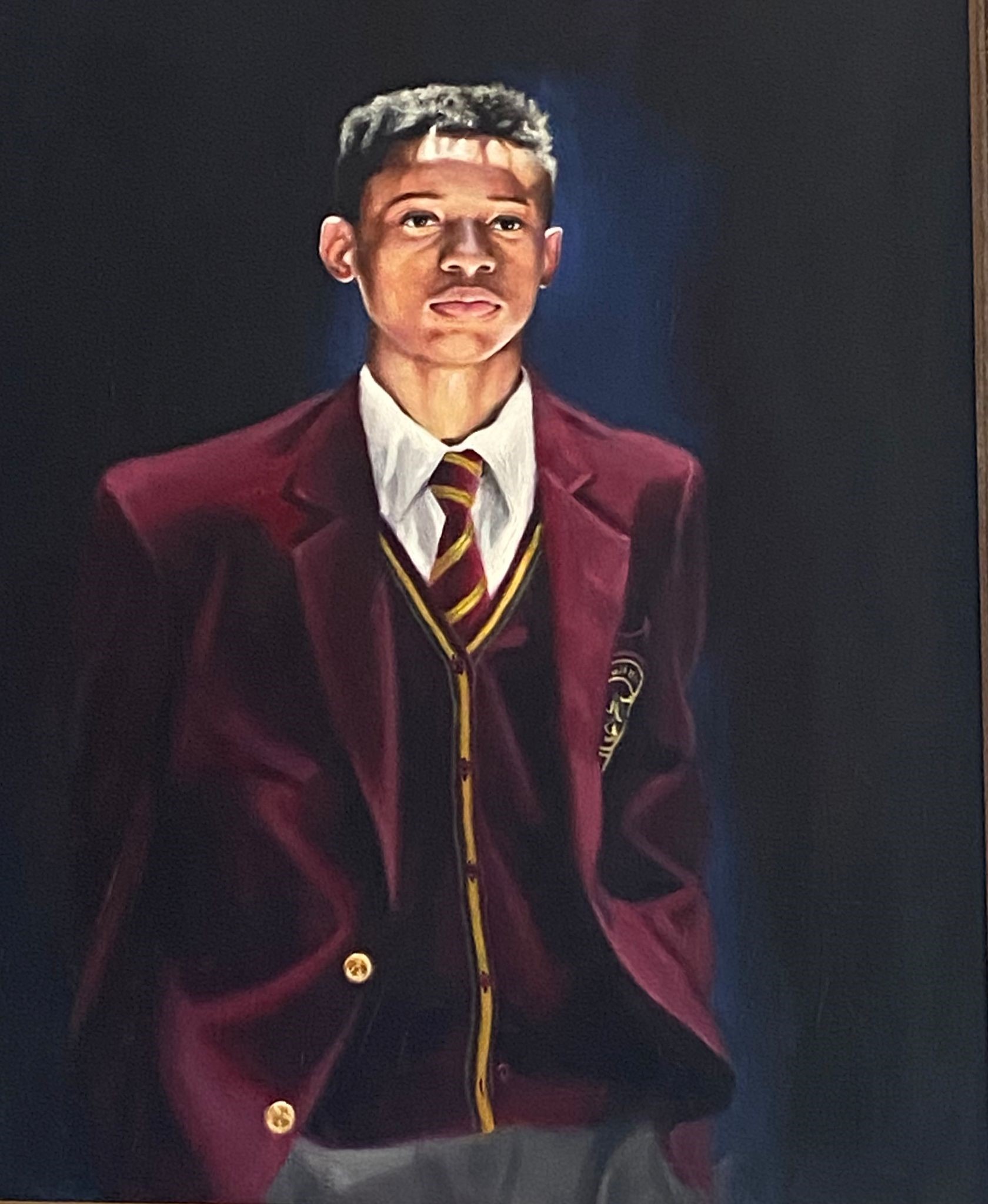 "Families and individuals deal with many elements of grief that people don't always talk about on this diverse journey of overcoming adversity and the different ways people grieve inclusive of mental health, including anger and loneliness," Mrs Burgess said. 
The entire community can participate each year, on the second Friday of January, by wearing the colour blue and taking part in random acts of kindness in remembrance of people who have died or been injured in accidents. Sadly, it's an issue many people are all too aware of – 23 people lost their lives on Bermuda's roads in 2020 and 2021. According to Mrs Burgess, that's 23 too many. 
"The message we would like everyone to take away from the campaign is that road safety is a 'we' problem, involving pedestrians, cyclists, motorists and car/ bus/truck drivers," she said. "Wellness is for all, including learning healthy grieving processes, prioritising mental health and navigating injury and rehabilitation. We are all on diverse journeys when it comes to road safety and wellness awareness." 
The PainIntoPurpose team's goal is to assist people who cannot afford grief counselling with counselling sessions and to provide cards or flowers to families in the wake of a road traffic fatality. 
"Our ultimate goal is to raise funds to create a grief resource book for families written by the loved ones of persons who have been lost on Bermuda's roads," Mrs Burgess said. "We would like to also organise a monthly grief counselling programme with the assistance of counsellors. This would include 30 minutes per person with a counsellor to provide people with an expert to guide them in the right direction during their grieving process for free." 
Going forward, her vision is to create a better Bermuda through action, by empowering the island and its community to turn their pain into purpose. The PainIntoPurpose Bermuda campaign was this year embraced by the University of California, Berkeley, which observed its first Blue Day on January 24 with a video tribute to Kijani and other Bermudians who died tragically.
For more information: kijanisdream.com; [email protected]; [email protected]. Donations to the Kijani Burgess Dream Award can be made through Clarien account #6000250603.