By Erin Silver
In March 2020, life as we knew it changed for good. A dangerous virus was spreading around the globe. Businesses and schools closed. People were ordered to stay in their homes. Everyone was scared.
Even in Bermuda. The COVID-19 virus was confirmed on the island on March 18, 2020, brought over by people from the United States and United Kingdom earlier that month. The government responded with a "shelter in place" order, banning international travel and shutting down all non-essential services. This left the island's health-care workers on the front lines of the pandemic.
It was an intense and exhausting time for them as they cared for sick patients and worried for their own health and that of their families'. At the time of writing, there were 3,465 total reported cases in Bermuda and 35 deaths. Throughout the crisis, Bermuda's doctors, nurses and support staff did an outstanding job of providing care to everyone in Bermuda who needed it.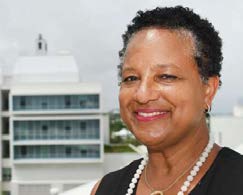 VENETTA SYMONDS
"The professionalism and dedication of the staff stands out for me from that period, even more so with the benefit of broadened perspective," says Venetta Symonds, who recently retired as the CEO of the Bermuda Health Board after 40 years of service.
"Healthcare workers remained focused on patient care and their immediate responsibilities, even though their personal lives were impacted like everyone else's was," continues Symonds, who was at the helm throughout the dark days of the pandemic.
"It was reassuring to witness the natural teaming of health-care workers, internal and external to the hospital, to confront this crisis. Individuals listened more and contributed more, extending beyond their day-to- day responsibilities."
All over the world, people cheered on their healthcare workers, holding signs from their balconies and applauding from their lawns.
Children coloured pictures and taped them to their windows, while the media followed the coverage online and through other channels. But it wasn't just the medical staff who treated COVID patients who were being recognized—it was also all the other experts working behind the scenes to care for different kinds of patients whose lives were at risk of various ailments and diseases, including cancer.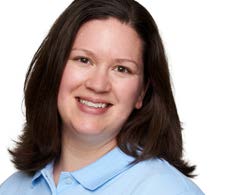 AMANDA PLANTE
Chief Radiation Therapist, has worked at Bermuda Cancer and Health Centre (BCHC) since 2017. "I was always drawn to working in the medical field and knew I wanted to help those battling cancer," she says. "Radiation therapy was a natural fit for me. I enjoy getting to know my patients over their course of treatment and celebrating their personal milestones.
Then the pandemic hit, bringing with it particular challenges for already vulnerable patients and the systems in place to care for them. "The pandemic brought with it additional challenges, such as increased appointment times and an altered check-in process to facilitate screening measures," says Plante.
"However, patients and staff worked together to navigate the 'new normal' in order to ensure everyone's safety." No matter how scared they were for their own safety or their patients and families, staff continued to show up every day. "There is nothing more rewarding than when a family member or patient says you've helped make a difficult journey that much easier," says Plante.
"We all take pride in the work we do, and I'd like to think the care and compassion we have for our patients is evident in every step of the treatment process."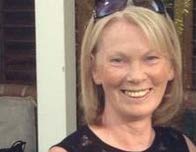 ELLEN TRUEMAN
also works at the BCHC. She is a Radiation Oncology Nurse Director/Clinical Nurse Specialist. She has a varied and diverse role that, depending on the day, consists of a range of patient clinics that includes seeing new patients, patients who have completed treatment, patients on treatment as well as performing administrative work, returning telephone calls and supporting other staff members. Her workload increased during the pandemic.
"It involved a lot of changes to existing working patterns so that we could continue to deliver our service and maintain patient and staff safety," says Trueman. "Many adjustments were made including enhanced protocols for COVID screening and safe delivery of care, such as wearing personal protective equipment, switching to virtual/telemedicine processes for patient consultations, and changes to workflow for patients coming in for treatment."
Through it all, no patient was overlooked. "COVID changed how we work behind the scenes, but we always managed to continue with our mission to deliver safe, high-quality care throughout all the uncertainty and the highs and lows of navigating a COVID world," says Trueman.
"Working and supporting each other so that we could continue to support the patients and families in our care is what has gotten us through so far—and continues to do so."
It hasn't always been easy. Far from it, in fact. "Fear and vulnerability was present in health-care workers, since they also had loved ones suffering in different parts of the world and here in Bermuda," says Symonds. "Health-care workers held each other up during the acute phase of the pandemic, with love,support and innovation.
As a result, they were able to provide care, execute rapidly changing COVID-19 mandates, and offer input to keep Bermuda safe. I applaud hospital workers and every health-care worker in Bermuda, who continues to execute their day-to-day responsibilities for our residents, even as they personally experience the threat of COVID-19. They are exceptional."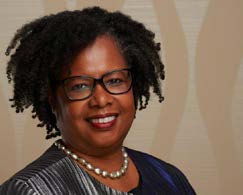 LYNNE WOOLRIDGE
As the CEO of BCHC, Lynne Woolridge couldn't agree more with these sentiments, especially as much of the world faces a fourth wave.
"We must continue to be grateful to the many healthcare workers who showed up each and every day to carry out their roles. As those of us in the general public kept our distance from others and retreated to areas of relative safety, health-care workers provided comfort and peace of mind by helping us adapt to the new reality," says Woolridge.
"Within our own organization, our staff focused on providing uninterrupted treatment and services to our patients and customers, even as they quelled concerns for their own wellbeing, children learning remotely and vulnerable parents. We'll be forever thankful for them."
Even health-care workers themselves are grateful for each other. Trueman can't say enough good things about her colleagues and the attributes that helped them thrive as a team on the cancer-care front during more than a year of crisis.
"Sharing and caring for each other really helped us get through it," she says.
"Knowing that we managed to continue delivering radiation treatment to patients as well as being able to facilitate new patients starting treatment during a global pandemic was motivation enough to face any challenges that were thrown at us. For patients receiving a cancer diagnosis, being able to tell them that they could still get the treatment they needed, despite the pandemic; and that they could get it right here in Bermuda, without the worry of travelling anywhere else, was what made a difference, and still does. When the world had shut down, we could offer patients radiation treatment at a first-class radiation facility here on the island, and that was so important for patients to know."
The worst is hopefully behind Bermudians, but staff are still on high alert. "Things are improving, but we never let our guard down," says Trueman. "We still maintain COVID safety protocols to reassure patients that we are operating to the highest safety standards to keep everyone safe and keep our service open. It's a privilege to work as part of the BCHC team and to be part of a service that makes a difference to people in Bermuda."
As October is Breast Cancer Awareness Month, health-care staff continue to remind Bermudians to take care of themselves. "October brings with it a focus on breast cancer, placing a critical spotlight on the importance of early detection and screening," says Plante. "However, cancer prevention is a year-round endeavour: eating healthy, exercising, and protecting yourself when you're in the sun are things we should all be doing regularly to reduce the incidence of all types of cancer."
It's proof that Bermuda's health-care workers are indeed extraordinary.