by Vejay Steede
 Arlene Brock is a force of nature. A lifelong high achiever whose curriculum vitae tells the story of a soul designed to serve humanity; a very special mortal with an egregious talent for elite academics, and an unquenchable drive for justice, restoration, and human growth. 
 Her quest for social justice began in earnest at the tender age of 15, when she worked with Ms. Laverne Furbert as a rapporteur of the Education Sub-Group at Dr. Pauulu Kamarakafego's Black Power Conference in 1969. 
Having developed a strong Pan-African foundation, and a passion for setting things right, Ms. Brock would go on to blaze a trail that saw her become many historically significant firsts in several jurisdictions. 
Her legal career began in insolvency litigation as an Associate Attorney in Toronto, where she was the first Black Associate Attorney with any top law firm in Toronto. She was subsequently called to the Bar in Toronto, Canada; which was later followed by a call to the Bermuda Bar. 
Ms. Brock would then go on to earn a LLM in International Human Rights at Harvard Law School, becoming the first Bermudian to earn a Master of Law degree at the renowned institution. 
She returned home in the early 1990s to take a position in reinsurance at Milligan-Whyte and Smith for a short spell. Cambridge, Massachusetts came calling again soon, and Ms. Brock ventured abroad to work at Conflict Management Inc. (founded by late, renowned Professor Roger Fisher), where she taught negotiation around the world, and Ms. Brock found her niche in mediation. 
In 2005, Ms. Brock became the first national Ombudsman for Bermuda, after a competitive process; which is not always the case, as this appointment is made through political influence in many small jurisdictions. 
Ms. Brock not only won the prestigious appointment, but she was quite instrumental in establishing the office as a concept for Bermuda. This was a logical product of her perennial determination to help people and restore justice in all things. 
After serving as Bermuda's Ombudsman for eight years, the overwhelming call of the motherland became too loud for Ms. Brock to keep at bay any longer, so she headed to Rwanda. In Rwanda, she completed a consulting project for the Commonwealth Secretariat on Early and Forced Marriage. 
In 2016, Ms. Brock became Director of the African Ombudsman Resource Centre in South Africa, which trains Ombudsman across the Continent; a position she held for 2 years. 
Ms. Brock is still producing positive things for the world at an elite level: "I am currently a Senior Fellow at Harvard's Advanced Leadership Initiative (Dame Jennifer Smith preceded me as the first Bermudian Fellow). 
"I am returning to a passion from the final year at Berkeley where I was one of the eight core students who launched our own after-school Black Studies Class (all attendees contributed). I am producing short animated anti-stereotype video vignettes of true stories depicting lesser-known Blacks in history with resilience, intelligence, ingenuity, agency et cetera."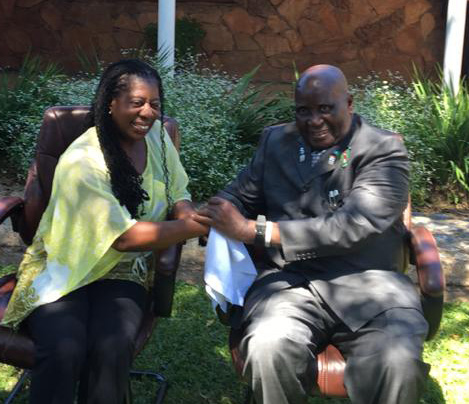 Ms. Brock has also held many prestigious titles and positions over the years, including: 
Standing Committee on Judicial and Legal Services, which advises the Governor of Bermuda on appointment and discipline of Judges and DPP (2013 – to date) 
Bermuda College: Honorary Fellow (2015) 
Fulbright Scholar: Northeastern School of Law, Boston (2014): faculty colloquium, human rights seminars and conferences, mentored LLM students; first person on record from any of the UK Overseas Territories ever to have received a Fulbright award 
Bermuda Public Services Union: President's Award (2014) – "For your ability to overcome extraordinary and daunting challenges to form the Office of the Ombudsman" 
Best of Bermuda Award: Community Activist category (2014) – for being "relentless in pursuit of the truth" 
Honorary Life Member: International Ombudsman Institute (2013) 
At the time of receiving the title of Honorary Life Member of the IOI in 2013, Ms. Brock was the 14th person, and 2nd woman, so honoured in the 20 years of the award. 
Reflecting on how her amazing journey has been informed by her connection to Bermuda, Ms. Brock offers this: "Part of my path (and that of many Bermudians) is being open to step out on the world stage. My confidence and assurance that I am equal to anyone comes largely from growing up in Bermuda – not only because of our Black majority population with so many role models but also because of our proverbial 'village' of care and encouragement over the decades. 
"That's primarily why I returned to Bermuda when my daughter was 6 years old – to give her this advantage. Bermudians of any gender can share with the world our insights for community-building that our size affords us. We can disagree on issues but are respectful personally. 
"A perfect example is the outpouring of respect from all corners and races for Laverne Furbert. We are not a perfect community but we do honour our interwoven relationships." 
When pondering her place in our history, Ms. Brock opens her heart once again: "None of us are born only to die – we all make a difference in the lives of others whether privately or in public." 
"For me, historic would be establishing the Office of the Ombudsman. I not only had to rapidly create effective administrative processes but also communicate to a sceptical public that this would work and a wary Civil Service that this could help. 
"I also demonstrated the systemic value of the Ombudsman. We have the statutory jurisdiction to investigate public problems – often across Ministries – that are not eligible for police, judicial or other investigation processes. 
"We exposed discrimination in the hospital; put on record the history and destruction of the Tucker's Town gravesite; analysed a very flawed Request for Proposal process at the City of Hamilton; and garnered improved access to our National Archives (I do hope enterprising researchers will be inspired by the 55 lesser-known images in our Report (Atlantica Unlocked) to make further use of the treasures within the Archives." 
"Our Office trained new Ombudsman of four Caribbean islands and I have given advice on reports and conducting systemic investigations to several countries. I hope that my story demonstrates that Bermudians have what it takes to embrace the world stage through authenticity, standing firm and embracing unexpected turns."