Beat the heat and be cultural by enjoying the
Bermuda Biennial exhibition at the Bermuda National Gallery
Annabel COOPER
Let me tell you something… if you go to the Bermuda National Gallery (BNG) this summer you will find a captivating,
diverse and very personal range of artwork created by 21 local artists for the 2020 Bermuda Biennial exhibition, all
housed in a serene and temperature controlled venue that makes for an ideal escape from the summer heat.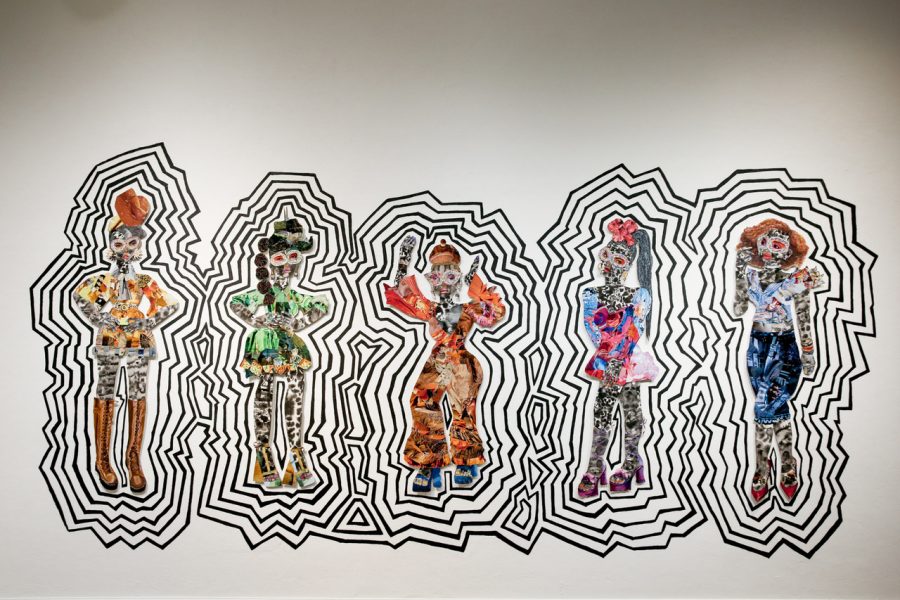 The theme for this Biennial, 'let me tell you something', is taken from the late author and Nobel Laureate Toni Morrison's novel 'Beloved'.
"We came across a speech she gave about everyone being their own story and through that, the theme evolved," explains Peter Lapsley, executive director of the BNG.
The theme "invited artists to tell a story, offer history and wisdom through the visual form," wrote Bermuda Biennial jurors Melissa Messina and Kimberli Gant. "In asking artists to tell us – jurors, other artists, and the community at large – something, we are asking for knowledge, we are asking to learn. And learn we do."
Ms Messina and Ms Gant are both well-known, international curators, and leaders in their field who, says Mr Lapsley, "showcase work around the world at the highest level." They judged the artwork primarily on how it related to the theme, but also on how it was created and executed.
The result is a collection of pieces that encompass a wide spectrum of media and a diverse range of voices, views and topics.
"Some people are looking at the community, some are looking at their own understanding of the world," says Mr Lapsley. "You've got everything from an installation using duct tape, video work, photography, print making, textiles, paper, found objects. It is a great, broad range of engaging artwork. For a small community we really punch above our weight in that respect."
One of the more unique pieces, which, by chance, is particularly relevant to the events of 2020, is by Canadian artist Arié Haziza, who heads the catastrophe risk analytics function for a reinsurance company in Bermuda. His piece, 'Wild Randomness' is a triptych – a work of art divided into three sections – that, says the artist, looks at "situations in which a single event can have a disproportionate impact on our individual and collective lives."
The scale of the gallery lends itself to the development of concepts and ideas and gives the visitor the space to really appreciate what they are seeing.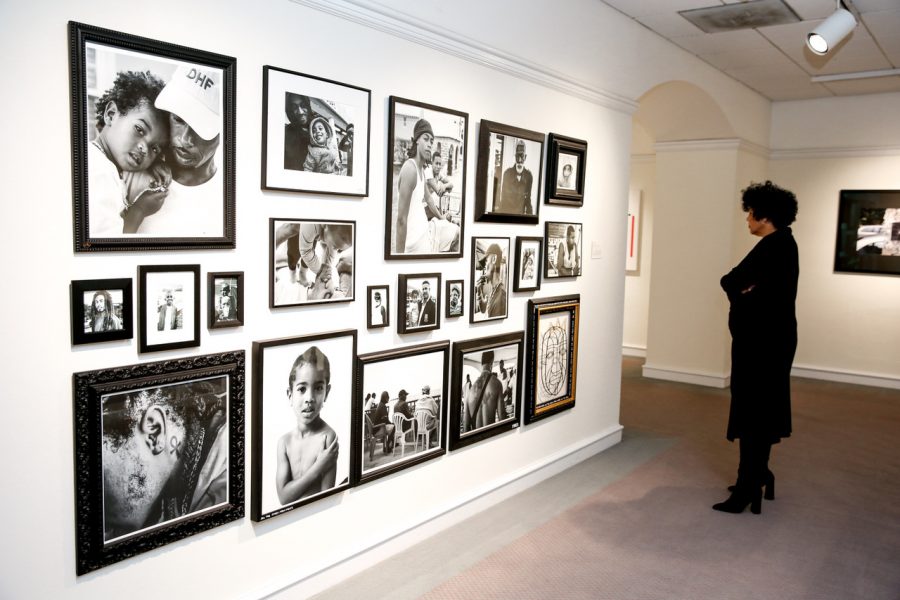 One of the larger pieces in the show is by Gherdai Hassell and is a vibrant mixed media collage mural installation that celebrates the black female figure. Another new artist to exhibit is Jayde Gibbons whose photographic work portrays black Bermudian men, which, she says showcases "the everyday beauty of my people, highlighting the importance of togetherness and brotherhood within our communities."
Other pieces carry environmental messages, address social issues, reflect memories and family ties, examine personal struggles and explore understanding of ourselves and those around us.
"Each biennial is its own unique moment," says Mr Lapsley. "This particular one engages a really broad range of interpretations of the theme and we have some voices we haven't had in the past, and artists we've seen in the past making work in new and exciting ways.
"I think the exhibition is a really important part of the constellation of art events and institutions on our Island. It provides a national platform. An exhibition at this level can help propel somebody's work into a completely different arena."
The Bermuda Biennial 2020 is on display in the Young, Humann and Upper Mezzanine galleries of the Bermuda National Gallery, City Hall & Arts Centre, 17 Church Street, Hamilton until September 2020. Entrance is $5 and free for members, seniors and students. www.bermudanationalgallery.com.
Other options for beating the heat while enjoying art include:
Masterworks Museum of Bermuda Art in the Botanical Gardens, where you can enjoy artwork celebrating Bermuda's culture and beauty including the 'Follow the Sun' permanent exhibit and relax at Homer's café afterwards with something filling and refreshing. www.bermudamasterworks.org/.
The Dragon's Lair Gallery on Somers Wharf in the Town of St. George features art and craftwork for viewing or sale by local artists including Jill Raine, Ian Birch, Skye Kermode, Tai Quan-Ottley and Caitlyn Bernard. https://www.facebook.com/TheDragonsLairGallery.
The Hamilton Princess Hotel & Beach Club on Pitts Bay Road is not strictly an art gallery, but the artwork on display throughout the hotel might make you think otherwise. Wander through the corridors or into one of the restaurants and you could see works by Pablo Picasso, Henri Matisse, René Magritte or Andy Warhol. Guided tours are offered every Saturday at 10am. www.thehamiltonprincess.com/activities/walking-art-tours/.