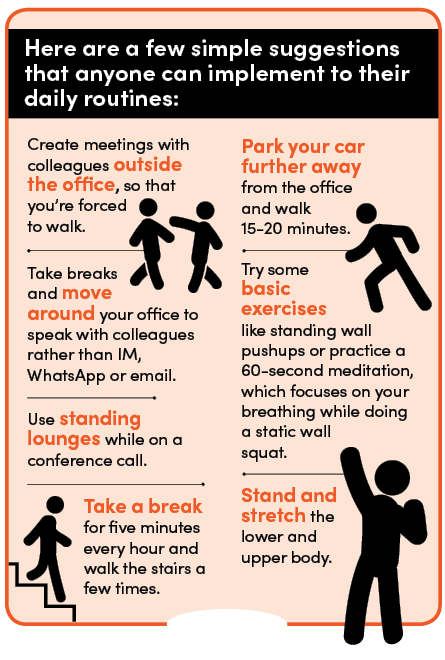 by Dr. Raffititizian
Over ten years ago, the medical profession coined the phrase 'sitting is the new smoking'.  Many studies have since shown the correlation between the once-popular habit of smoking  and sitting, both of which have profound negative impacts on your health.
Today the epidemic practice of 'sitting' has become an alarming concern as it relates to both our physical and mental wellbeing. Neck and back pain, headaches, decreased concentration, lethargy, increased blood pressure, type 2 diabetes, depression, obesity, excess body fat especially around the waist – all contribute to increased risk of death from these side effects of "sitting" or rather the extreme sedentary habits we take on in our lives.
A few decades ago, cardiovascular disease was the leading cause of death. We now have cancer taking the lead. Hitting the gym doesn't necessarily reverse the impact of the prolonged sedentary position of your body. The body has been negatively programmed by your brain (nervous system) to release hormones and chemicals that deactivate muscles and organs – over time causing more harm to your body.
When one considers the sitting position, one would think no serious damage could be afflicted. The damage, however, comes when you're chronically in the same position for long periods, typically more than 40-60 minutes at a time. The same impact or damage can occur with standing or kneeling and laying down for long periods. Maintaining the same position (such as sitting) for six to eight hours = negative and life-threatening consequences.
When you stop using your muscles, you're not breaking down the carbohydrates, sugar, fat you consume. The less you break down, the more your body stores. The muscles get weaker and atrophy or shrink, leaving your body in a state of idle rather than accelerated burning or breakdown of the different calories that we consume. This doesn't happen overnight. It's a cumulative effect over time.
The quick fix-solution is not always asking your employer for a standing desk, or to exercise before work for an hour. Sure, any activity is better than nothing at all. The best choice for 75% of the population who have a sedentary lifestyle, is to create healthy active habits in your everyday life.
The ideas are endless and can be tailored to individual needs. You can also help to create office policies that require all employees to move a minimum of 90 minutes – this will not only improve health but also increase productivity and reduce work absences due to illness.
For more information on how you can implement healthy work and home habits, email [email protected]