by Nadia Laws
SOME ENTERTAINERS ARE HERE TODAY, GONE TOMORROW. RG MAGAZINE SPEAKS WITH THREE PERFORMERS WHO HAVE GRACED THE LOCAL STAGE FOR THE PAST TWO (OR MORE) DECADES.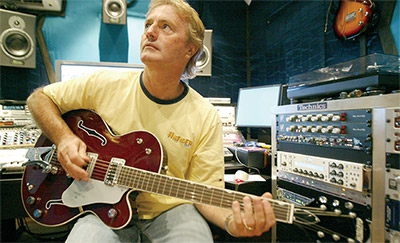 My Introduction To Music
I was brought up in a musical family. My father was a piano player, so I was raised in that world. He opened one of the Island's first big nightclubs, The Forty Thieves Club, in 1962 when I was 11-years-old. I watched all that magic unfold as a kid, seeing all these amazing people come to perform in Bermuda. I also studied classical piano from age six, but after going off to school in England and discovering The Beatles and The Rolling Stones, I decided to pick up the guitar instead.
How I Began My Performing Career
I followed in my father's footsteps and began running clubs on the Island after university. Then in 1989, my father packed it all up and sold his club to go live in Florida. I thought 'What can I do next?'. I fell back on playing music at places like Hawkins Island throughout the 1990s. Then in 2000, I started Bermuda.com, which was my day job and would play performing gigs at night. I've been playing professionally for the last two decades and seen lots of success with the band, The Big Chill, which was formed by myself and Felix Tod in 2012. First, we had Joy Barnum on lead vocals, then Kassie Caines and now Jesse Seymour.
Changes I've Seen To The Entertainment Industry
One thing my father always taught me was 'It's not about what you like, it's what the people like'. You have to figure out what the market wants. With The Big Chill, we play a lot of modern music, which I find to be quite repetitive and formulaic, but people like it. If I played rock and roll, chances are people probably wouldn't come out. Another change I've seen is people using modern technology like tracks and synthesizers. Even big-name artists like Shaggy go on tour with a DJ. People's lifestyles in Bermuda have also changed. They choose to stay in and watch Netflix because the cost of living in Bermuda is high, and people can't afford to go out as much.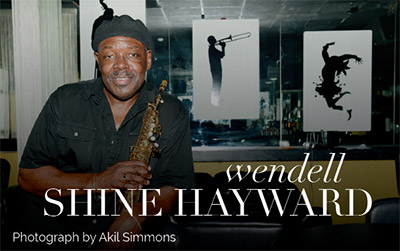 My Introduction To Music
I grew up attending the New Testament Church of God on Curving Avenue every Sunday. One particular weekend, the North Village Band came to our church and played a selection of music. I remember being very impressed and noticed quite a few young players there. That evening at dinner I said to my mom 'I want to play the guitar'. She called a music teacher she knew, who encouraged me to play the saxophone instead. The following Christmas, my father, bought me a sax. I started taking lessons when I was 10-years-old.
How I Began My Performing Career
During high school at The Berkeley Institute, there was a band called NTS that a lot of great young musicians came out of, from the Hinds brothers, to Grant Williams, Barrett Dill and Kevin Richardson. Most of the guys went on to play music in some capacity. I was part of it and through that got to perform at various venues. I was paid $50 for one gig, which for me was awesome – to get paid for something I love to do. From there, I joined a couple of other bands, then went off to study at Bowie State University and Berklee College of Music. I came back to Bermuda and have been performing and teaching ever since.
Changes I've Seen To The Entertainment Industry
In this industry, you have to be open to change. The music industry is constantly growing and evolving, and if you want to stay in the game, and make money from it, you have to change right along with it. I've found that technology has become a big part of music production and performances in Bermuda. I've also seen a change in how live entertainment is perceived on the Island. Restaurants that hire live musicians do so to create an atmosphere. The food is the focus and music is secondary. I'm grateful that at least it is still present in some capacity. Going forward, I'd like to see more entertainers from my era, giving back and mentoring the youth so we can revive live entertainment in Bermuda.
My Introduction To Music
My journey in the performing arts began in high school at the Berkeley Institute as a member of the choir and theatre groups. Later in life, I developed a yearning to evolve my "gift". A pivotal moment arose when I auditioned for the Greg Thompson Review and was successful in getting a lead singing role. It was a show that ran five nights a week at the Southampton Princess, which albeit led to some vocal injury, but provided the impetus for me to receive the tutelage of vocal lessons and classical training with wonderful teachers such as our own Ruzelda Severin.
How I Began My Performing Career
Music and the arts, in general, have always been in my life, and I was fortunate to have parents who exposed me to diverse genres of music in our home. Gregarious by nature, as a young dancer with the Jackson's School of Dance, I was introduced to the stage. It was through dance and theatre that I developed the confidence and affinity to perform. My inspiration has emanated from a range of performers, and no doubt I, as an 'old soul' have a love of the iconic jazz singers like Sarah Vaughn, Ella Fitzgerald, Shirley Horn and Nancy Wilson, to name a few. I've had many magical moments in my over 30 years of performing, however, without question, my most memorable performance was at the Bermuda Music Festival in 2009, being on stage with the legendary Quincy Jones and his orchestra. That is etched in my soul for eternity.
Changes I've Seen To The Entertainment Industry
The electronic era has diminished the need for the full band; hence we do not have the advantage of hearing music in its fullest context, i.e. the Trios and Quartets of old. Economics is a driving force as it relates to the investment capacity that promoters, hoteliers etc. are willing to expend for entertainment. Thus it is incumbent upon ourselves as entertainers to develop an entrepreneurial approach to present our artistry to the masses and create the narrative of the value of local entertainment for our visitors and the local community alike.