by Robyn BARDGETT
As the kid of restaurateurs, I spent my youth in restaurants. But seeing it from the inside, I was constantly reminded that the industry is often unforgiving. The past 20 years have shown this to be true, with many restaurants shuttering their doors or having to reinvent themselves in less than savoury economic times.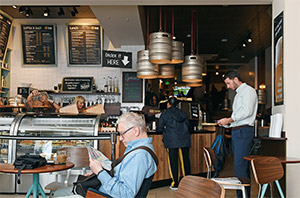 As a culture, we love to eat out, and many restaurants changed with the times or suffered the consequences. Some of the more nostalgic will remember places like MR Onions, which closed in 2007. If you were a kid in the 90s, you got a kick out of ordering the "chicken lips" or snacking on moreish onion bread. Other favourites that ultimately closed their doors in the past two decades, just to name a few, include Blackhorse Tavern, Green Lantern, Bombay Bicycle Club, Spring Garden and Buckaroo.
Reinvention defined the past two decades. The Newport Room at the Fairmont Southampton Princess received a AAA Five Diamond Award in 2006, the first for the Caribbean region. But, by the end of the decade, its future was in question, and in 2012 the restaurant was revamped into a gastropub. More recently, Mediterra opened in the spot and has been restyled as a Mediterranean tapas restaurant.
Hotel restaurants injected new life into the Island's culinary scene, most notably in 2014, when celebrity chef Marcus Samuelsson opened a pop-up restaurant at the Hamilton Princess & Beach Club and later went on to open a permanent spot with Marcus'. Rosewood Tucker's Point, The Loren and Rosedon have all updated their restaurant offerings.
Along with changes in people's tastes, the world changed significantly with a decline in tourists in early 2000 after 9/11. Restaurants looked for opportunities to attract local clientele and began catering towards international business workers. By the end of 2009, following the economic downturn, people were still eating out, but their tastes, and pocketbooks, had changed, and a drop in people living on the Island also meant closures.
One of the most significant changes has been the rise in popularity with take-out eatery style cafes and delis. In the past 20 years, casual eateries with grab and go options have continued to grow. Buzz originally opened its first outlet back in 2005 called H2O, but it quickly expanded across the City of Hamilton and inside petrol stations. There are now 10 Buzz locations. Other similar style spots that have proven popular include L'Oriental Express, Cafe 4 and Eateries, the food court in the Washington Mall. Cafe culture planted its roots on the Island with places like Devil's Isle and Brew, which offer take out options while also keeping coffee lovers caffeinated.
one of the most significant changes has been the rise in popularity with take-out eatery style cafes and delis.
Despite that, people are taking a chance in the industry, and new restaurants have opened over the past 20 years. In early 2000, the sushi craze took off, and spots like L'Oriental, Yashi, Harbourfront, Pearl and Blu Bar & Grill continue to satisfy our love for the Japanese delicacy. Former Chamber of Commerce Restaurant Division chairman, Philip Barnett, who is also president of the Island Restaurant Group, summed it up: "[The past 20 years is] one defined by innovation and reinvention." There are now a plethora of options, but that has made it difficult for many restaurants, he said.
"Now we have an oversaturation of restaurants, and therefore all in the sector are fighting over a diminishing local resident population. Quite frankly, it is the toughest market anyone can remember."