Gone are the days when camping meant roughing it outdoors…
by Heather Wood
Every summer, in spite of the effort, Georgeio Pitt pulls out his tent. He then has to go through a checklist to make sure nothing is forgotten: airbeds, chairs, flashlights, portable shower, food, ice…
Once he's certain everything is packed, he then has to haul it to wherever he's camping — usually Pontoons in Spanish Point or along Ferry Reach in St George's. He does it because he loves it, but when he decided on a camping theme for his 35th birthday — and invited friends to come along — he knew he had to up his game.
A day before the big event he turned to Catarina Rocha. An old friend, she'd started a business, Glamping On De Rock, a year ago. As its name implies, the company caters to people who want to camp in comfort and don't want the hassle of setting things up.
'Glamp tents' can be organised for everything from corporate events to kids' sleepovers to spa retreats and birthday parties. They can stay up overnight or just for a few hours; the idea is to allow people "to immerse themselves in a truly unique outdoor experience at parks, nature reserves, hotels, islands, backyards and private locations across Bermuda".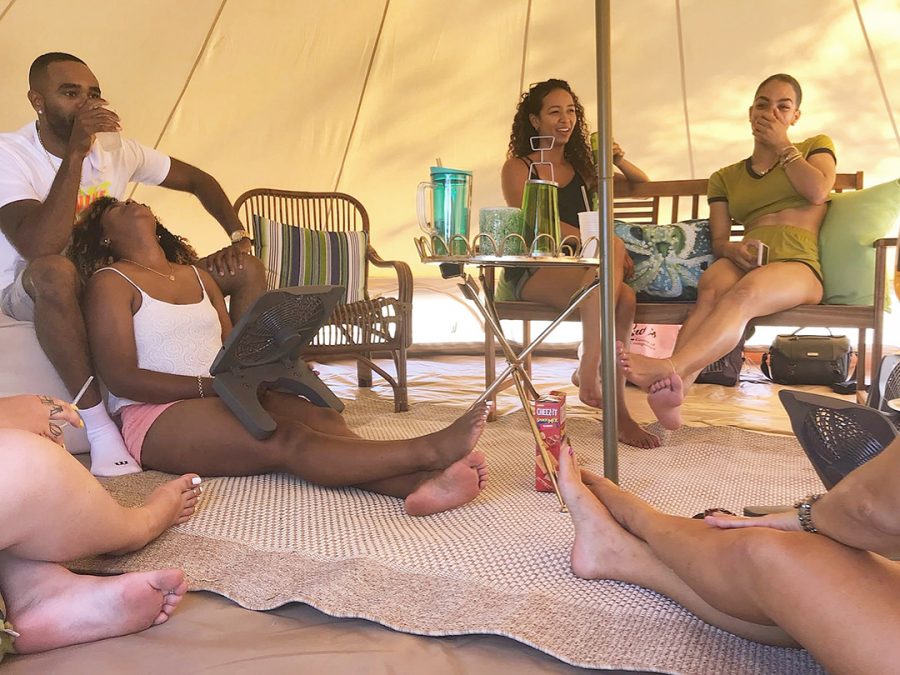 Georgeio requested "a chill out spot". Twenty-four hours later, his glammed- up living room was in place. "She nailed it," he said. "I knew Catarina personally, and I knew the experience she was providing was more upscale, and I wanted that element at the camp. The whole experience was perfect. She laid everything out for me, and I didn't have to do anything."
He decided to spread the celebration over two days, describing it in the invitation as "a pre-Cup Match camp out". By the time his 15 guests turned up at his house on June 4, his backyard had been completely transformed. He drew on his more than 15 years of camping experience to set up three sleepers and a bar; the "chill out spot" Catarina created was the centrepiece.
"We had a pool up, and everybody was just hanging out. She gave me the tent, the cushions, did all the decor in the tent; anything we needed she was willing to provide.
"The difference between glamping and camping is night and day. You're not roughing it, to say the least. Everything is very plush. I would absolutely do it again. She just adds that extra element that you don't get during regular camping — the furniture, the decor; otherwise you would have to transport your own."
Similarly, Keisha Allen-Smith wanted an easy way to celebrate her daughter Keimya Smith's birthday last summer. She wasn't a camper but had been impressed by what Glamping on De Rock did for a friend and thought it was something her five-year-old daughter and her cousin, Soleil Richardson, 9, would both enjoy.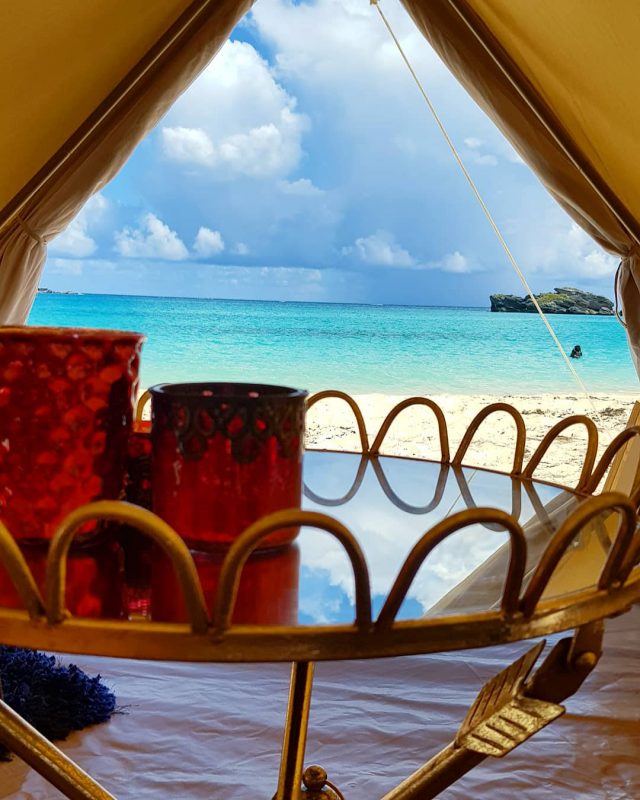 "We wanted to do something at the beach, and the ease of it appealed to me," she said. "Their dance recital always falls on the same week as their birthdays, and we needed something that would make it easy to celebrate."
She decided to go with "the village" option — three tents of varying sizes — for the celebration at Clearwater Beach in St David's. "It worked perfectly. The adults went into the lounge, which was the large tent, and the children in the other two. It actually rained, so the tents were perfect. "If I'd done it on my own it would've been a pop-up tent on the beach with cake, food and ice cream. Glamping added a whole 'nother level. Our guests couldn't believe it. It was all very nice and comfortable, and all the seating was provided in the tents.
"When got there, everything was done; everything was set up. What I liked was the convenience and ease, plus we liked the ambience of it. The big tent was perfect for adults, and the children liked the idea of it. For the girls, it felt like more of a party than just us going to the beach."

Ten ways to up-the-ante at your next campsite…
For anyone brave enough to try and create a glamping experience of their own, Catarina Rocha suggests the following:
Take a picnic basket with blankets
Think about where you are going to be: do you need pillows, seating, umbrellas?
Travel light: the biggest problem of camping is "lugging around all the stuff. That's why people avoid it, and that's why we started Glamping on De Rock — so you don't have to spend time carrying things and then setting them up".
Tiki torches are especially important in the summer months because of mosquitoes.
Pack a cooler — and fill it with ice.
Choose food that travels well and doesn't need too much care; especially important for a beach setting where you'll be in the heat, or if you're camping overnight.
Don't forget water and sunblock
Big, fun floatier can double as seating
Pack a blow-up mattress — you can buy them from Gorham's or Masters — or a sleeping bag. If you're just out for one night, a sleeping bag is probably easier to carry and you don't have to worry about blowing it up.
Bring a trash bag. That's super important. No one wants to pick up trash after you.
This article was originally published in the 2019 edition of the RG Cup Match supplement.