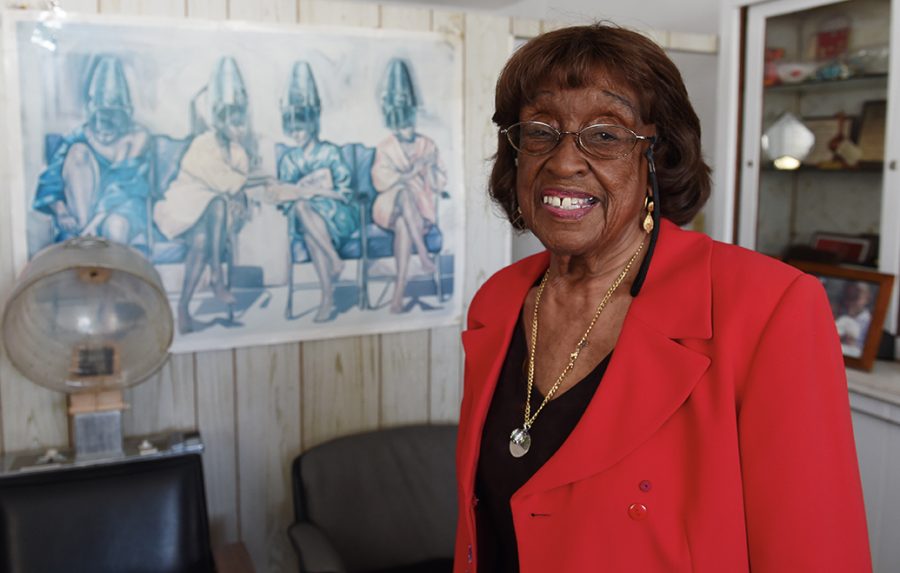 by Robyn Bardgett
Dr. Dorothy Louise Matthews – Paynter
At 97, Dorothy Louise Matthews-Paynter doesn't disappoint anyone interested in a walk down memory lane.
Inside her shop, Dottie's Unisex Beauty Centre, where she's been doing hair since the 70s, the walls are covered in memorabilia from a lifetime of hard work and learning.
Without once having to flip through the pages of The Life and Times of Dr Dorothy Louise Matthews-Paynter, the 2017 book by Cee Bennett-Rogers, she remembers the details of all of them. 
Dr Matthews-Paynter became an orphan at eight. Life didn't hand her advantages – she recalls being "poor as a church mouse" – but she was blessed with perseverance and determination.
It's likely why at nearly 100 she's still on her feet doing hair, something she's been passionate about since she was in middle school.
"I wanted to be a doctor, a lawyer and a hairdresser," Dr Matthews-Paynter said. "The only thing I have to do now is be called to the bar. I'm a practical nurse and I'm a hairdresser and I even had a beauty school. The only thing I haven't been is a lawyer. But people often come to me to solve their cases so I think I've been doing law anyway."
She became a "professional hairdresser" by 30, fulfilling a promise she'd made to herself. At 72, she married her second husband and received a PhD in cosmetology the following year. At 75 she was awarded the Queen's Certificate for the 50 years she held a cut-a-thon as a community fundraiser.
Despite those achievements, the reality of what it was like to grow up black in Bermuda isn't far from her mind.
Dr Matthews-Paynter recalled the small but significant role she played in turning the tide against segregation in Bermuda.
"Having travelled a lot in the States to further my education I had been to lots of nice theatres where I could sit wherever I liked. I had been reading Forever Amber and it was on at the theatre here. In the theatre on Queen Street blacks couldn't sit wherever they wanted, they had to sit right up close to the screen where it was difficult to see the picture.
"I came back from the States feeling real brave and I sat right in the middle. There were only about three or four other people in there but the usher came almost immediately and said, 'Lady, you can't sit there.' I asked her why and she said 'Because…' and, before she could finish, I said, 'That's a conjunction, give me the other part of the sentence.'
"So I sat back and she came back and said, 'Lady, the manager says come to the front desk and get your money.' I told her if the manager wants me to have my money tell him to bring it to me. She came back with the money and I said thank you very much and I watched the movie for free that day. I didn't move."
She retold the incident in a letter to Housewife Choice, a popular ZBM radio show hosted by Walter Staskow in the 1950s that invited listeners to send in their most embarrassing moments. She sent it anonymously, with only the initials DLM; the Bermuda Recorder, the island's only black newspaper, picked up on it.
Dr Matthews-Paynter said she was among thousands of blacks in the community who were fed up with the second-class treatment they were receiving in their own country. 
"The next thing I heard, they were boycotting the theatres," she remembered.
The 1959 Theatre Boycott paved the way to the end to segregation in Bermuda. 
While things have changed, she said, there is still a long way to go as prejudice exists in a "modern form."
This article was originally posted in the 2019 edition of the RG Summer Magazine