The winners have been crowned and will soon be jetting off to their respective destinations; their rewards for winning the City Food Festival's Chef and Bartending Competitions.
The Chef Competition kicked off last Wednesday, October 17,  in a stunning setting at Fort Hamilton with the First round. Elizabeth Blankendal and Mohamed Elfeky went head-to-head in an appetizer showdown. They each had to use the five ingredients provided – shrimp, coconut milk, peppers, beets and butternut squash. On Thursday, in Round Two, three more chefs – Antonio Belvedere, Marcella Smith and Ibrahim Elassal took on an entrée challenge using lobster, feta cheese, onions, spinach and sweet potato.
Ticket holders to the two preliminary rounds were provided with samples of the dishes as the chefs led a live demonstration of their recipes. A welcome cocktail and wines served with dinner were provided by Goslings. Each chef was allocated thirty minutes to prepare and plate their meal and fifteen minutes to clean their work area. Judges allocated points to each dish based on taste/flavor, creativity, use of ingredients and presentation.
The winning chefs from the first two rounds, Elizabeth Blankendal and Ibrahim Elassal, moved on to the third and final round, the Dessert challenge, on Saturday night.
Guests on Saturday were treated to a 4-course dinner provided by MEF/Fourways Catering. Accompanying the meal were a selection of rums, courtesy of Bacardi, to complement each course. The chefs were challenged to create desserts for the final course, again using five compulsory ingredients. The competition was fierce but it was ultimately Ibrahim Elassal from Fairmont Southampton that was declared the victor.
On Friday night, the Bacardi Bartender Competition got underway at Bacardi Headquarters. Five local bartenders – Matt Francis, Ryan Gibbons, Kazim Muhammed, Keishaun Majors and Sula Foggo all brought their A-game to the table and wowed a packed house with their impressive skills. Judges graded the competitors on visual appeal, balance of flavors and taste, creativity/originality, inventive use of ingredients, use of sponsors brands, knowledge and accuracy of recipe, ability under pressure and time of production.
The judges were so impressed with each creation that there were only mere points between the winning cocktail and its competition but it was Matt Francis, representing The Blind Pig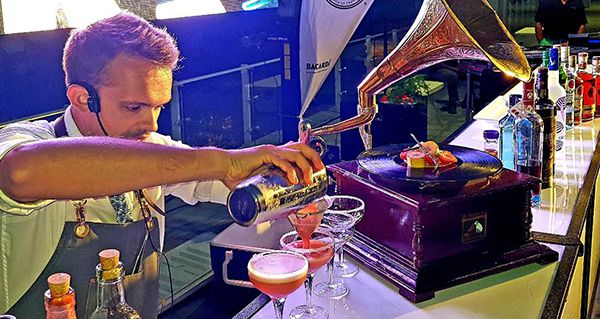 Cocktail Co. that walked away with the top prize – $400 in cash from the City of Hamilton and a trip to Puerto Rico to visit one of the Bacardi distilleries. Matt's winning concoction, the Mellow Season, is a delicious medley of Bacardi 10, lime, strawberry, black pepper syrup, egg white with a vanilla sugar rim.
The City of Hamilton would like to thank all of the contributing sponsors of this year's fall Food Festival as well as all of the judges and volunteers that participated and lent their support.