Photographs by Blaire Simmons
In November of last year, vice-president of Somerset Cricket Club, Vashun Blanchette succeeded Alfred Maybury after his seven-year term and became the club's youngest president. The 32 year-old, has been involved with the club for the majority of his life — starting as a child and serving on the executive side of the club since 2009. Now … an added level of responsibility as his first term also happens to be a Cup Match year in Somerset.
Mr Blanchette "never had dreams of becoming the president" but has always gravitated towards the role. "I've been around the club my whole life, starting as a pewee footballer in the early 1990s", he said. "It was always an environment where I was able to be around my friends having a good time under the guidance of positive role models".
"I grew up in the Somerset football and cricket programs — playing football right through to the senior team. I didn't really play much cricket as I got older. I've actually had to fill in for a couple games for the senior team in the last couple of years, but I wouldn't classify myself as a cricketer."
Although, not a big player, Mr Blanchette recalled many weekends at the club watching the sport. "One Cup Match in Somerset, I must have been about 9 or 10, I actually did the scoreboard. Now it's is all electronic, but before it used to be rolling pins and metal sheets that you used to 'have to hang up. I was standing on a milk crate putting all the numbers up. So, I understand cricket, I just never really played it at a higher level."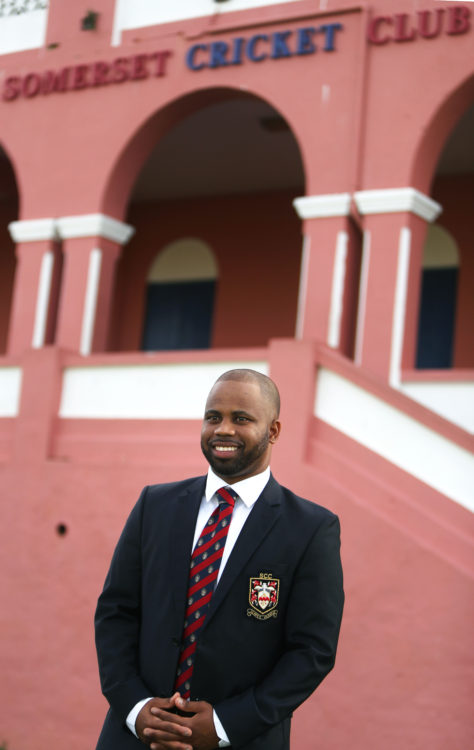 Months before the Island's most-anticipated, two-day emancipation celebrations, Mr Blanchette describes the preparations as "organized chaos", saying that "it really is a full-time job" outside of his career at the Bermuda Monetary Authority.
"There's just so much to do and it's a collaborative effort. With Cup Match, I feel like you run through the finish line and then you're still sprinting. It really involves that much co-ordination with security firms, police, caterers, decorators, scaffolding, organizing staff for gates and bars, getting the vendors and you need electricians, plumbers, its endless. It's a lot that goes into the biggest event in Bermuda.
"Over 2 days we attract upwards of 15,000 people so that gives it some context. It we have 60,000 residents that 25% are coming through those gates for 2 days."
Blanchette's main objective this year? That everyone comes to SCC and has a "safe and enjoyable holiday, incident free".
"Often times Cup Match is the place where you see people you haven't seen all year or since the previous holiday, right? So, it is a time for family and friends to come together. But also, an opportunity for us to reflect on why we really celebrate.
"Yes, the cricket game and the social aspect around it is what we come through the gate for, but the historical context and the abolition of slavery is important and we should use it as an opportunity to reflect.
With the game — the intent is to always win, but if we can't win… don't lose. I don't want that on my resume: "became president when Somerset lost the cup", he joked.
Discussing the future of his club, Mr Blanchette expressed that re-establishing SCC as the center piece for the Sandy's community is his teams' top priority. "We also, want to continue to strengthen our youth programs. We are probably one of the only clubs, that have a football and cricket team in every age group. So, we want to continue to have a thriving program where parents feel or see value in bringing their child."
He is adamant that the club's responsibility is focused on building individuals through sports. "Now if we get a professional then great, but I don't think that's our objective. It's to help mold upstanding citizens who ultimately go on to do good things. Whether they go away to school and come back, or don't go away at all — but we equip them with tools they need to be their own boss, entrepreneurs or whatever they decide to pursue."
When asked what he would say to younger people, admiring him in his new position, Blanchette said he would tell them to "simply be yourself. Follow your instincts, let your conscience guide you and obviously not be naive. We are living in times with distractions and outside influences, but you know be diligent and dedicate yourself towards whatever positive goal you wish to achieve".
This article was originally published in the 2018 edition of the RG Cup Match supplement.