Cup Match pre-game with Neil Paynter 
Cup Match is one of the biggest events on the island and promises a heated game between St. George's and Somerset this year. The two teams have been preparing all year to play for the cup, pride and bragging rights. Last year, the St. George's Cricket Club celebrated its 125th year and, in that spirit, have every intention of winning.
Neil Paynter, 51, is taking on another Cup Match feeling seasoned. With 16 years in the role of club president and 23 within its administration in total, he speaks with casual enthusiasm about the game.
"Even though I never play Cup Match – football has always been my sport – I love cricket, I breathe it, I could watch it all day". He feels a unique appreciation for the game, and says, "This is what the British call a 'gentlemen's game' – unlike football, the men walk onto the field, no complaining, no whining. This is what you can expect." Pure team sport.
On Saturday, 22 players vied for a spot on the St. George's team in the trial match. Only 14 of them have been picked to move forward to play under the captaincy of Macai Simmons, who is taking on his second year in the role. When commenting on grounds for selection, he says, "the committee is obviously looking for physically fit players – we need them to be able to last two days – but they are also looking for batsmen that can accumulate runs, in whatever way possible".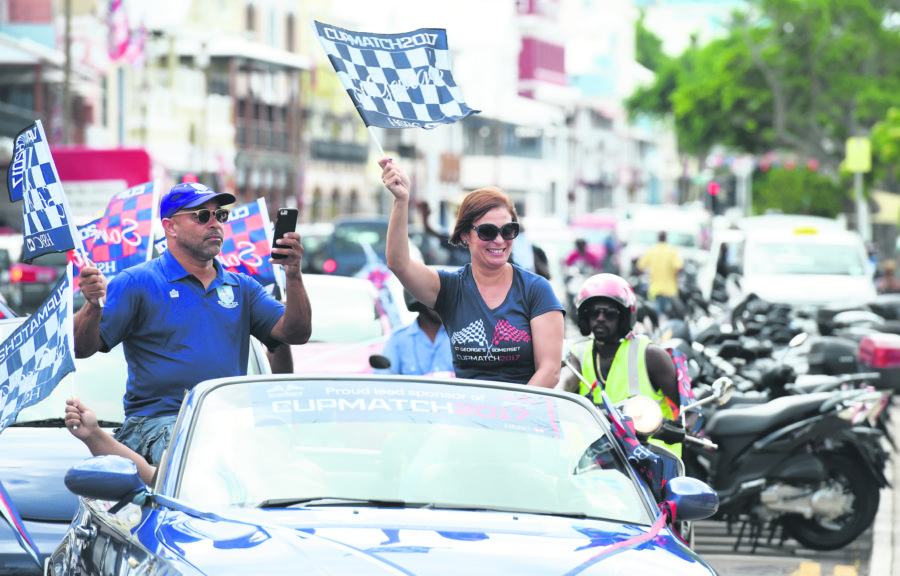 The game of cricket involves strategy, "Those selected have to be intelligent athletes who can stay on the wicket long enough to bring us up to a formidable total". When it comes to selecting bowlers, Mr Paynter is passionate about his team having one shared goal: "In order for us to win, we have to bowl Somerset out twice, and we have to have enough runs."
When searching for inspiration, Mr Paynter looks to the great players of the past. "We look to all the players who have played before us: Dennis Wainwright (former St. George's wicketkeeper-batsman), Wendall Smith (former captain), Graham Fox and Charlie Marshall (early-order bat).
Mr Paynter is adamant about continuing to cultivate this type of player, and early on in their lives as they come through the industry.
"We feel positive about our young people that come through the club. They show a lot of promise. My hope is that we can give our youth recognition for their talent and continue to challenge them – meaning that we have to be able to allow them to play in an international arena".
His desire to win in the match parallels his determination for a community win, too. When it comes to his island, he has a more long-term view. "Sports – cricket especially – but sports in general, build character for our young people to become the type of citizens that this island needs". He proudly states that they are always looking for like-minded support is in that area.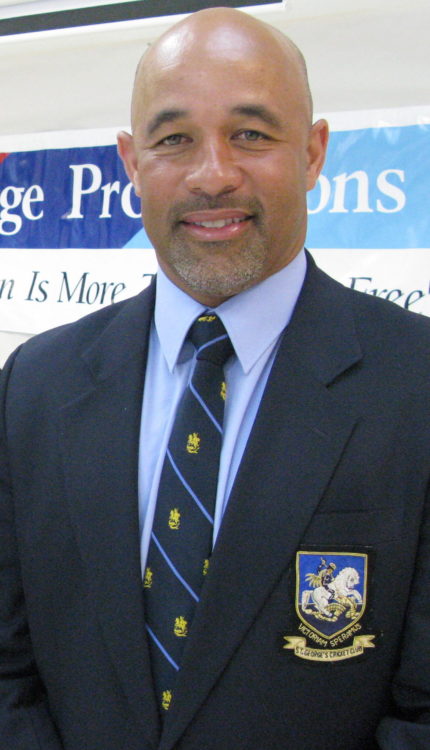 When it comes to support, he drives home the need for generating community connections and social cohesion through sport – football or cricket. "HSBC is the Cup Match sponsor, with Aspen as St. George's Cup Match team sponsor, which we're incredibly thankful for. What we want is to make connections that will also support the league throughout the year".
At the moment the club does not have a sponsor. The resources that come from these relationships help with providing education for qualified coaching, adequate training facilities and, most importantly, getting young players overseas to experience international competition. We want them to come back and raise the standard for the sport in Bermuda.
Mr Paynter doesn't like to play favourites, he's proud of all of his players, but he mentions that some of the talent at the club is already up to that international standard. "Isaiah Greaves (2017 junior reserve) and N'zari Paynter (2017 colt), playing in our senior division," says Mr Paynter, "are two players to look out for". In 2016, N'zari was selected to compete in the West Indies Cricket Board U19 50 overs tournament in St. Vincent and continues to show great promise.
Mr Paynter brings the need for sponsorship full circle and back to the upcoming match. Sponsorship drives the youth programs and thus the St George's team. The under 8s, under 11s and under 15s are the future of the club. Giving the players a good platform to train and the challenge of international exposure is what will drive a brilliant Cup Match game for spectators in the end.
As the game approaches, he's aware that there are young people who have been training hard. They will be watching in the camps, dreaming of their chance to play in the big game. To them he says, "Just continue to work on your craft, good sportsmanship is important, and don't give up".
When asked to comment on his new Somerset counterpart, Vashun Blanchette, Mr Paynter warns Bermuda not to underestimate the man stepping into a major role for the west side, "This is his first year as president, yes, but he's been the vice president for four years, and within administration for even more, so he knows what he's doing. I wish him all the best and am looking forward to [Somerset] putting on a good event for the island".
Want to know more about Somerset? Click here for our Cup Match feature cover story.