For Richard Zuill, Junior Sous Chef at Marcus', there's no greater culinary thrill than that which comes from taking classic local dishes and putting his healthy spin on them. He believes his recipe for a mayo-free potato salad (provided below) is just as tasty as the traditional summer dish found at barbecues and picnics around the Island, but with fewer calories – and a fresh taste thanks to locally picked rosemary.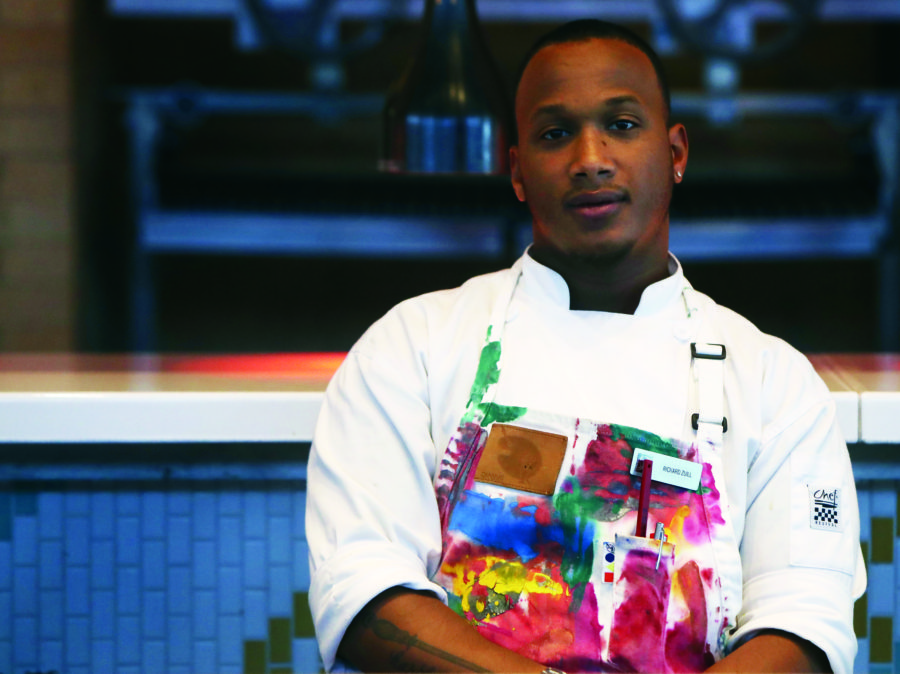 Chef Richard stumbled upon the unique recipe while experimenting in the kitchen one day. He said: "I'm always looking for more nutritious alternatives to people's favourite foods. I feel we should be eating healthier, so I try to serve dishes that are wholesome but still loaded with flavour. That's my contribution to a healthier Bermuda."
Over time, he's also begun to add an extra kick to the recipe by utilising sherry and topping it off with sunflower seeds for crunch. He encourages local cooks to keep things simple when entertaining this summer. "Rough chop the potatoes, roast them in the oven, add four or five other ingredients and mix it all together. It's as easy as that. My advice to at home cooks is to not overthink it."
[videogallery id="Chef Richard"]
---
Chef Richard's Zulu Potato Salad
6 servings
Ingredients
2lb Potatoes (Bermudian, roughly chopped and blanched)
1tsp Chilli Flakes
2 Tbl Minced Garlic
3Tbl Cajun Seasoning (any brand will do)
3 sprigs Rosemary (fresh Bermudian, minced)
½ lb Okra (sliced)
1 bunch Basil (Fresh Bermudian) chopped
½ cup Sun Flower seeds (fresh Bermudian)
½ cup Olive oil (for sautéing)
salt for taste
½ cup Sherry Vinegar
Directions
1. Mix potatoes, Rosemary, and Cajun seasoning in a large mixing bowl until the potatoes are evenly coated with spice
2. Heat a large frying pan (cast iron preferred)
3. Put olive oil, garlic, okra, and potatoes in the pan and sauté until potatoes are golden
4. Add sunflower seeds and basil
5. Add Sherry Vinegar to deglaze pan
6. Salt to taste.
7. Serve in your favourite casserole dish
This article was originally published in the Summer 2018 edition of RG Magazine.