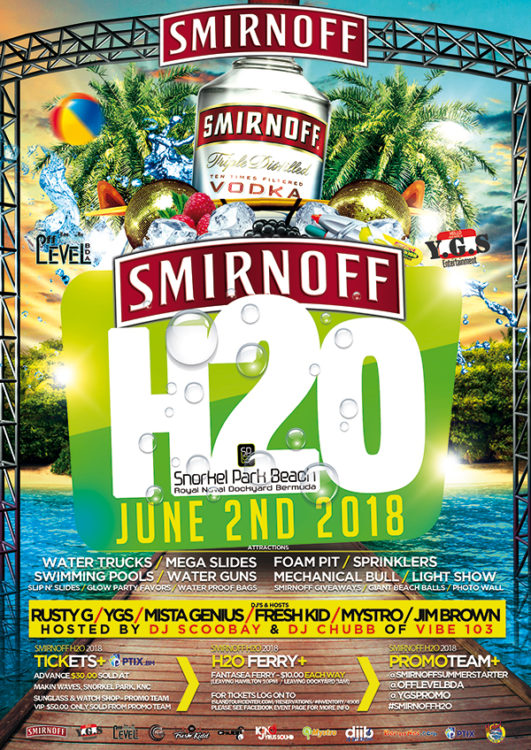 2018 Smirnoff H2O proudly brought to you by Off Level BDA & YGS Ent.  is set to take place on Saturday, June 2nd, at Snorkel Park Beach.
The party will include a number of attractions which include light show, water trucks, pools, sprinklers, slip n slides, mechanical bull, foam pit, professional photography, a photo backdrop on entry, giant inflatables, water guns & Smirnoff giveaways.
The night is hosted by DJ Chubb, with live performances from General Kaution & Jesse Seymour. DJs for the night are DJ Rusty G, YGS, Fresh Kidd, Jim Brown, DJ Mystro & Mista Genius.
Early birds have been sold out for some time now and VIPs are nearly all gone too. Regular tickets cost $30 and are available for purchase at Makin Waves [Hamilton], Snorkel Park, Kit N' Caboodle, Sunglasses and Watch Shop, Ptix.bm or from the event DJs and promotional team.
The Fantasea Ferry will cost $10 each way, leaving Albouy's Point Hamilton at 10.00pm and leaving Dockyard at 3.00am.
For for information on the ferry run, visit the Island Tour Centre website.