Oven fried Tortellini (serves 6)
Ingredients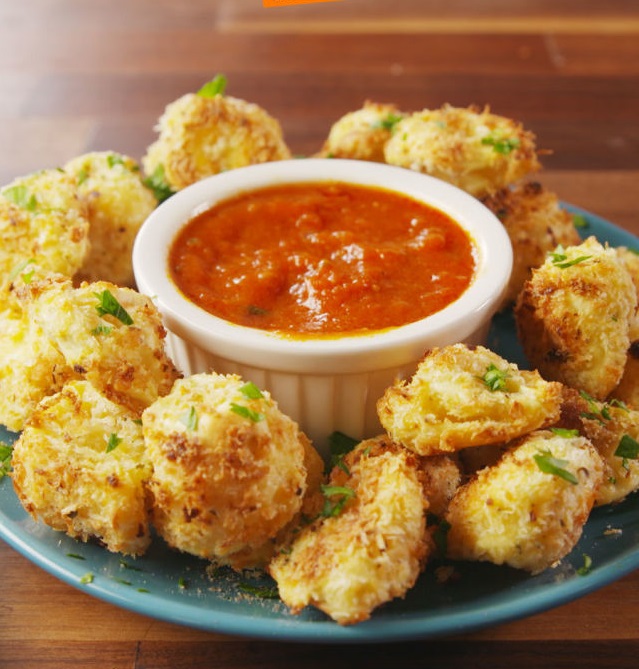 1 package cheese tortellini
1 c. all-purpose flour
2 large eggs, beaten
1 c. panko
1/3 c. freshly grated Parmesan
2 tbsp. butter, melted
1 tsp. dried oregano
1/2 tsp. garlic powder
1/2 tsp. red pepper flakes
kosher salt
Freshly ground black pepper
1 tbsp. Chopped parsley, for garnish
marinara, for serving
Directions
Preheat oven to 375 and line a large baking sheet with parchment paper.
In a large pot of boiling salted water, cook tortellini to al dente according to package instructions. Drain.
In a medium bowl, mix panko with parmesan, butter, oregano, garlic powder and red pepper flakes. Season with salt and pepper.
Coat tortellini with flour then dredge in egg mixture, then in panko mixture. Continue until all tortellini are coated.
Bake for 25 minutes or until golden. Sprinkle with parsley and serve with warmed marinara sauce for dipping.
Bacon crack bites (serves 6)
Ingredients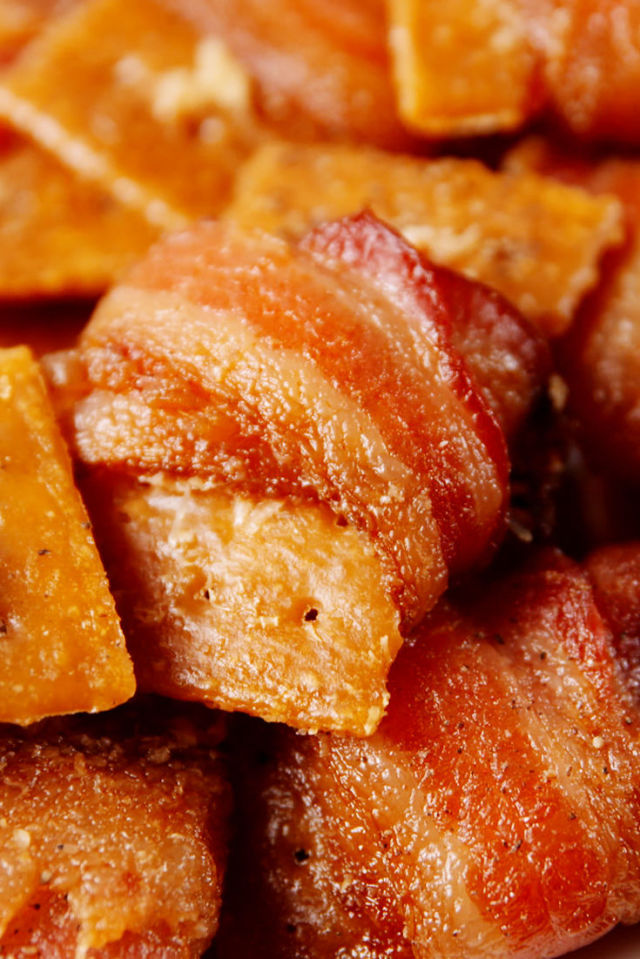 1 package bacon, strips cut in half horizontally
32 Club Crackers
1/2 c. freshly grated Parmesan
Freshly ground black pepper
Ranch dressing, for dipping
Directions
Preheat oven to 350º and line a large baking sheet with parchment paper.
Arrange crackers on baking sheet and sprinkle with Parmesan. Tightly wrap each cracker with bacon and replace seam-side down, then top with more Parm.
Bake until bacon is cooked through and bites are crispy, 48 to 50 minutes. Season with pepper and serve with ranch for dipping
Pull apart Xmas tree
Ingredients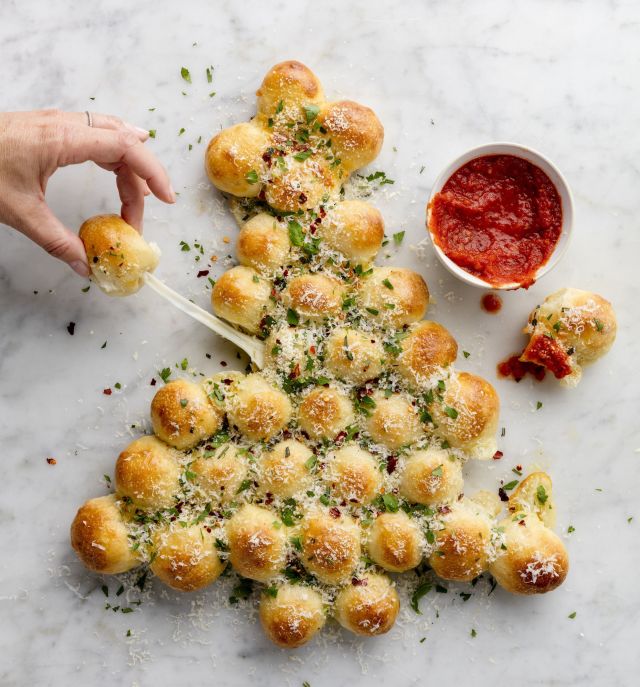 1 lb. refrigerated pizza dough
Egg wash (1 egg whisked with 1 tbsp water)
7 mozzarella sticks
1/4 c. melted butter
1/2 c. finely grated Parmesan
1 tbsp. Thinly sliced basil
1 tbsp. chopped parsley
1 tbsp. chopped rosemary
Marinara, warmed (for serving)
Directions
Preheat oven to 450 degrees F. Line a large baking sheet with parchment paper.
Cut mozzarella sticks into 1" pieces. On a floured surface, divide pizza dough into two pieces. Stretch and roll each piece of dough into a long rectangle, then cut dough into 2" squares (you'll need 33 total). Wrap a dough square around each pieces of mozzarella, forming a tightly sealed ball. Place balls seam-side down on the baking sheet in the shape of a Christmas tree (they should be touching). Brush egg wash on dough balls and bake until golden 15-20 minutes.
Meanwhile, whisk together melted butter, Parmesan and herbs. Brush on baked pizza dough balls. Serve warm with marinara for dipping.