From hats to electric cars, food, fashion and music, the best and brightest of Bermuda's young male entrepreneurs are making names for themselves at home and overseas.
Striving to make themselves, their families and their island better than before, all are driven to succeed, but no two stories are the same. We spoke to 12 of these industry leaders of the future about their businesses, their motivation, and what it means to work for yourself.
---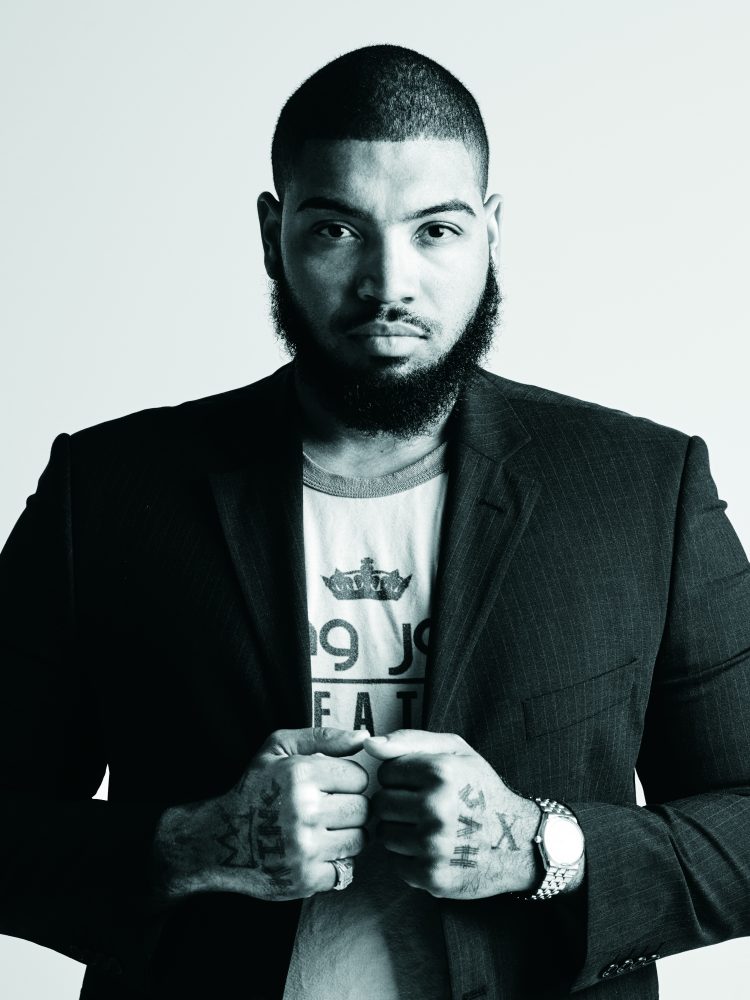 Jahde Dowling
Business: King Jah Beatz
Audio engineer Jahde has had a passion for music for as long as he can remember, and by the time he was 15 had convinced his mom to buy him a beats machine for Christmas. That passion took him to Full Sail University where he graduated second in his class.
A producer at radio station Hott 107.5, he also works independently on the sound for commercials, and music videos.
Taking the step:
"Some of the biggest challenges in this industry when it comes to getting up and running I really didn't have to face. I was afforded the luxury of being able to start in a place that was already established.
"I had a few bumps in the road on my way to finally starting my own recording company, and I believe that the hard times, and the desire to prove that I am good at what I do, drove me to start doing some independent work."
Dream job:
"I would absolutely love to work with some companies like Disney, Sony and Warner Music Groups and possibly go to and live in the USA to become an internationally recognised engineer. I would love to win a Grammy or even be recognized by the Music Producers Guild for engineering."
---
Michiko Campbell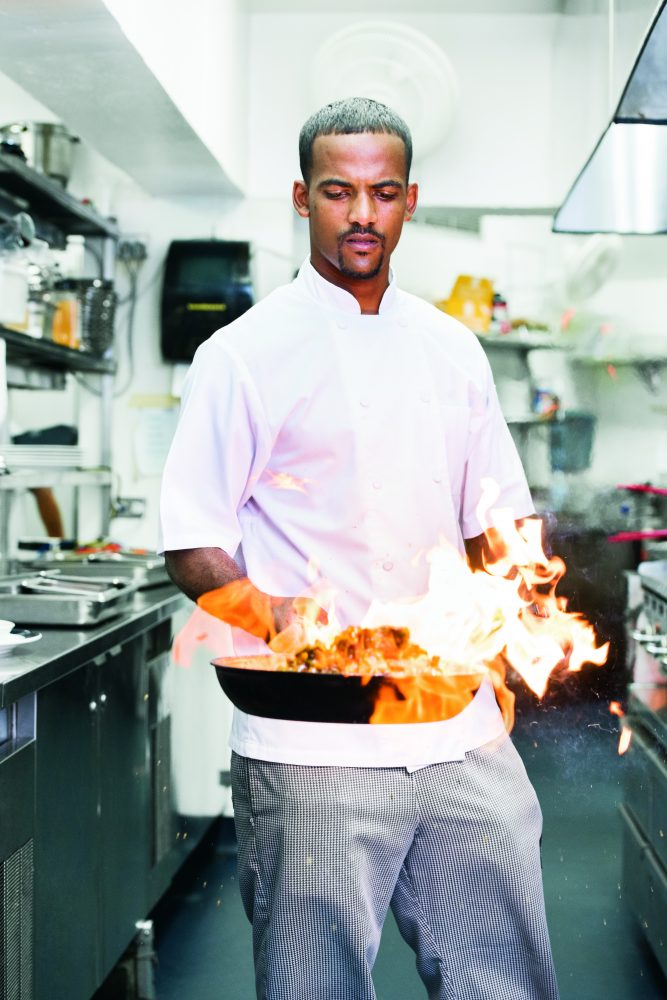 Business: Chiko's Smokey Rub
Not content with having one business, Michiko, who also is the chef at the Royal Bermuda Yacht Club, has three, and not all of them are in the food industry. While the Smokey Rub is the most well known, and the outside catering business is what you might expect from a chef, Michiko is also a carpenter of note, specialising in one of a kind pieces for private clients.
So, Michiko, a chef and a carpenter, tell us about that
"I had a talent for working with wood, so I started Chiko The Builder. I can create anything a customer wants; benches, coffee tables, bed headboards, anything. I started working in a carpentry workshop at the age of eight with my uncle. I believe it is always great to have a trade under your belt."
How did Chiko's Smokey Rub come into being?
"It started with a comment where someone asked me about a rub I had made. They said I should sell it, so, I did. Also, my wife, Sherelle Campbell, is my other driving force, she believed in me. From the first day I started I said 'Chiko's Smokey Rub and Rellz Hott Graphics [my wife's business] working together will take us far'. She created my logos and does all my marketing. It helped get the businesses off the ground."
What is the most satisfying thing about your businesses?
"Giving back every year because of how well the business is doing; or hearing the people's comments and feedback, or just walking in the street and people saying 'that's the rub guy' or just knowing you as spice man.
"I feel very inspired knowing that I'm doing something right and I have that consistent support from family, friends, and customers. I love the reviews I receive after building something for someone. I had built some planter boxes for a preschool and the compliments on my work that I received from teachers and parents were heartwarming."
---
Andre Manders
Business: Fresh Fit
Andre's business is fashion, specifically hats, he just loves hats – and Bermuda, of course, so it makes sense that his brand's sole purpose is to promote "Bermuda pride and culture in a stylish fashion"
Getting started:
"As a college student studying abroad, I was big on representing my country. Each time I went back to school I would spend at least $500 to $1000 on Bermuda-branded. One particular mid-term break in 2011 I was in Brooklyn when I walked into a Lids store to buy a few hats. I noticed they had blank hats and offered customers the option to customise the hat.
"Being full of Bermuda pride I asked them to make me a hat that said 441 and BDA. I was in love with my hats. However, it wasn't until the summer of 2012 when I wore one of my hats to a football at Rangers that the idea came to me.
"Everyone asked me where I got the hat from and how could they get one. That was the day I decided to start my own brand. I came up with the logo and name within the month. Although it took me four years to actually follow through with the idea, that's how I got started."
Facing a challenge:
"When I officially started in September 2016 there were a lot more local talented entrepreneurs who had started their own clothing brands. The market isn't as open as it used to be in 2012. A sense of Bermuda pride is a lot stronger now than it was. As a result there is a lot of competition, which is good.
"However, one of the biggest challenges is trying to differentiate yourself from others. People often think you are stealing or copying ideas. When the reality is, I have been planning this and thinking about this for years.
"I have a ton of ideas and in due time I will differentiate my brand."
The future:
"I want to become well established here in Bermuda and be able to cater to everyone; locals and tourist. Secondly, my ultimate goal is to expand internationally. I have already received a few offers to have my brand in stores abroad; which is great, but I'd rather solidify my brand here in Bermuda first."
---
Greg De Melo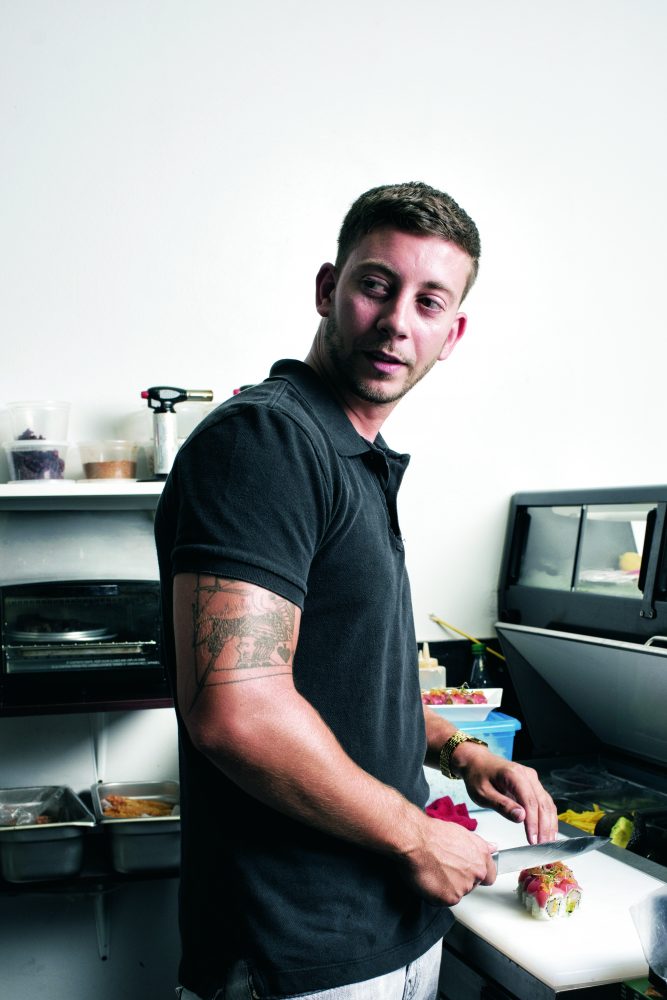 Business: Misaki restaurant
As if being a senior technical adviser in the banking industry wasn't enough, Greg decided to get into the food business. A meeting with Leo Calingasan, the former head chef at Pearl, changed his direction from a food cart idea to Bermuda's first pick-and-mix sushi restaurant.
So, Greg, why start your own business?
"Tough question, I think the determination to be successful, to have something to call our own, and to have something that one day when I have kids they can be proud of and potentially be a part of.
"I wasn't always focused on being successful, but after losing my father at 18 years old I was determined. I know he would be proud of my brother and I.
"You need to have the right balance for your business. You need someone who has the business skills and then someone who has the hands-on skills, Leo and I are a great combination of these. Make sure you choose the right people to go into business with."
What advice would you give a budding entrepreneur?
"Choosing the right location is key no matter what business you're in. Be prepared to do a lot of paper work, phone calls, following up, and running around. Make sure you ask questions and I would recommend speaking with someone in a similar industry so that you can gain some insight as to what to expect. When you make that commitment by signing contract or investing a large sum of money be prepared to work hard because it isn't easy, but just keeping looking for the light at the end of the tunnel and you'll get there."
---
Russell Griffith (aka DJ Rusty G)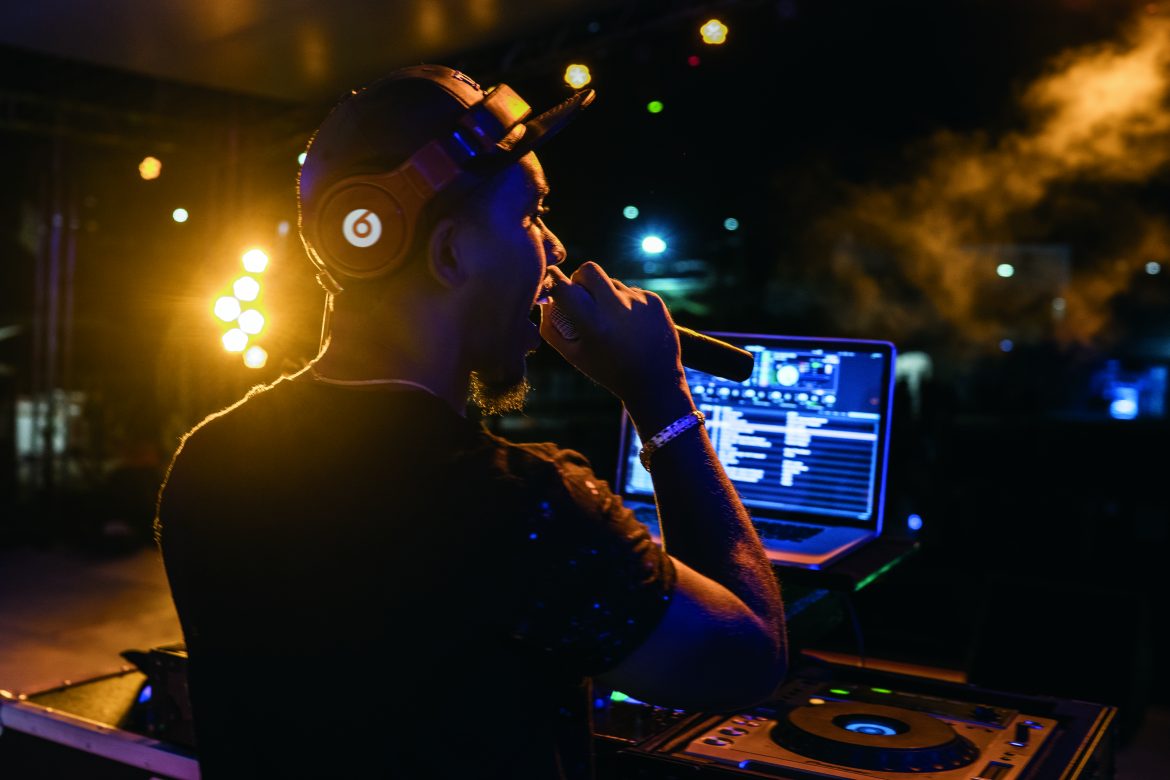 Business: DJ
From his start at college house parties to Bermuda's Summer Splash, Rusty G is one of the island's top DJs. Here he tells us about how he got his start in the business, and what drives him every day.
When did you realise this was what you wanted to do as a career?
"I started playing music in college at house parties, student events and clubs. It was with a group of friends, we had a sound called Immortal Vybz Sound at the time. It wasn't long until I realised my passion for it and decided to continue on after I finished school."
You never get a second chance to make a first impression
"Getting started as a DJ is the hardest part. Club owners, radio stations and promoters don't know if you are good so you have to prove that you are ready to handle it. Once given the opportunity to play in front of a crowd you have to make sure you deliver or you may never get a second chance!"
What is the best thing about what you do?
"Seeing a great crowd reaction to something I did is always satisfying. Knowing that people genuinely enjoy themselves when I play is extremely rewarding in itself."
---
Sam Outerbridge
Business: Coral Coast Clothing
Sam is one of the brains behind Coral Coast Clothing, alongside business partner and friend, Adam Petty. After escaping from desk jobs that left them unfulfilled the pair began life in New York's garment district, and now have a luxury menswear label inspired by their island home.
Sam, tell us about those early days in New York
"We went to the garment district with a passion for our idea, but no direction. We definitely learned the ropes of the fashion industry through trial and error. We has were unhappy with our 9-5 jobs as underwriters and we really wanted to create a product that Bermudians could believe in and could be known as one of the best in the world."
What was the hardest part in getting started?
"In the early days of starting a company if you aren't prepared to really struggle, then you are being naïve. With every peak comes a lull that you can never forecast. You have to be strong and very adaptable in order to survive on your own.
"Most challenges in starting your own business will usually stem from a capital/monetary standpoint. You need money to make money in this day and age. Another challenge has been convincing stores and buyers that your product can compete with the big players in the market."
What is the most satisfying thing about the work for you?
"The most satisfying thing about our business is that we are able to sell our dream to customers that genuinely love the product. It is extremely gratifying to think of a design in your head, bring it to life and then sell it!"
---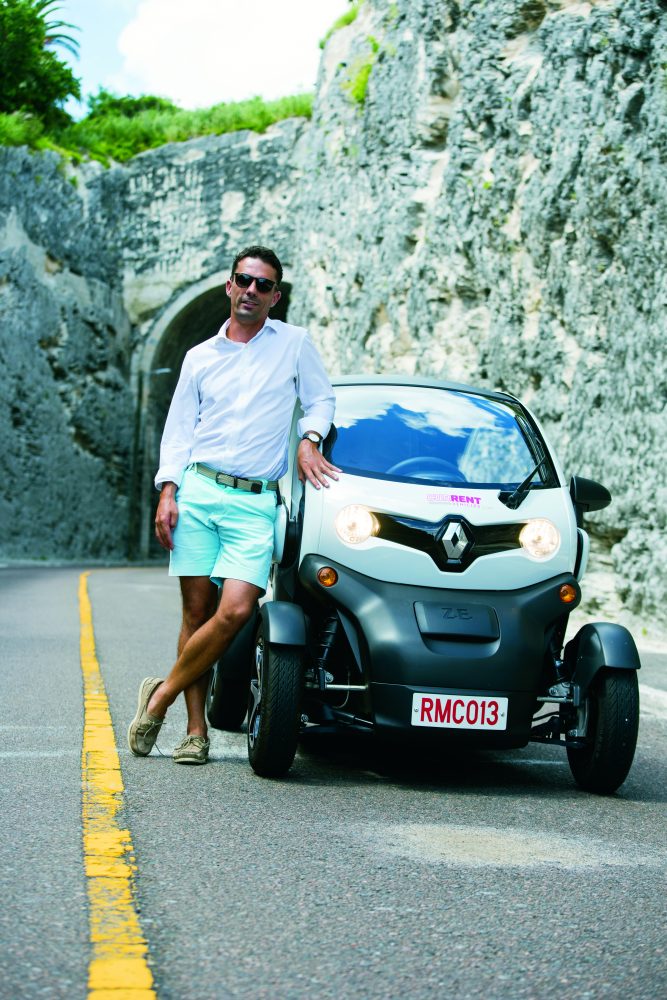 Piers Carr
Business: Current Vehicles
Another two man band, Piers Carr and John-Paul Doughty are the duo behind the island's first car rental company. While John-Paul is a recent addition to the team, Piers has been dreaming of this moment for several years.
How did you first get started?
"I recognised that the corporate world wasn't for me, and wanted to do my own thing."
What drove you to start your own business?
"I was frustrated at seeing Bermuda consistently underperform as a tourism destination and identifying a lack of safe, reliable and affordable transportation as one of the major causes of this."
What is the best thing about working for yourself?
"Doing something I really enjoy, and looking forward to going to work each day."
What is the worst thing?
"It is 24/7 with very little down-time."
What challenges have you faced while getting your business up and running?
"There have been too many to count. I now age in dog years."
What is the most satisfying thing about your business?
"Seeing the smile on people's faces when they drive our cars and helping to do our part to rebuild Bermuda's tourism future."
What are your hopes for the future?
"For Bermuda to fulfill its potential as a world-class tourism destination and for the island to make a total conversion to electric vehicles. There is no reason that within 5-10 years both can't become a reality."
---
Conor Outerbridge
Business: Freelance photographer/videographer
Something of a free spirit, Conor is hoping to let his artistic nature take flight as a freelance photographer and drone operator.
Conor, you dropped out of university to pursue your dream, tell us about that decision.
"I have always been into photography and videography and it [studying business] wasn't something I wanted to be doing. I dropped out of Dalhousie University in December last year.
"I first got started when I was in Washington Mall one day and I saw a drone and just decided to buy it. I got my first job working on the Babymoon film with Burnt House Productions and then from there everything just took off."
What drives you in your approach to working?
"The reason why I like it [being my own boss] so much is because I can work on my own time and pick and choose jobs I want to do. What drove me to start my own business here in Bermuda is to do something completely different than anyone else was doing. I find that a lot of people here just go to college and then come back and work in an office everyday for the rest of their lives. I want to love what I'm doing every single day."
What has been your biggest challenge so far?
"Having to put in the initial investment of buying a lot of camera gear; drones, cameras, underwater housing , microphones, lights, the list goes on and on. Another thing that is challenging is trying to get your name out there."
What are your plans for the future?
"I hope to travel throughout the year around the world as a freelance photographer/videographer and then be in Bermuda between May and August."
---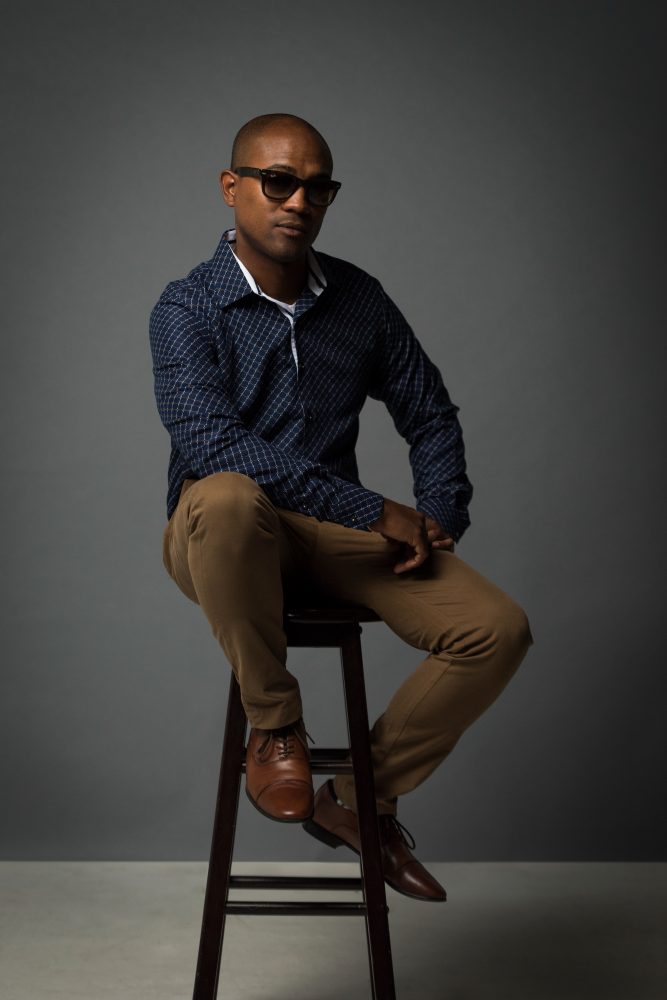 Melvin Dickinson
Business: Mediaville
A multi-media marketing and digital agency, Mediaville is at the forefront of technology and innovation on the island, however, things might have been very different, as Melvin describes.
How did Mediaville come about?
"I give my brother Qian Dickinson the credit for getting me started. About 13 years ago my brother, under the brand Vybez Alliance, was building small websites for people while he was running his online business.
"I was in college planning to become a cardiologist and one day he called me and said he was swamped with work. He said if I was up to it he would give me one of his client websites, and I could keep all the money from the contract.
"Being broke in school I immediately took the offer, even though I knew nothing about website development. Qian sent me the files and details, I then found out that not only would I have to teach myself basic programming, but I would also have to teach myself FLASH programming and animation. With the help of Google I taught myself FLASH programming and animation overnight, and completed the website by the end of the week.
"The ability to create something from nothing was everything. From that day forward, I loved programming and I knew exactly what I wanted to do."
What's next?
"Our plan for the future is to continue to grow Mediaville as a powerhouse of technology and innovation.
Our goal is to revitalise the industry in Bermuda by building innovative technologies to better the lives of Bermudians. We also have plans for rapid expansion over the next few years opening satellite offices all over the United States and the Caribbean in order to continue growing our local team and expand on our international opportunities. Continuing to executing first class image, first class quality and first class service is Mediaville's primary goal."
---
Caleb Zuill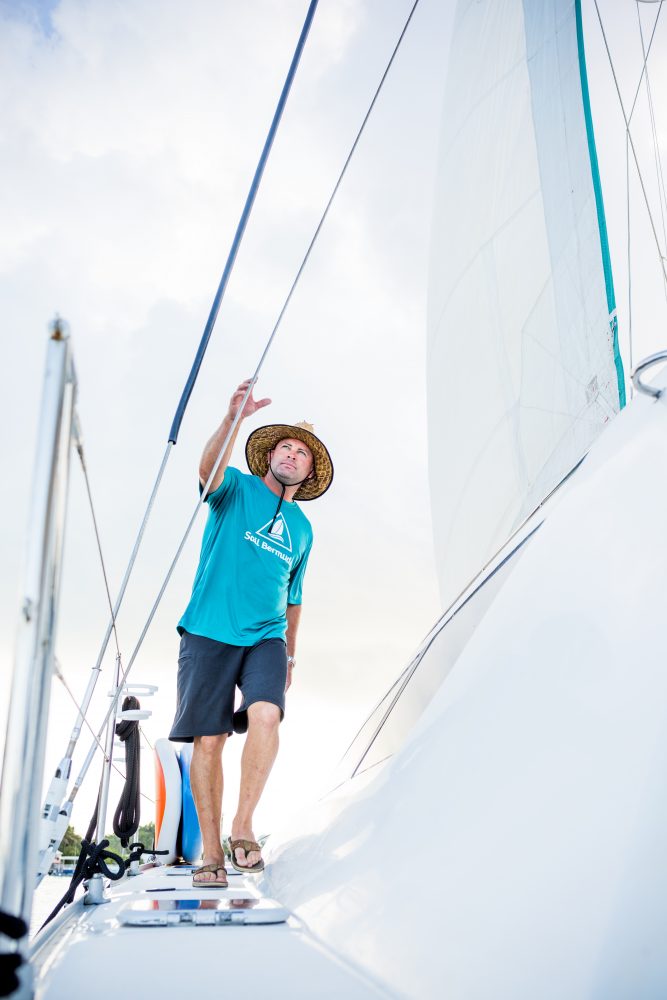 Business: Sail Bermuda
Summer is a busy time of year for Caleb, which is why we were thrilled to be able to pry him away from a day on the water for the fashion shoot and to answer some questions about his business.
Sailing is in your family's blood, tell us how you came onboard at Sail Bermuda.
"My dad launched sailbermudayachtcharters.com right at the beginning of the dot-com era. At the time I was running a sail catamaran for another company. As his business began to grow he asked me to come and work as captain for him, which I did.
"Upon his recent retirement I rebranded the business and launched sailbermuda.com. We've been going ever since."
What is the best thing about being your own boss?
"I don't have to answer to anyone except my operations manager [Marilyn Zuill] who just happens to be my wife!"
What makes all the hard work worthwhile?
"You never really knock off, and juggling family time and work is always a challenge. Our children, who are 5 and 7, do not always understand why we have to work as much as we do.
"But, seeing smiles and hearing laughter from visitors is especially joyful for us! Also, when we receive a great Trip Advisor or Google review, it makes us realise how important businesses such as ours are to tourism and this island."
---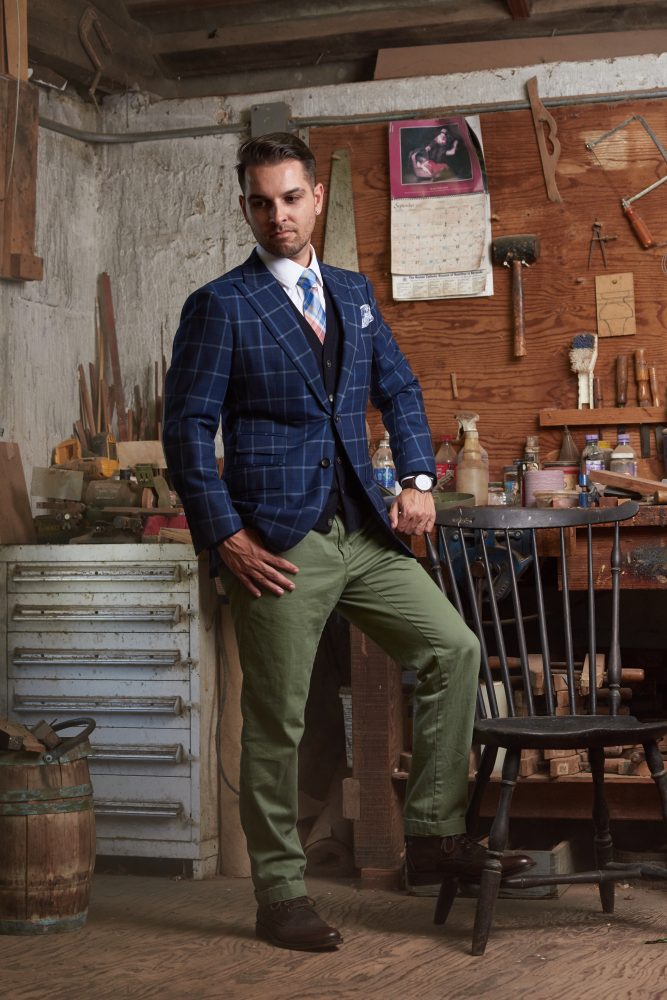 Shaun Moniz
Business: Island Gentry
Accountant by day, gentleman by design, Shaun's passion for style and image led him to create a social media presence that focuses on helping men become more self confident and live more meaningful lives.
Getting started
"The motivation and passion for starting my own business was ignited during a 3-day men's lifestyle conference I attended in Atlanta in 2015 called StyleCon 2015.  The conference featured a panel of successful businesses, content creators and bloggers across the United States.
"Meeting and connecting with these individuals and business proved that it is possible to earn a living from content creation. It also offered opportunities to connect with other gentlemen that attended who also share a passion for self-improvement and to be a part of a community with like-minded individuals."
Time crunch
"One of my biggest challenges is finding sufficient time outside of my full-time employment as an accountant to create content and grow my brand.  I find myself using my lunch hour, evenings and weekends to dedicate myself to creating content and working on my channel."