Ceviche, a seafood dish that originated in Peru and is particularly popular in Latin America, is perfect for Bermudian tables in the summer, says RBYC chef de partie Daamian Simmons.
"When I think of summer, I think of colours, and ceviche is a dish that looks good," Mr Simmons says. "It's a great summer dish. It has a lot of fresh vegetables – acorn squash, red and green peppers for colour, avocado. It is very light, but it is tasty as well.
"If you are going to serve ceviche at noon, prepare it 10 minutes in advance to give the citrus a chance to activate and cook the fish."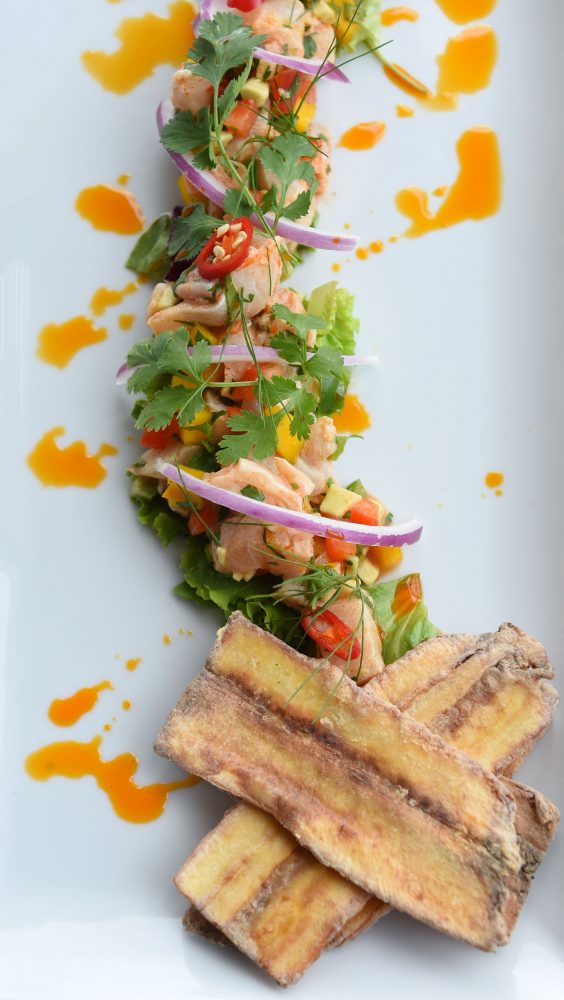 Chef Simmons' recipe for ceviche: 12 oz mahi mahi fillet (skin removed) – small dice; 1 oz acorn squash – blanch in boiling water for 30 seconds, put in ice water to cool – peeled and small dice; 1 red bell pepper – small dice; 1 green bell pepper – small dice; 1 avocado – small dice; 1 bunch cilantro – chopped (save a few leaves for garnish); ¼ Scotch bonnet pepper – seeded and finely diced; 1 red chilli (thinly sliced for garnish); ½ red onion – small dice; Fennel fronds (for garnish); Citrus juice (juice of 2 lemons, 2 limes, 2 grapefruits and 2 oranges) – mix together; 1 tbsp salt; 1 tbsp cumin; 1 tbsp paprika;
1 plantain (unripe); Canola oil for frying.
Method: 
In a bowl add the fish, squash, peppers, avocado and cilantro and mix together.
Add half of the citrus juice and the seasonings. Add more juice if needed.
Note: let the mix cool for at least 10 minutes in the refrigerator before serving. This process allows the citrus to cook the fish and for the flavours to develop.
For Plantain Chips:
Peel plantain and cut in half. Slice 1/8 inch thick using a mandoline or slicer.
Fry at 350° for 2 minutes or until golden brown. Set on a tray with paper towel to drain off excess oil.
Assembly:
In a bowl or on a plate, place some mixed lettuce down – enough to cover an area. Spoon the fish mixture on top of the lettuce.
Garnish with julienned red onion, cilantro leaves, sliced red chilli, fennel fronds and fried plantain chips.
This recipe first appeared in RG Summer magazine in 2016.