For motorcycle enthusiast Wayne Burgess there is nothing better than hopping on his Harley-Davidson Road King and riding with other Bermudian friends up to New Hampshire for the Laconia Bike Week in the early summer, and then perhaps returning to the area in October to ride through the hills which are ablaze with that state's famous Fall colours.
Mr Burgess first fell in love with motorcycles in Bermuda with the Triumph Tiger Cubs — those beautiful 150cc bikes from years ago.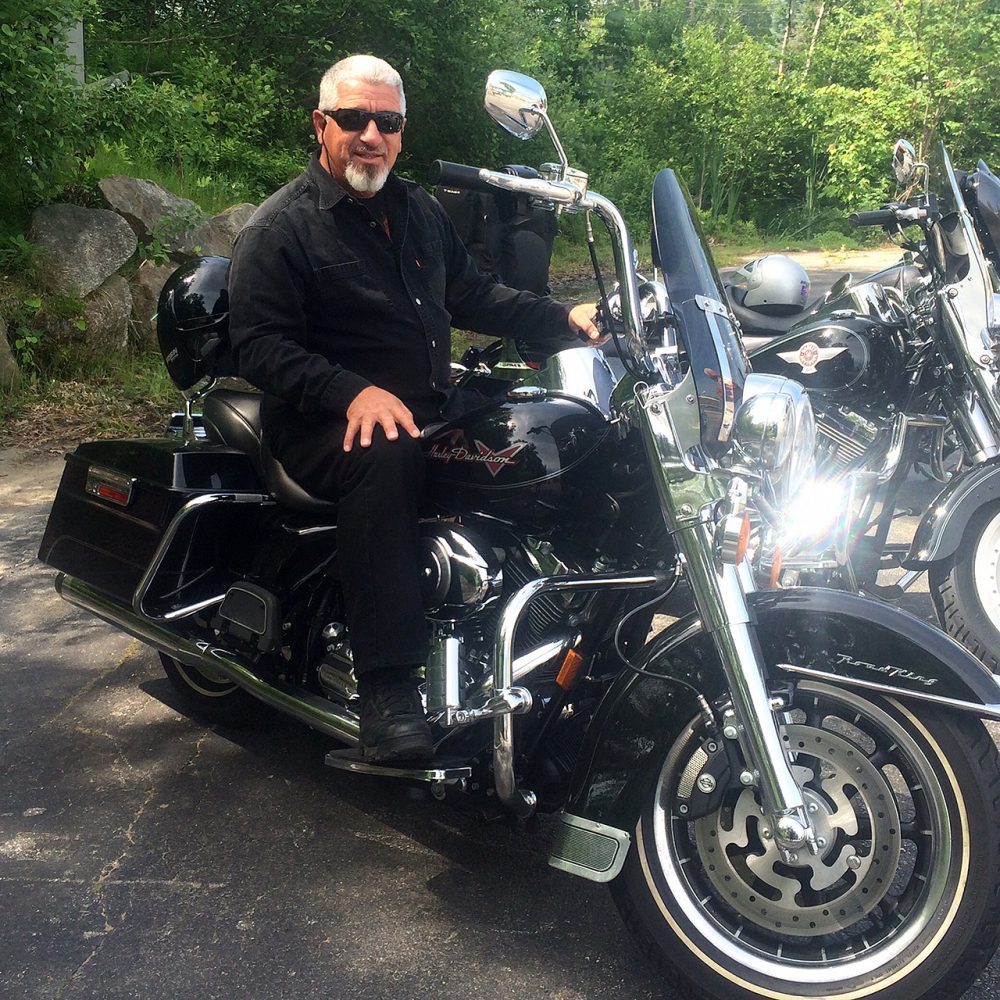 "It all started here as we all had Triumph Tiger Cubs. We were all bike enthusiasts to start with," Mr Burgess said. "Then one year [in the early 1990s] we decided to go to a rally and since it was a quick trip to Boston we went to the Laconia Bike Week. At first we rented a minivan and camped out at Jellystone National Park in New Hampshire — it was five guys in one tent."
After witnessing the Laconia Bike Week where hundreds of thousands of bikers get together, they were sold on the idea.
"After the first time we went to the Laconia Bike Week we were hooked and then we got our Harleys, but at first it was a bit difficult because none of us had US licenses," Mr Burgess said. "We had to find a dealer to sell to us and get insurance which we eventually did."
In the end they based their bikes in Florida "because they were more visitor friendly".
"Laconia is our main event. We have been going since 1994 and have been riding together since 1997. We all bought Harleys and we have gone up there several times a year. Originally we would do a foliage ride in October, a Spring ride, and guys ride, and a wives' ride. Now as we have become a bit older we have more wives' rides — they get on the back and love it!"
Mr Burgess originally had a Harley 1200 Sportster and now he has a Harley Road King — a monster of a bike with 107hp.
"I just got a new one two weeks ago," he said. "The last one was totalled. I was up there in Massachusetts in December and had taken the bike in for its 10,000 mile service. I went to pick it up so I could put it away for the winter and was riding along and a deer came across the road and hit me — completely wiped me out! Luckily nothing serious happened to me, scratches and bruises but the accident wrote my bike off."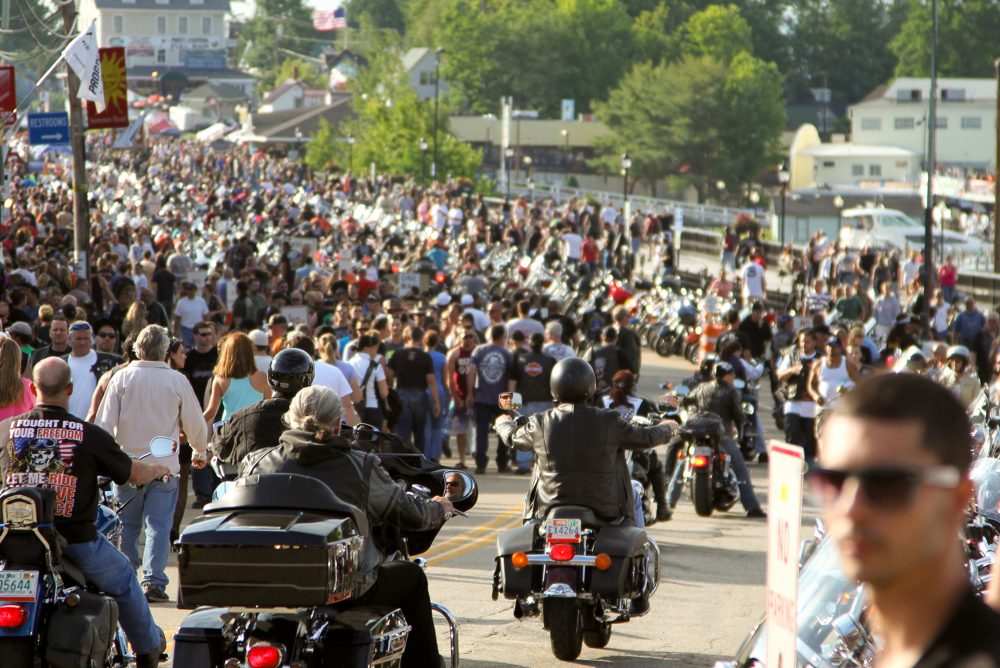 Laconia Bike Week began in 1916 with a "Gypsy Tour" sanctioned by the Federation of American Motorcyclists, with Laconia being the destination for a weekend of hill climbs, tours and races. By 1935 it was a weeklong event and stayed that way for another 30 years.
In the "olden" days it could get out of hand with some riots between bikers and police, raunchiness and public drinking. Now it is much more of a family affair, attracting hundreds of thousands of bikers and plenty of money to New Hampshire.
Mr Burgess said: "Bike week used to be pretty wild years ago — now it is a bit tamer with more families going. We go in June every year and then do the foliage ride in October which is just awesome — fantastic.
"We have made many friends over the years and link up with them over there. In a week we sometimes ride 1,500 miles. There is great camaraderie with our local and American friends. Since we have been going to Laconia we have always been welcomed and shared some fantastic times together. I highly recommend it — it's good for the soul."
Gone — at least from public view — are the coolers of beer, women flashing breasts, motorcycle gang turf wars and campers lining Route 106 that pours into the Lakes Region.
"Route 106 used to be decadence, debauchery and mayhem," said David "Hoop" Hooper of Plymouth, New Hampshire. "It was just a big old party."
Chris Adams, the Laconia Police Chief, makes no apologies for what he describes as a "drastic change" in the culture of what many dub "bike week."
Years ago, he said, they would have up to 200 arrests in one night. Not any more, although there is the odd arrest.
The year of 1965 changed everything and bike week suffered a serious setback. Bikers flipped and torched a car and a riot ensued. The National Guard was called in. So were police in tactical gear. Photographs of the mêlée made front pages of newspapers throughout the Northeast, including The New York Times.
After that it reverted to a weekend rally the following year, in part because most activities were cancelled.
Attendance at bike week peaked in 2004 at 430,000 people — substantially swelling Laconia's year-round population of 20,000.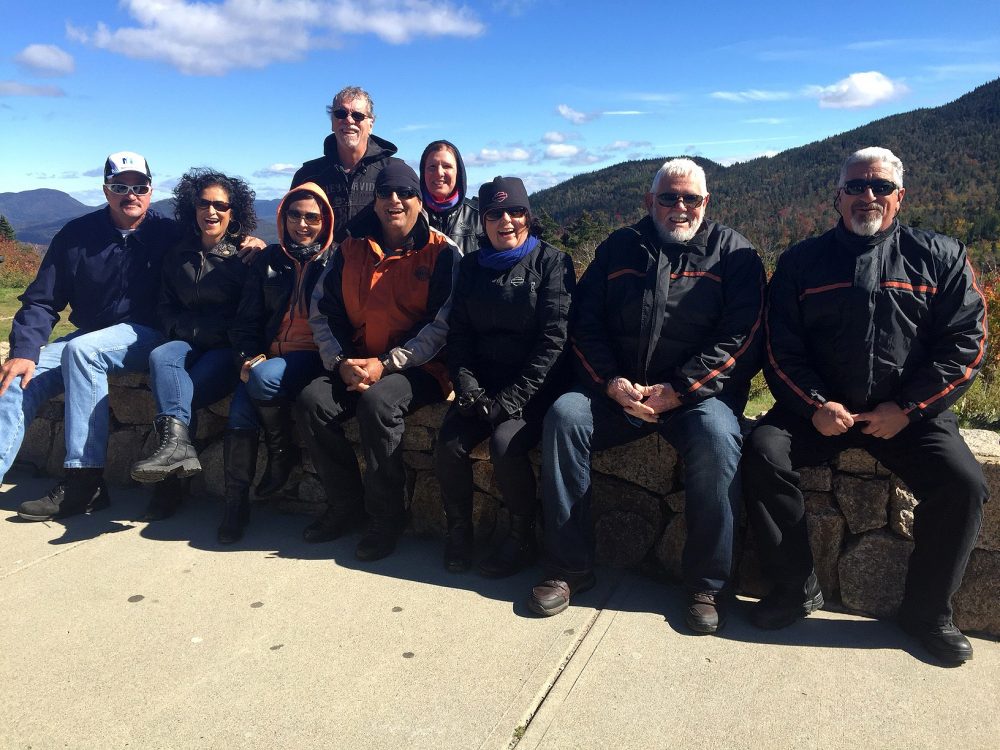 Today bikes come from all over, and not just the United States. There are bike enthusiasts from Europe . . . and of course Bermuda.
The infusion of cash into the state's economy is spread among gas stations, restaurants, motels and retail shops, but it's rooted in Weir's Beach, where hundreds of vendors set up shop.
Mr Burgess said the Bermuda riders take to the highways sometimes and at other times to the pretty winding country roads. He said: "To get from A to B we use the highways and once we get to where we are going we use the country roads. For instance in the morning we all have breakfast together and go for a nice country ride which tends to be along the back roads and the scenic routes.
"We do that every day when we are up there. The first part of bike week we ride a lot more and towards the end it gets too busy. We have ridden up Mount Washington and have gone to Bethlehem."
Bethlehem is a hillside town in Grafton County and is a picturesque, historic village in the heart of the White Mountains. "There is a certain peace riding through the area," Mr Burgess said. "New Hampshire has everything. It is a great feeling to ride between the mountains. You look up and see all that granite."
Mr Burgess, 53, said the Bermuda group of riders which includes Ronald Cooper, George Pacheco and Reggie Cabral, rode for ten years in the US before deciding it might be a good idea to take a rider's safety course.
"We took that in Florida. We decided to do the course because Bermudians tend to think they know everything. We couldn't believe how much we learnt on that course!
"Now we know we have been fortunate to have no accidents. Some of the things we used to do on bikes in Bermuda growing up we did up there — like riding side by side — except we were doing it at 75mph with one hand on the twist [gas] and one tucked into the pocket. We don't do that anymore.
"After taking the course we ride a lot safer — we exercise a lot more caution and watch out for others."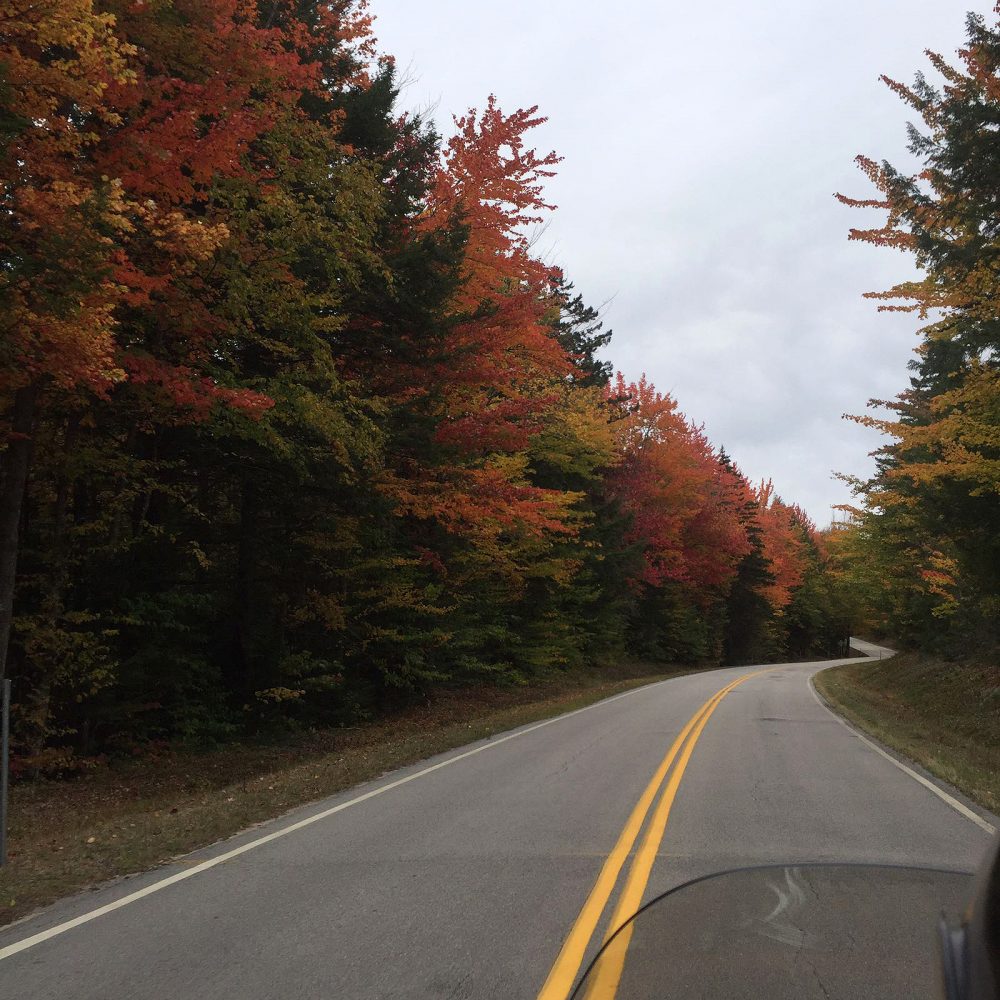 The touring on bikes up in the US northeast takes away all the stress, said Mr Burgess.
"It's a nice break from work. We all like good food and we eat very well. We love having our barbecues and a nice drink — a nice party."
But there is no drinking and driving with this group.
"We ride early in the morning when we are nice and fresh. We stop for a good lunch and only drink water or soda and then when we get back we go to a friend's trailer and hang out, and that's when we have a bit of a party and then walk back to where we are staying."
Now accommodation is not longer five to a tent!
"We have knocked it up a notch especially when we have our wives with us. We have been staying at the Summit Resort for a number of years. It is very comfortable and the people are nice and the wives love it. However a lot of bikers still camp out."
All the Bermuda riders have Harley-Davidsons. "One has a Harley Fat Boy but after I test road the Road King that was it for me," said Mr Burgess.
And of course they all have the required leathers, boots, helmets and proper equipment.
Luckily they have never run into any mechanical problems.
"Touch wood, these bikes have been very dependable," Mr Burgess said. "There have been a few small repairs needed but nothing major. We always have some kind of contact with people who can help us if needed. Also the people of New Hampshire are very friendly and will always lend a hand."
In the winter they store their bikes in a big shed. They get them serviced and plug in their batteries and spray some lube on the bikes. "When we go back we fire them up and wash them off and we are ready to go," said Mr Burgess.
Weirs Beach is where the many bike riders congregate during bike week.
"There are many [bike] builders there and of course there are concerts. Once we went to this concert [in the early days] and saw Steppenwolf. Bike week is a real boost to the New Hampshire economy."
And of course they have seen a number of riders on the famous choppers made popular by the movie Easy Rider.
"You still see guys who have them — they like posing on them. I must admit when I was young I was always fascinated by choppers," Mr Burgess said. "I would go to Baxter's Book Store in the 1970s and I was fascinated with the Hells Angels — the Easy Rider kind of bike. I was hooked on the pictures in the magazines."
This article first appeared in Motor Express in May, 2017.