It has taken countless hours behind the scenes to finally nail down this interview with Marc Bean.
If truth be told, his guard is up.
Since stepping into the political spotlight 12 years ago, the former Opposition leader feels he's been unfairly targeted by the local media, in particular The Royal Gazette, and painted as 'an angry black man', 'misogynist' and 'radical'.
He has agreed to this interview under one condition: we avoid political questions and actually get to know him — the man behind the headlines.
"There has always been an unhealthy relationship between leaders of the Progressive Labour Party and The Royal Gazette," he said. "That's par for the course, but it just so happens I noticed this negative relationship was accentuated under my leadership. They sought to demonise me and paint me as an animal, radical, misogynistic and an angry black man, which I am not."
Mr Bean, 42, counts this article as a chance to break his silence.
He admits he has been "fairly quiet" since suffering his stroke last March and did not have the opportunity to tell his side of the story when he returned to politics in August.
He also felt blacklisted by the whole gamut of local media. Even those which were traditionally supporters of his party, he claims made little to no effort to reach out to him over the past 12 months.
When he resigned on November 5 he felt his "hands were clean, [his] heart was pure and [his] conscience was clear".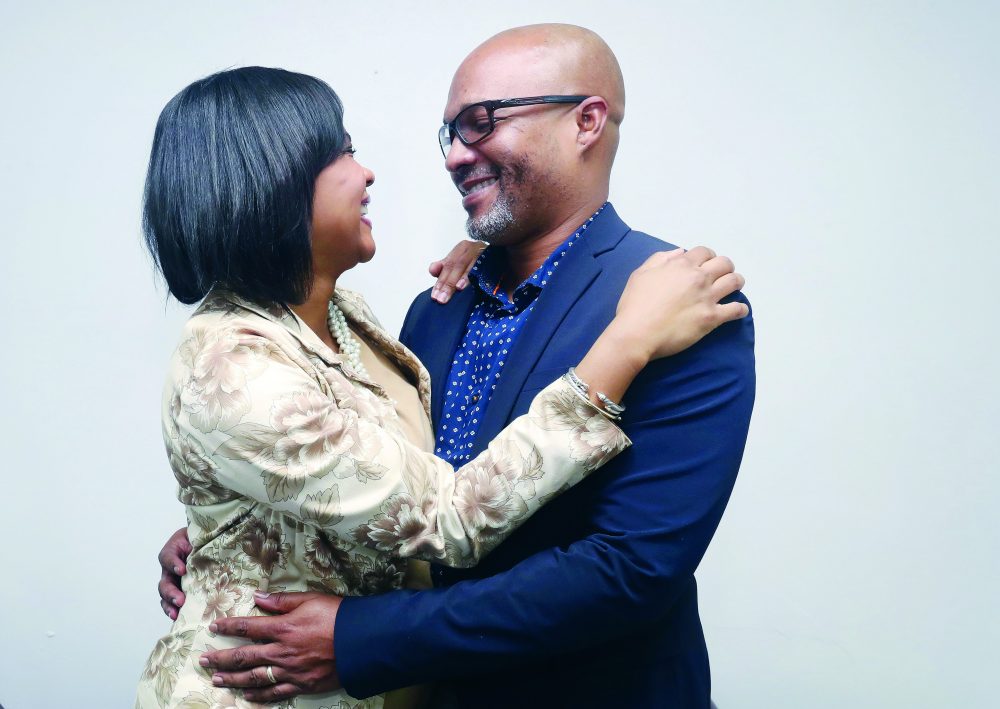 On a cool autumn day, we sat down for our chat in his Hamilton office. His wife, Simone Smith-Bean, visibly pregnant with their second child together, the fourth for Mr Bean, who has two young adult children from previous relationships, sits to his left, quietly offering her support as we talk about everything from career and family, to his undeniable love for golf and fishing. Politics also comes up from time to time.
"Politics has been a big part of my life for the last 12 years," he said. "I was 30-years-old when I joined the PLP and now I'm 42.
"There's a saying what you put in is what you get out — and it's not by happenstance that I became Opposition leader at the age of 38 and that I have served in every capacity in local politics except for Premier. I've been a senator, an MP, Opposition leader and member of Government.
"There's a reason for that — because of hard work, selflessness and the fact I have applied my spirit of consciousness into doing what I feel is right for the people of Bermuda."
Today the former politician admits to feeling freer and lighter. The "burden of leadership" is gradually being lifted from his shoulders, although his mind has not yet managed to disengage from the political process.
"That will take longer than a couple of weeks," he said.
For the time being he and his wife are focused on several entrepreneurial ventures.
Mrs Smith-Bean, an attorney by trade, was Called to the Bar on the island in 2012 — interestingly enough the same day her husband became the leader of the PLP. Before that, she had already been sworn into the legal system in England and Wales, along with her home country in the Bahamas, in 2008.
She now runs her own practice, Smith Bean & Co.
Since politics is no longer taking up so much of their time, the couple plans to expand on their offerings at their Court Street betting shop, Paradise Games.
They also want to get more involved in the island's tourism and transport industry, and create opportunities for visitors to have a more authentic Bermuda experience.
Promoting entrepreneurship has always been a top priority for Mr Bean.
"I've always asked myself, how does one acquire real empowerment and real power, not only politically, but economically, so that you can sit at the table with your neighbour? So you can have a relationship that's based on mutual respect rather than dependency? It's through entrepreneurship"
"That's why my wife and I are expanding our business interests, and look to set an example for other Bermudians on the steps one can take to economically empower themselves and then be in a better position to help others."
It's safe to say the couple's year — or past few years for that matter — have not been all rosy, but through it all they maintain their strong bond.
"Simone means the world to me," he said. "She is my rock and my backbone and I'm extremely grateful for her. She is one of the first party leaders' wives who has been functioning and active on the political scene. She is unique in that regard and comes from a family of politicians in the Bahamas."
Eugenia Lockhart, Mrs Smith-Bean's great grandmother, was part of a group instrumental in the women's suffrage movement in the Caribbean nation.
It's safe to say that same independent spirit was passed down to her.
Over the past few weeks, since the decision was made to withdraw from politics, Mrs Smith-Bean, 33, has found her husband to be more at peace.
"He understands the contributions he has made over the past years in politics, but I also know he is happy to have more time to focus on what he calls 'real things' like developing economic empowerment and our strength as a family unit.
"I feel that he is now finding his stride and using his talents to support our family and enrich our lives," she said. "Although I know many Bermudians will miss him, for the time being it's important that we strengthen our network and ourselves so that we can then help others and bring other people up along the way."
She counts her husband as someone who is always 100 per cent in her corner and who loves her unconditionally.
"I have a personality where you have to know me to love," she said. "But I love him for loving me so much and always supporting me in everything I do. He has always been my sounding board for the next steps to take in my life.
"I've faced some challenges since living in Bermuda that were life changing. If it wasn't for him I don't think I would be able to start my business or have grown so much. I owe a lot of my success as an individual to him, his motivation and advice."
Mr Bean admits he is equally proud to have married "a strong, black woman".
That's one of the reasons he was particularly angry when his reputation was sullied in the media for remarks towards female members of the One Bermuda Alliance, that were claimed to be sexist.
"I address women I know as either, empress, queen, sister or momma, if they're an older figure," he said.
"In regards to that matter even the magistrate found there was no case for me to answer to. What I wanted to communicate to that particular member of the OBA was she shouldn't have to compromise on her values in order to elevate her position within the party. A woman's power is innate.
"I'm a man that cares a lot for women. I love my wife, my daughters, my sister and all the women in my life, so that comment was taken and twisted around with false accusations making me look like a misogynist, which is totally untrue. To me that's unfortunate, because I value women as the givers of life and as the cultural foundation of our community."
He has learnt many lessons over the years.
One of the most important is to always do what you believe is honourable and right — even when others around do not follow that particular path.
"Honour is the most valuable asset and characteristic a person can have," he said. "You can't allow the glitter and apparent gold of politics to cloud your judgments and allow you to sacrifice your principals.
"What I've learnt is titles may fade, but integrity lives on forever.
"I don't believe in separating yourself from your people, but rather have tried to be honest at all times. I operate by the philosophy 'don't look for your supporters only when you need them, be supportive of them continuously'. Before you profess, you have to possess."
His family was pleasantly surprised, in fact relieved, when he decided to exit politics.
More than anyone else they saw and felt the negative effects that came with his role in the spotlight. They were there when he had his stroke and battled his way back from that. They saw every damning headline and cruel comment — and took many of those to heart.
"My family are the ones who absorbed it all," he said.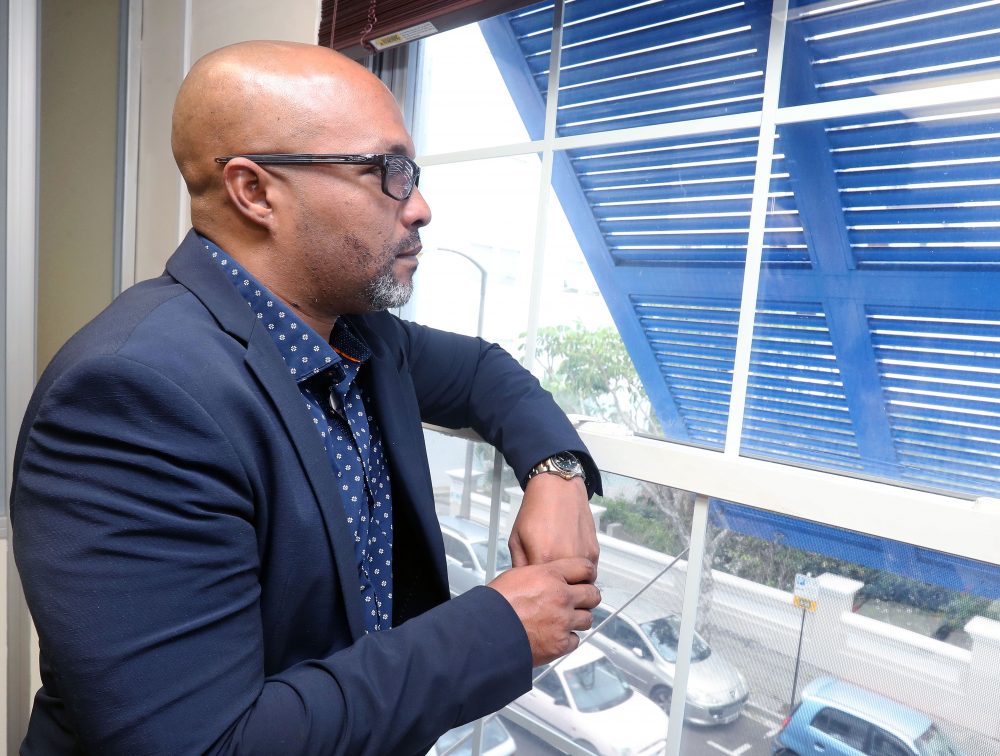 Mr Bean's stroke came on suddenly one Thursday in mid-March. It was around the time the Pathways to Status bill, a law to provide new opportunities to permanent residence and Bermudian status, was introduced. He sees that as the day "our birthright was sold".
"I had my stroke on the Thursday and the following Monday [March 21] I returned to politics," he said. "I knew something was off on the Monday because I had difficulty reading out a small statement and writing notes and indicated to my colleague something was definitely wrong.
"I didn't know what a stroke felt like. That day I went to the hospital and the doctor confirmed it was indeed a stroke."
He thanked "the Almighty creator" for sustaining and protecting him throughout that ordeal.
Prayers, calls and messages of support poured in from the local community and his family devoted themselves to getting him back onto his feet.
"The love of the people of this country transcends the narrow boundaries of politics," he said. "That's something I saw during that time, and something I will always remember that will be a source of encouragement if in the future my wife allows me to consider re-entering public service."
Returning to politics is not entirely out of the question.
His wife believes in his love for the people of Bermuda and feels she would be "hard pressed" to keep him away from that passion should he ever feel the need to come back.
But that's not expected any time soon.
Mr Bean is focused on this new chapter and devoting time to his family, which includes 23-year-old Shaehlay Saltus, 20-year-old son Janhoi Bean and two-year-old daughter Allana Bean, who happens to be his splitting image, but gets her social personality from her mom.
The couple will be welcoming the newest edition to their family in February.
That in itself is a blessing after his recent health scare — of which it took him several months to get to some semblance of normality again.
Even today he admits he is not 100 per cent recovered, however, he still believes he has many talents and skills to invest in the community.
This month the Beans suspect their holiday season will be far less stressful than in past years.
They plan to spend Christmas with Mrs Smith-Bean's Bahamian family in the United States, eating traditional foods such as peas and rice, fish conch and seafood.
"My family never came up celebrating Christmas on December 25 or any other Western holidays," Mr Bean said. "But I've learnt to embrace the holiday season and see it as a time for family, that's what I focus on.
"Plus when you are married into a Bahamian family the holidays are filled with good food. That's one of the perks. It's similar to Bermudian cuisine, but Bahamians use more seasoning; more lime juice, sea salt and fresh peppers like Scotch bonnet."
The couple expects to be surrounded by 50 or so of their closest loved ones.
As we inch closer to the New Year, Mr Bean is hoping to devote more time to his favourite hobbies such as golfing, watching Somerset Bridge Football Club and taking part in his family trade of fishing.
He is also looking forward to doing more meditation, reading and studying, and is working towards getting his professional accounting designation.
Although he has much to look forward to, he does not want his supporters to feel abandoned by his choice to step down from politics.
"I feel I did my best to represent the people of Bermuda without, what some may have accused me of, seeking to create artificial division among the people of the country, in particular with the use of racialism to divide," he said.
"Instead I was seeking to use the historical facts of this country and face that head on by seeking to evolve as a people and encourage black Bermudians to become the masters of their own destiny."
We wrapped up our interview after close to 90 minutes together; time had run over and his next appointment was already waiting in the lobby.
Leaving the office that day, it was unclear whether or not our paths would cross again, especially in the near future. Mr Bean's name won't likely be splashed across print and online news sites; nor will his actions be viewed under the national microscope.
But one thing did appear certain: his determination to move forward. After a decade-long political storm, Mr Bean is finally ready to embrace a new season of calm.
This article first appeared in RG Winter magazine last year.