Most of us who work in Hamilton usually go to the same place during the week and get a take-out to eat at our desk. That's all fine and dandy, but you should also occasionally take time out and have a proper 'lunch hour'.
Firstly you will be more satisfied by what you are eating and changing your environment will positively impact the rest of your day.
Studies have also shown that a lunch break out of the office will vastly improve focus.
And many restaurants in Hamilton have outside seating so you can take advantage of the fresh air and sun after the 'cold' winter.
If you think that Hamilton has only limited offerings for lunch then you are dead wrong. There are an amazing the number of places you can go for lunch whether it be take-out or sit down.
There are also a wide range of prices — everything from Marcus at the Hamilton Princess to Keith's Kitchen in the BAA parking lot.
Here are just some of the places to have a something to eat during the week to refresh your batteries for that afternoon home stretch.
Bulli.Social
This is as central as it can get on the corner of Queen and Reid Streets by Queen Elizabeth Park. They have gourmet burgers and the like and you can eat in or take away.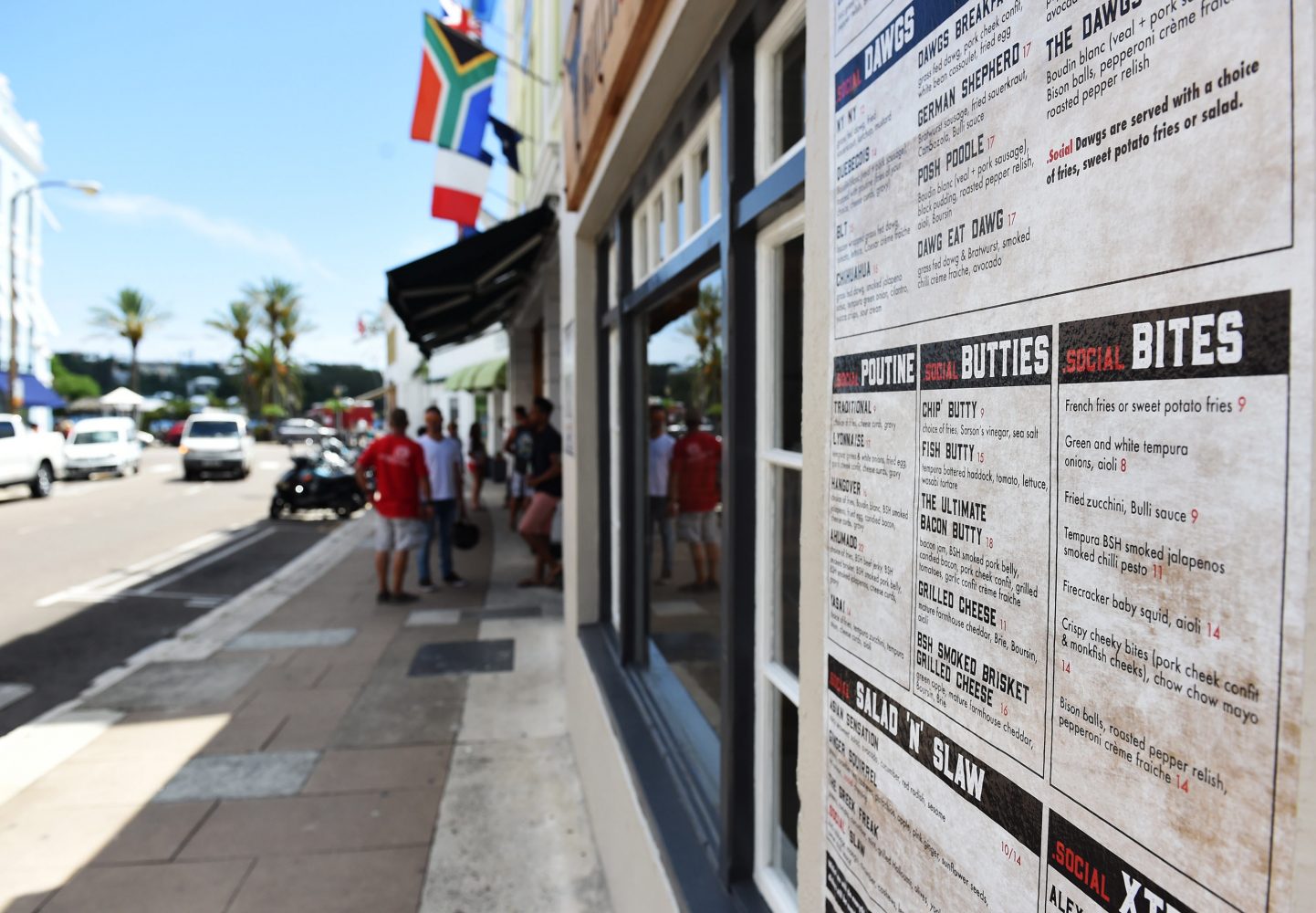 Somers' Café Express
A wonderful view on the balcony of AS Cooper & Sons on Front Street. They have freshly-made soups, salads, sandwiches and desserts for lunch.
Fish N' Tings
Great Jamaican Cuisine. Fast and friendly service they offer great fish (obviously) but also oxtail, curried goat to jerk pork, cow foot and much, much more. 45 Angle Street
Flanagan's Irish Pub (and its Outback Sports Bar)
This Front Street favourite has dining on the balcony overlooking Hamilton Harbour as well as its sports bar in the back. Flanagan's has a huge variety of meals for lunch — everything from fine salads to bangers & mash to fish & chips to steaks and also Italian fare. 69 Front Street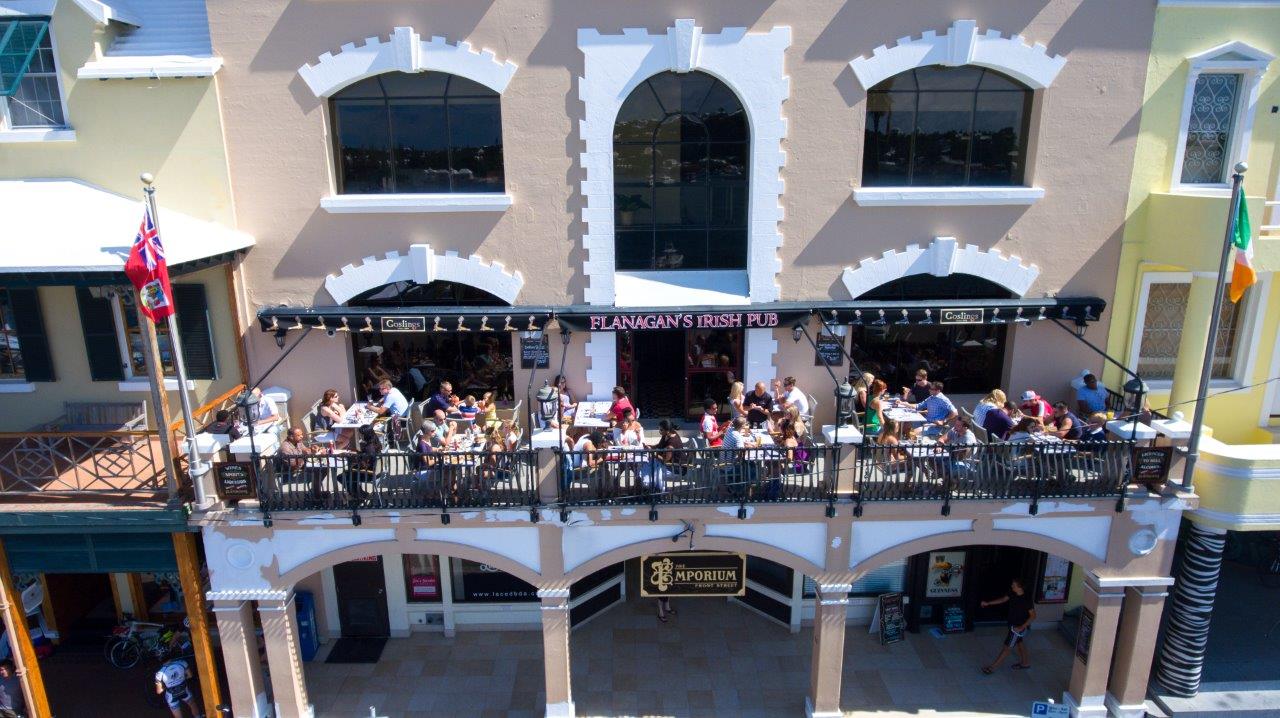 Marcus
This is high class and you will definitely want to spend more than an hour here. Perhaps a longer lunch hour on Friday afternoon! Marcus occupies the former Gazebo Room at the Hamilton Princess and has a central bar and views of the harbour. An open kitchen with a wood burning grill located opposite is a show all in its own, with chefs creating Samuelsson's specialty dishes.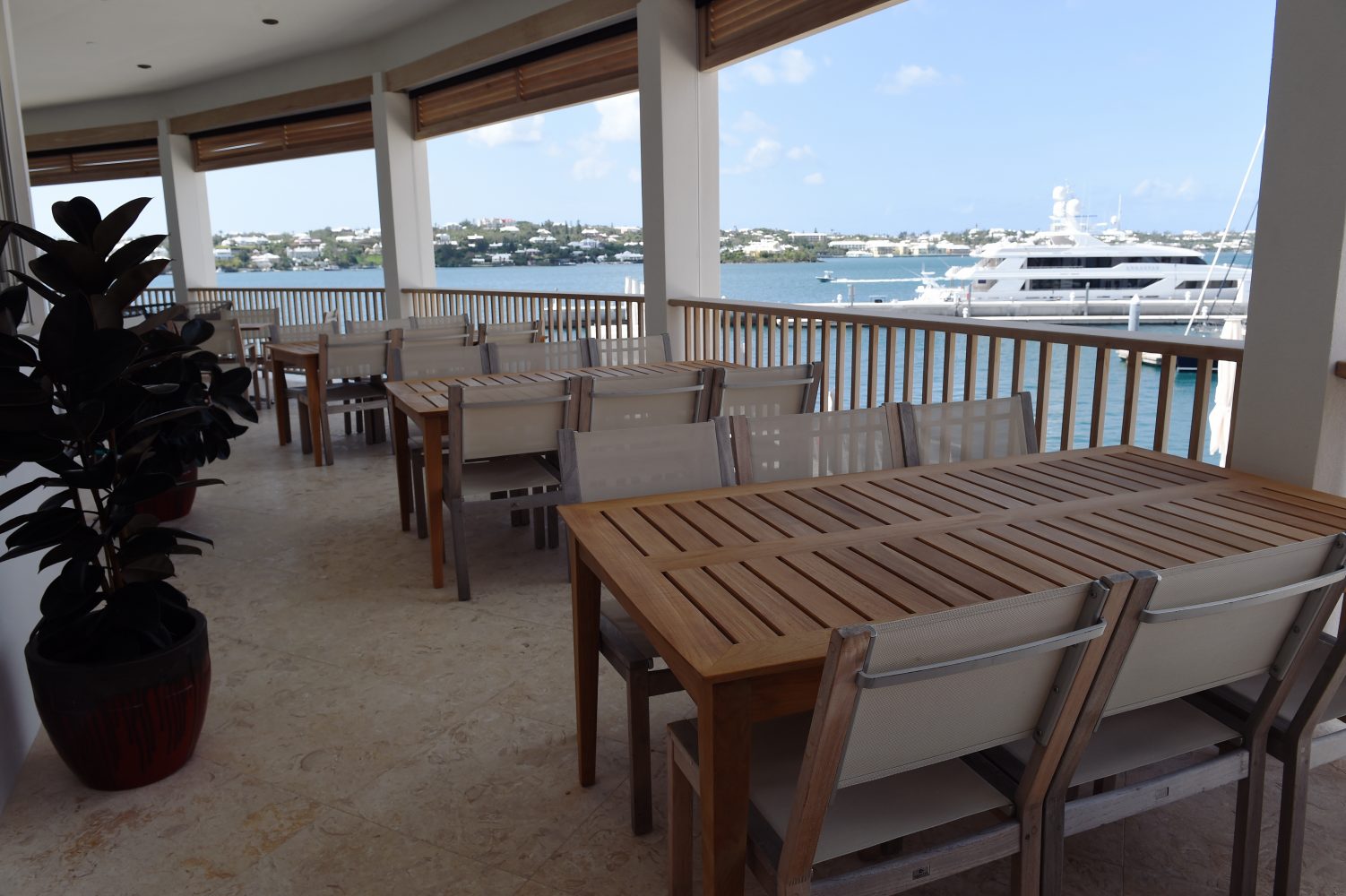 Fish N' Tings
Specialising in Jamaican Cuisine, Fish N' Tings is an island favourite with fast, friendly service at a great value. Offering the most delicious Jamaican cuisine on the island, it's no wonder that Fish N' Tings is one of Bermuda's most popular spots for authentic Caribbean food! 45 Angle Street.
Lost In The Triangle (LITT)
Great fresh Bermuda fish is served as well as other local side dishes. 13 Reid Street.
Keith's Kitchen
Bermuda's famous lunch carts can set your stomach rumbling. Serves great burgers, fish sandwiches, steak sandwiches and the like. BAA parking lot
The Snug
Features many of the menu favourites from Flanagan's. It's a great place to stop if you don't have time to sit down, but need a quick and delicious meal. Offerings made to order, take-away, home-cooked meals with the freshest ingredients. Ideal for folks on the go. Emporium Building on Front Street
La Trattoria Restaurant
Everyone has been to the 'Tratt' and it is great for a sit-down lunch and a chat with friends and co-workers while having one of their excellent pizzas or favourite Italian dishes. 23 Washington Lane
Café 4
This is a combination of a modern sushi bar, and a stylish and sophisticated take-out shop.
The take-out features a 'Taste of Bermuda' hot food buffet featuring local favourites and recipes offering the best vegetables, fish, cassava pie, baby back ribs, red beans & rice, soups and daily specials! 18 Queen Street, Windsor Place
Little Venice Wine Bar
Fun for a liquid lunch! It has more than 800 of the best wines. 32 Bermudiana Road
L'Oriental Express
A fairly wide range of offerings from its deli and also hot Asian dishes. You will also find sushi, wraps, fresh salads and desserts. Maxwell Roberts Building, 1 Church Street.
Ruby Murrys
If you like Indian food then this is the restaurant for you! And it is all served in a relaxing and friendly atmosphere. 2 Chancery Lane.
Portofino Restaurant
It has been around for decades offering traditional Italian cuisine — everything from a quick, delicious pizza, to homemade pastas. It also has a popular take-out side entrance. 20 Bermudiana Road
Yashi Sushi Bar
A great sushi bar serving the freshest sashimi, makimonos and other creative signature sushi dishes such as shrimp dumplings and our tripple-delight maki. Yashi also has take-out. 20 Reid Street
The Lobster Pot
For over four decades this friendly seafood restaurant has been serving locals and tourists alike. It has an outstanding variety of seafood specialities and fresh fish delivered daily. 6 Bermudiana Road
L'Oriental
Located above the Little Venice, this is great for those who like Oriental, Chinese and fusion cuisine. 32 Bermudiana Road
Hog Penny Pub and Restaurant
With that London pub feel, it has been in existence since the late 1950s. Specialises in old-style British comfort food like shepherd's pie, steak & kidney pie, fish & chips, and bangers & mash. 5 Burnaby Street
DeGraff's Lunch Wagon
This lunch wagon has been around for ever! Famous for the beef pies, burger & fries, chicken burgers and steakums. Take your food, wander down to Victoria Park and relax and have a 'grease!'. City Hall Car Park
Harry's at The Waterfront
On the high end of things, Harry's is class. The menus are steak house based, featuring Miles 21-day aged beef, but with a contemporary twist. Also has a great 2,000-bottle wine cellar for an unparalleled gastronomic experience. 96 Pitts Bay Road
Nonna's Kitchen
A really great soup and sandwich eatery that also has a fun make-your-own salad area. Nonna's has proved to be very popular since it opened a few years ago and also has excellent comfort food like chilli, beef stew and cornbread. 4 Bermudiana Road
1609 Bar & Restaurant
Superb views at the Hamilton Princess and superb food. Open air dining at the marina, the menu features a variety of items from ceviche and pizza to burgers, sandwiches, and salads as well as a variety of seasonally inspired entrées. Perfect with the summer around the corner.
The Spot Restaurant
When a restaurant has been around since 1941, you know it is doing something right! The Spot is known for its burgers and especially its hot turkey sandwiches. 6 Burnaby Street
Little Venice
This is Bermuda's first and most famous Italian restaurant, celebrating over 40 years of fabulous service and fine food. Contemporary regional Italian specialities. 32 Bermudiana Road
Ten Café and Bar
Fresh and delicious salads, pastas, sandwiches along with a daily Blackboard Special, Ten has great homemade desserts and Bermuda's best tapas. Sit inside our outside. 10 Dundonald Street
Speciality Cinema & Grill
Good for a quick burger and fries. Soups every day (check out the chicken noodle on Mondays!) 12 Church Street
Red Steakhouse and Bar
Overlooking Hamilton Harbor on Front Street, Red Steakhouse & Bar has, not surprisingly, great steaks like perfectly prepared certified Angus beef cuts which feature filet mignon, strip, rib eye, porterhouse and cowboy, all offered in their natural juices. 55 Front St
Smokin' Barrel
The food truck stationed next to the Ferry Terminal has delicious Caribbean-style jerk chicken, short ribs and burgers.
Miles
They have some of the best sandwiches and good prices. Everything from tuna, ham and cheese, roast beef etc. But Miles also has soups and chowder as well as great hot food like chicken lasagne, golden fried salmon fritters, and grilled chicken breast. 96 Pitts Bay Road
Robin Hood
Good pub food and a big menu. Eat indoors to outdoors or take-away. 25 Richmond Road
Bermy Cuisine
Burgers and the like along with specials every day. Great milkshakes as well. 70 Serpentine Road
Buzz n Go
A variety of sandwiches as well as pizza and smoothies and milkshakes. A quick take-out at Esso City. 36 Richmond Road
City Café
Very popular take-away by the Bus Station which has sandwiches, pizza and excellent hot food like pan-fried grouper with lemon butter on the side, Asian style chicken soy-vinegar sauce, pork spareribs BBQ and even Asian style goat stew (calderetang kambing). 4 Washington Street
Barracuda
Spend a little more time for some fine dining. Has main courses which include grilled rockfish, grilled filet mignon, and pan seared hogfish. 5 Burnaby Hill