As part of the City Arts Initiative the City of Hamilton installed five new pieces in 2016. You may well have seen them while walking around the city and wondered who produced them, and why. So, here is an introduction to the art, and the artists behind them.
Michael Cacy
Michael Cacy graduated BFA with honours Art Center College of Design (Los Angeles) 1969. He worked as graphic designer, illustrator, motion picture art director, and agency art director, serving needs of agencies, corporate clients, and publishers worldwide. With over thirty national awards, including the "Art Masters Award" (American Artist Magazine) 1995, the "Vargas Award" for lifetime achievement (New York 1997) and the winner of "The Sergeant's Cup" for Marine Art 2016 Bermuda. He taught professionally oriented workshops in 11 states and nine countries.
"Vivid Bermuda" by Michael Cacy – Located at Church Street Taxi Stand (pictured above):
This 20 foot mural depicts various Bermuda icons, but more importantly reflects the rich array of colours that exist here. Composition includes a heron, flora, moon and stars, St. David's lighthouse (finish line for various boating races…complete with international alphabet flags, which to a sailor, spell "BER"), barracuda, sun, hibiscus, longtail, and a sea turtle.
Robyn Hooper
Robyn Hooper was born and raised in Bermuda. She is grateful to have also lived in Canada and Scotland while pursuing her studies as a teacher. Robyn is currently a Foundation Year teacher at Saltus Grammar School. She has been teaching art to students of all ages for six years. Most recently opening The Painted Gate Art Studio, where she hosts painting parties for all occasions. She has exhibited her work at the Bermuda Art Centre Dockyard and Masterworks Museum of Bermuda Art. Robyn enjoys working with acrylics in vibrant colours and loves the opportunity to paint large scale murals.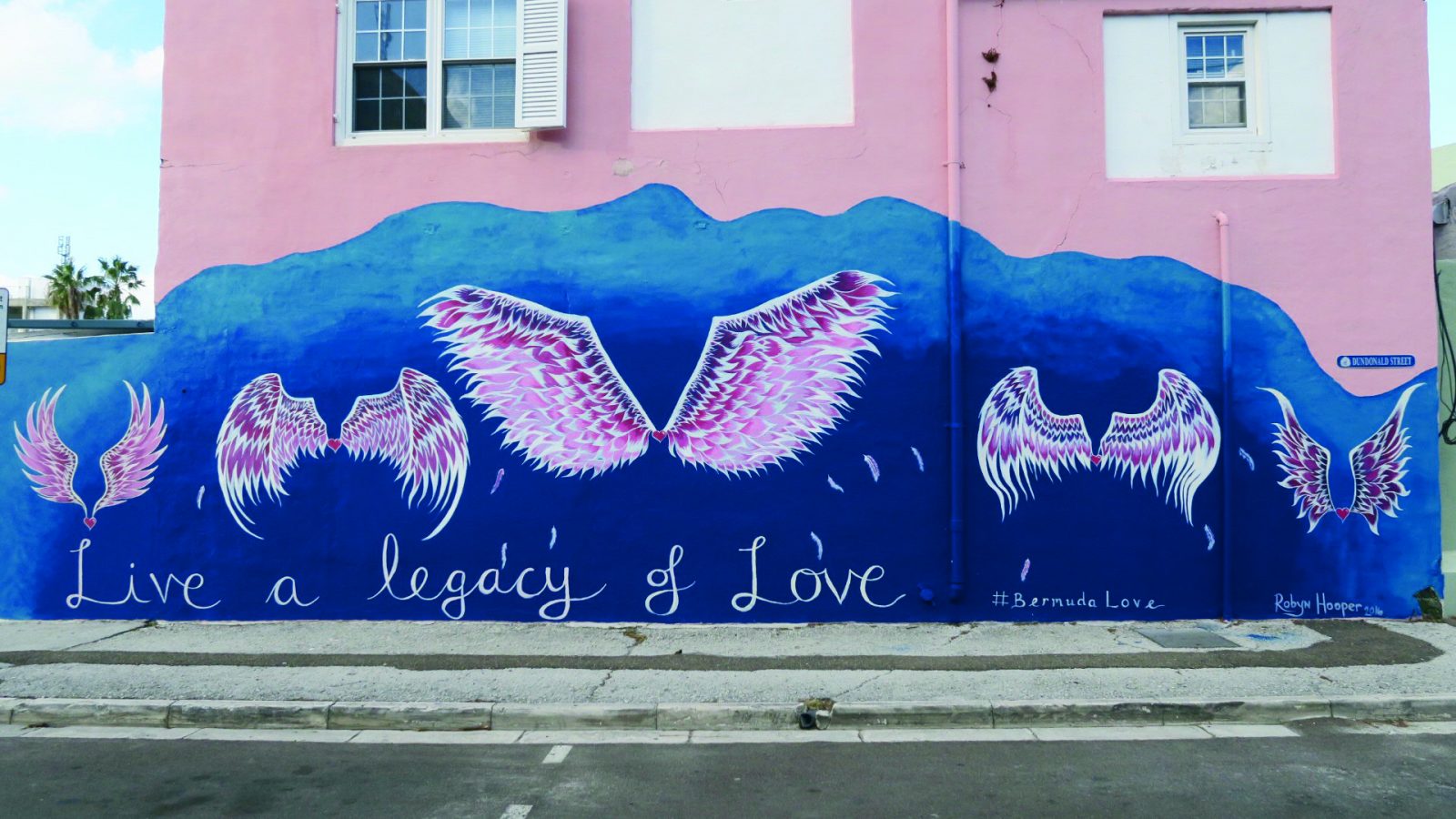 "Nourish Your Soul" by Robyn Hooper – Located on Dundonald Street
We stand here as guardians, supported by those who've left an impression on our hearts; honouring them as we love and empower each other. We nourish our souls with love by embracing the living and appreciating those who will be remembered always. It's in our hands now…
Fungus Arts Collective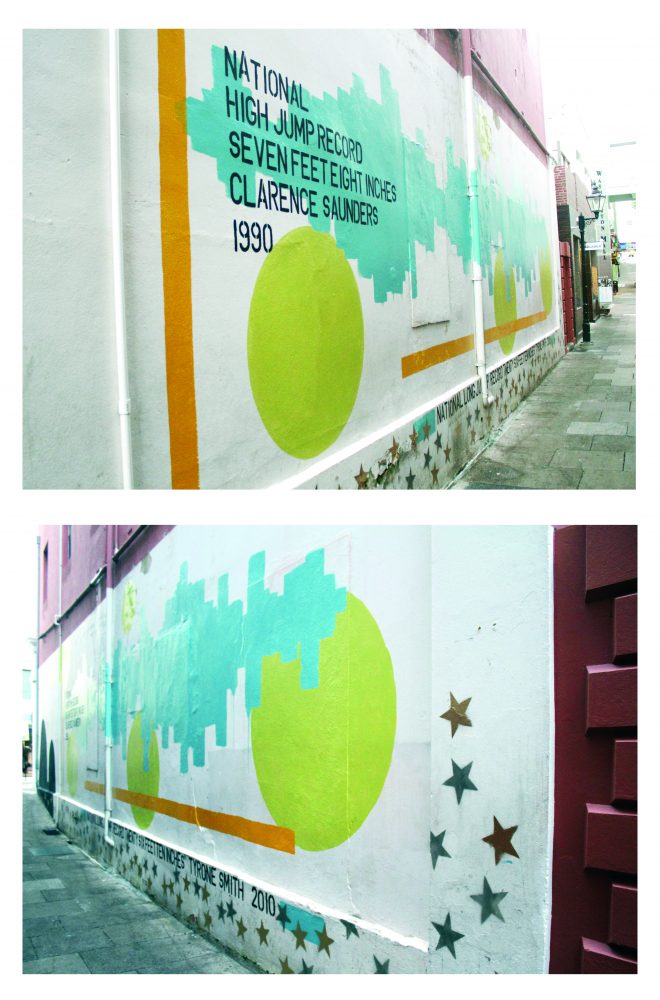 FUNGUS was created by artist James Cooper as a platform to collaborate with other artists on larger scaled projects. In this instance the two artists involved are James Cooper and Signe Constable. FUNGUS has been invited to participate in numerous local and international events including the Ghetto Biennale in Port au Prince Haiti, Infecting the City street art festival in Cape Town South Africa and the Bacardi Bermuda Biennial at the National Gallery. Fungus designed and built the PlayHouse children Museum at the National Museum in Dockyard.
"Inspirational Graffiti" by Fungus Arts Collective – Located in Washington Lane, Courtesy of the Dismont Building
We want to establish a looser less figurative aesthetic in public art. We would hope this mural inspires people to engage in public art themselves, perhaps even adding something to this wall. With this project we started with the idea of illustrating inspiring athletic feats, using simple text and lines to bring some interesting local facts into the public realm. As the wall needed some additional love, we further abstracted these ideas of leaping into a larger wall covering. We work in an intuitive and free way, and we hope this energy and vitality is shared through the final piece.
Charmaine Friday
Charmaine Friday – mom, wife and educator. Over the past 2 decades she has been selling her art work at Harbour Nights, Heritage Nights, Destination Dockyard and countless hotels and craft shows across the island. She has also been an Ambassador for Bermuda during this time. Charmaine has met and sold to people from the 4 corners of the globe, that visit our shores. The opportunity to help beautify our island home on a grand scale was a welcomed challenge. Charmaine has been told by tourists and locals alike that my art is "Happy Art." Hopefully my love of vivid colours and whimsical Bermuda motifs help to brighten and enhance the City of Hamilton.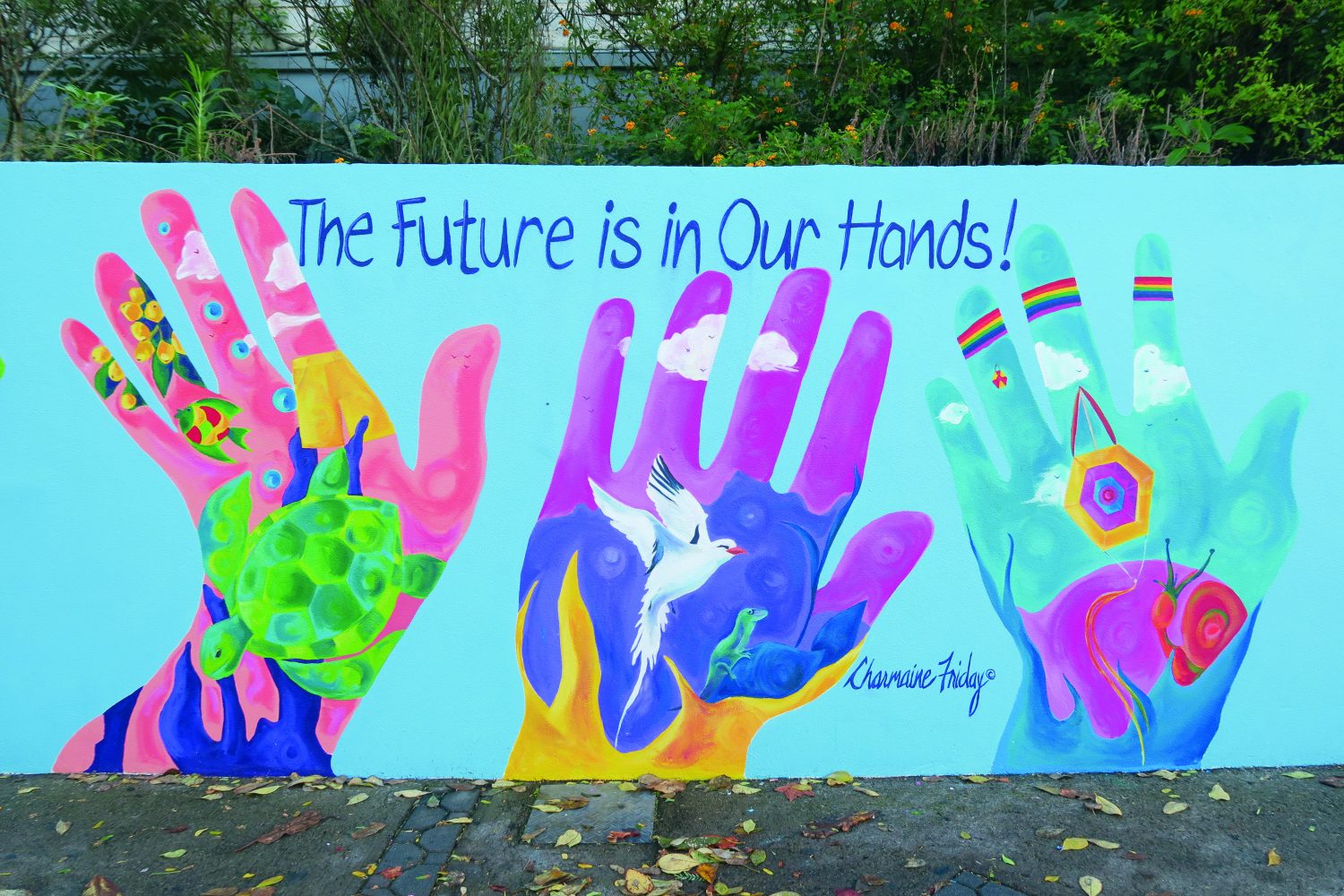 The Future is in Our Hands by Charmaine Friday – Located at The Bus Terminal, Victoria Street
"The Future is in Our Hands " was inspired by the fact that we as Bermudians must all lift our hands and be encouraged to preserve and protect our heritage, cultural traditions and most importantly our people. This magical little gem in the Atlantic must and should be cherished and protected. From our pastel houses, stunning beaches, to our magnificent sunsets; from the sweetest loquats, to our kind and beautiful people. Bermuda is truly Another World!
Alshante Foggo, creative director of DBA (Designs by Alshante), is an up and coming local artist with a large and ever growing local and international following. She has had the opportunity to work with major celebrity artists, was a prize winner at the 2014 City Fashion Festival Local Designer Showcase and was awarded the 2015 Best of Bermuda Local Artist/Designer award.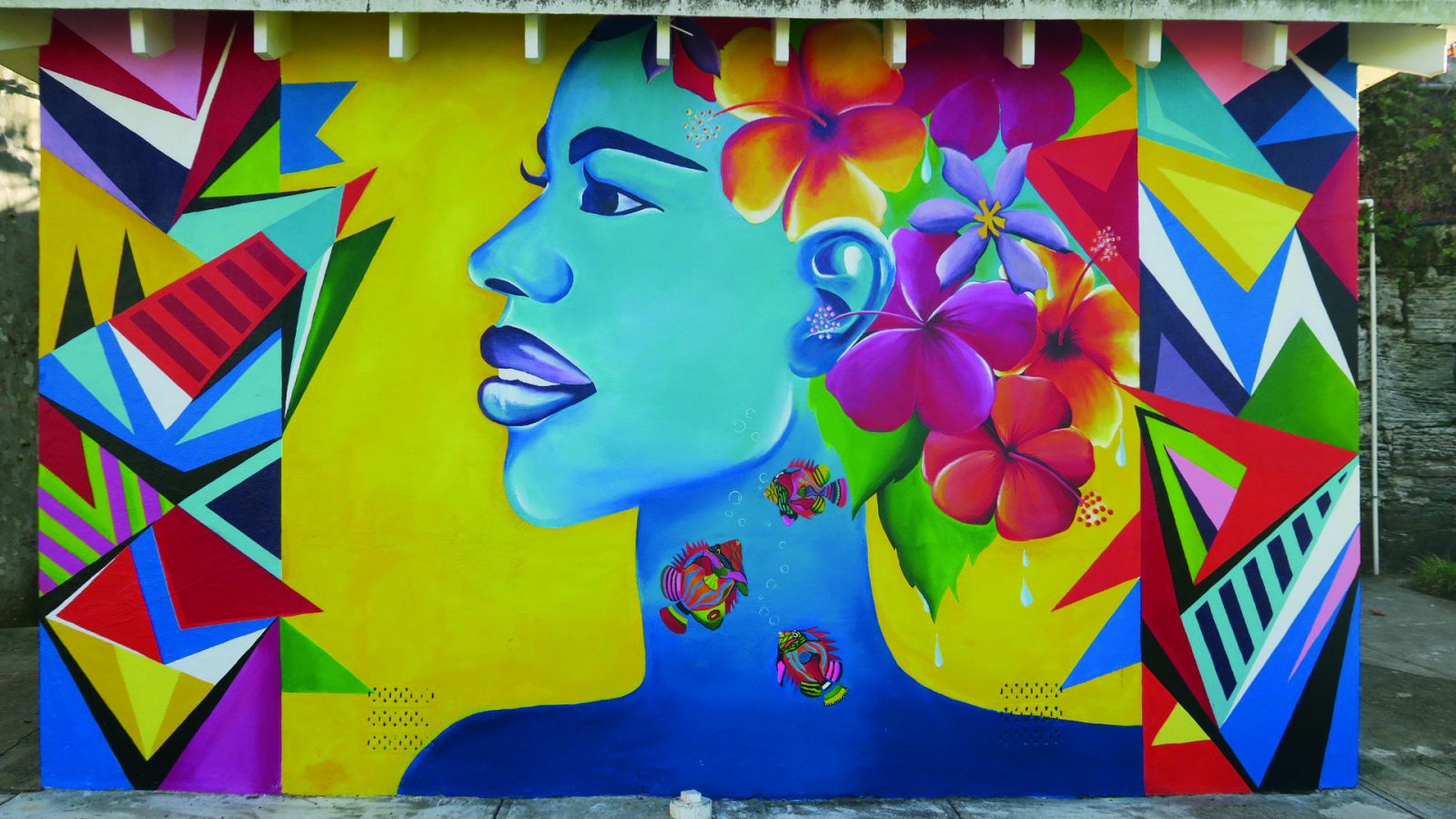 Social Media has provided the platform to showcase her artwork and passion for art to the world. She has watched her skills as a self-taught artist evolve with time, dedication and eagerness to continue developing as an artist. This project in particular has challenged her skillset and provided her with a larger audience to witness her designs. It levels her as a contender in the fine arts arena by providing something new and fresh that can be appreciated by all ages.
"Flourish your Mind" by Alshante Foggo – Located at Victoria Park Restrooms
Flourish your mind is composed of geometric multi-coloured shapes, bright Bermuda waters flowing through a woman's face with hibiscus and Bermudian flowers in her hair.
I like to think that my artwork expresses big emotions such as happiness, energy, and peace. I love to play with radiant colours. Not only do I want to move people by the relationship of colours but more so by the message it evokes.