Learning at school isn't always just about reading textbooks and watching a teacher write on a whiteboard.
At Paget Primary School, one group of boys have been sparking their enthusiasm by mastering woodworking skills that might one day open up a range of career opportunities.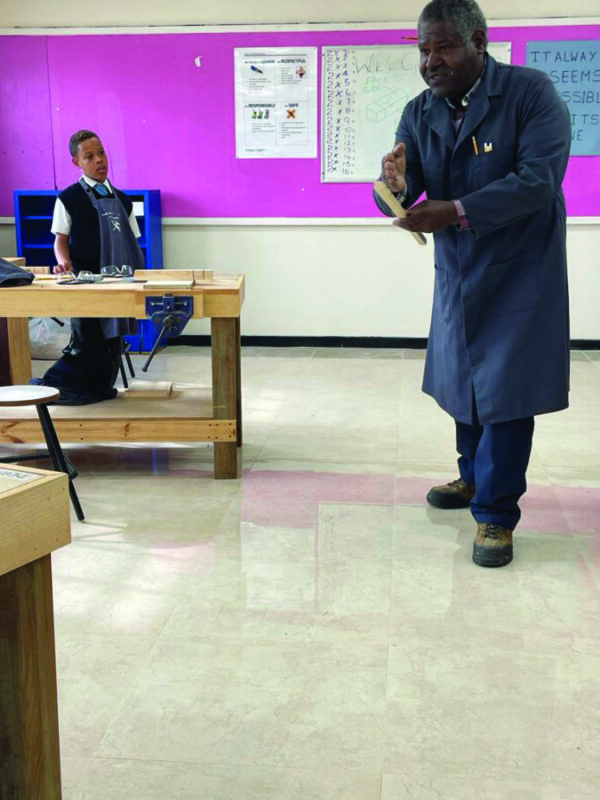 Veteran lecturer Kevin Bean has been delivering lessons under the pilot Adopt-a-School programme in conjunction with the Bermuda Technical Institute Association and Hamilton Rotary Club.
So far, youngsters have been getting to grips with basic hand tools such as a try-square and a saw as they learn the first steps of carpentry.
"They are developing the skills," Mr Bean said. "It's new for them. There's a lot of things that come together when you try to saw a straight line. The body mechanics, the discipline of the supporting hand, making sure they follow the line.
"We gave them a piece of wood. We found their initial cut was off. After three or four attempts, they started to get it pretty straight. They are definitely improving.
"It's trying to get them to understand the tool and use them properly. Once we master the sawing, then we can get into the chiselling."
Woodwork classes are also another way to teach maths skills.
"I always try to get them into measuring, to understand fractions," Mr Bean said.
"For most technical things, you have to do measuring and be accurate. I develop various games with them to help them understand fractions.
"Carpentry skills transfer across the board for anything. Let's say they want to be an electrician – you still need to know how to measure. If they want to be a metal worker, or a car technician, or get into drywalling or tiling, it's important for them to understand maths and measuring."
Safety is the number one rule, but Mr Bean also strives to install a "can-do" attitude that can help the pupils believe school is a place where they can thrive, even if they have struggled with traditional academic work.
The woodwork classroom walls are adorned with posters carrying messages like "If it's to be, it's up to me" and "I can do it".
"Usually when they are exposed to something they can't do, they say it can't be done," Mr Bean said.
"The more success they have, the better that particular skill will come to fruition."
Pupils said they enjoy the lessons.
Dezi DeGrille, 8, said: "I like to use the saw. When I get older, I would like to make statues out of wood. One day I would like to get a job where I could do this all the time."
Tikoa Russell, 8, said: "I like the saw. I have used it many times. I like this class – it's good."
Mr Bean said he hopes youngsters can be inspired to pursue careers using their hands and brains.
"A technical education allows you to troubleshoot, which means you analyse and go through your mind, trying to solve the problem before you tackle the job," he said.
"I hope this can get students to think about the process.
"If they want to be a carpenter, the skills are varied. We develop the technique of how to be more efficient at developing the skills."
The career opportunities are endless.
"For a technical education, there is no ceiling," Mr Bean said. "I'm supposed to be retired. I don't have a business card because if I did I would be too busy."
Paget Primary principal Sonia Raynor said a group of 13 boys had been handpicked for the class.
"We are in a time where we really need to be honest and recognise that our children need more of something different," she said.
"Not all children learn the same way. We wondered what we could we give our boys to learn and help them. When the Rotary came and suggested this, I thought of certain children that would benefit because of their learning styles.
"There has to be a person in charge to lead, that will provide the discipline and knowledge in a meaningful way."
She said that the lessons are more than just about learning woodwork skills.
"It's another way to tap into who they are and give them some confidence in school," Ms Raynor said.
"At some point in their teens or 20s they may reflect back on this and say, 'I can do this.'
"In Bermuda, the reality is we need more tradesmen. This can be one. We have people from all different professions in life, and we need them all. We can't keep going down the path of trying to create the same kind of professional. We respect them all.
"Mr Bean has a wealth of knowledge and knows how to bring it. The boys feel valued. They really feel they are special when they put their aprons on."
Rick Richardson, the president of Hamilton Rotary, spearheaded the partnership between the Technical Institute association and the school.
Mr Richardson, a former student at the Technical Institute, believes a technical education can offer young people more prosperous lives and even combat social problems.
"It's been a godsend for that class of boys," he said.
"Kevin is a remarkable teacher. He nurtures. At the Technical Institute, we had amazing teachers from all nationalities, but they brought us all along. I see this in Kevin.
"The boys need to feel like they can succeed. I said, some of you will be tradesmen, some of you will be business owners, some of you will be leaders in other fields. This is what we were taught when we were entering the Tech."
Mr Richardson said he and many of his contemporaries came from single-parent families.
"We were young black boys who could go either way. We saw some of our contemporaries fall through the cracks. We needed to be energised," he said.
"Our leaders and teachers taught us we really will be able to do anything we want to do. If we get a grip of this fundamental work, you can build on it.
"This is a pilot programme. Hopefully, we can build on it and those in education can see what's being done and take it further."