Llewellyn Wainwright is a genius. Of course, when we think of geniuses, we think of folks like Albert Einstein, Steven Hawking, or Neil deGrasse Tyson. Mr Wainwright is a different sort of genius though: the sort of genius who uses his natural gifts to master a discipline he was (probably) born to master.
His story is a quintessential argument for trade education in schools, and the need to explore the intrinsic skills our students possess from a much earlier age. It's a humbling and inspiring narrative, and the pride he exudes when talking about his lifelong entanglement with the construction industry in Bermuda is downright spellbinding.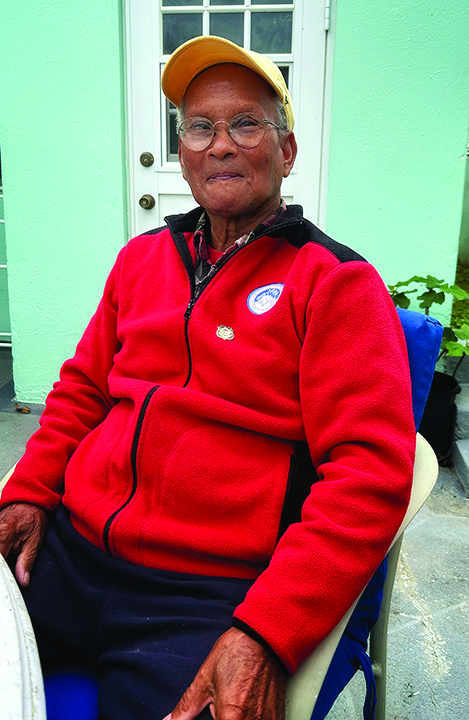 Starting as a 15-year-old apprentice at Bill Andrews' paint and carpentry shop – which was located on Serpentine Road, behind BAA – young Lew began as an unassuming shop cleaner.
"We had plenty of machinery in the shop, and I used to clean the machines," he said.
"I cleaned the shop so well that they said, 'I can keep him,' – they weren't letting me go! I stacked up the wood in the right places, organised the shop right. One day, when they left, I was playing hockey with a tennis ball on the floor, that's how clean it was.
"So the guys were taking notice of me doing all of this good work. Eventually they started to teach me a few things – and I was good at it! We were doing mostly furniture – professional furniture. You know, he had rich people that he was catering to – wealthy clients.
"So eventually he got me to do things. Mr [Tom] Green would teach me just about everything he knew, and Bill Andrews came over and says, 'Lew, you're doing well with this trade, I'm going to buy you your tools.' So we went to Standard Hardware, and he bought me all my tools – every tool that I needed to do this kind of work."
Thus started a glorious life in construction.
A small-framed man of 90 years now, Mr Wainwright has built a strong legacy. During our conversation, he repeatedly emphasised how neat and clean he was in appearance, and work habits throughout his life; also encouraging young tradesmen to commit to cleanliness and pride in their work.
Mr Wainwright's pride in his work and career is tangible. We sat among his distinguished mini-empire of houses at the bottom of Eastland Lane in Warwick, talking for more than an hour about the wonderful life he was able to build through his growth and maturation in the local construction industry.
Still neat and tidy in appearance, Mr Wainwright doesn't look a day over 70 – a strong testament to what clean living can do! His contribution to the infrastructure of Bermuda is considerable, and you will find his work all throughout our island. He did award-winning work in the schools while he was with Government, built several houses with noted contractor Ross "Kangaroo" Wilson, did gymnastics with a young Roosevelt Brown (who was a close childhood friend), picked up some upholstering skills from Pinky Caisey (before she became Pinky Steede, as she's more widely known), spent many years doing outstanding work at Creative Interiors, created and installed all of the cedar balustrades – that still stand – in Hamilton's City Hall, was a founding member of the Pathfinders in the SDA church, played a protagonist's role in founding North Village Community Club and many, many more things.
Highly regarded by his contemporaries, Mr Wainwright was known as a worldclass carpenter. He was a highly sought after artisan for most of his career and enjoyed an amazing career in the construction industry. Absolute genius!