by BCHC
There's more to healthy skin than meets the eye.
You can easily see some skin damage. A red, blistering sunburn or peeling skin is a dead giveaway that you have had too much UV (ultraviolet) exposure! Unfortunately, even after you've soothed your achy skin with aloe, there's still lasting damage under the surface.
Other damage occurs more slowly without any immediately visible signs. If you have more melanin in your skin, you may not burn as quickly, but UV exposure over time can still cause damage to your skin.
UV exposure is the prime preventable cause of the most common cancer in the world: skin cancer. There are several types of skin cancer, and most have a high survival rate. Basal cell and squamous cell skin cancers account for nearly 80% and 20% of skin cancers, respectively. Other non-melanoma skin cancers constitute about 1% of skin cancers, and the remaining 1% are melanomas. While melanomas make up a tiny fraction of all skin cancer cases, their invasive nature leads them to cause 80% of all skin cancer deaths. Limiting UV exposure reduces the risk of both non-melanoma and melanoma skin cancers.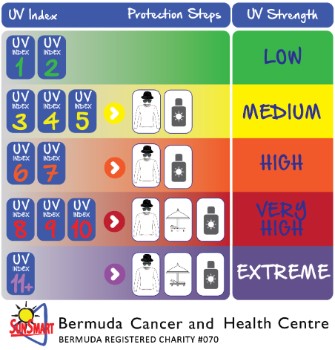 The UV index forecasts the expected UV intensity from the sun on a given day. An index number of 5 or below is low to moderate, 6-7 is high and 8-10 is very high. In Bermuda, the average UV index is high or very high from March to October, which means we potentially encounter large amounts of UV radiation for most of the year.
With such sunny conditions, what can you do to protect your skin?
Bermuda Cancer and Health Centre encourages you to be SunSmart this summer—and the rest of the year. Follow the SunSmart slogan to reduce UV exposure: Slip, Slop, Slap, Seek, Slide.
SLIP on UPF clothing. Melanomas often start on men's chests or women's legs. Wearing a layer of clothing over all areas will help to reduce UV exposure.
SLOP on a mineral-based sunscreen. Use at least SPF30 and apply it for 20 minutes before going outdoors. Reapply your sunscreen every two hours and after swimming.
SLAP on a hat. A wide-brimmed hat reduces the amount of sun that reaches your head, face, neck and ears, which are all common areas for both non-melanoma skin cancer and melanoma.
SEEK shade. Shade offers more than a reprieve from the heat; it gives your skin a break from UV rays.
SLIDE on sunglasses. Protect your eyes from UV exposure, look for sunglasses labelled UV 400, which provides nearly 100% protection from harmful ultraviolet light rays.
While limiting UV exposure can vastly reduce the risk of skin cancer, it does not eliminate the risk, so it's crucial to be aware of any unusual changes to your skin. Especially in the case of melanoma, early detection leads to better outcomes. Check your skin regularly for signs of melanoma. Alert your doctor immediately if you find a spot that is asymmetrical, has an irregular border, is patchy or inconsistent in colour, has a diameter longer than a pencil eraser or is changing its size, shape or colour.
If you have any high-risk factors—many atypical moles, a family history of melanoma or a personal history of skin cancer—you should schedule an annual skin cancer screening with a health provider.
By choosing to be SunSmart and looking for any signs of skin cancer, you are taking control of your skin's health.
Bermuda Cancer and Health Centre is a registered charity engaged in the prevention, detection, treatment and support of cancer and other health concerns in the local community.
46 Point Finger Road, Paget, 236-1001 chc.bm