From big community projects such as the Transformational Living Centre, to individual homes that need a crack filled or a roof repaired, the dedicated team at Habitat Bermuda, is providing a life-changing service to our island community
For many, owning your own home is a life goal that will hopefully provide shelter and happiness forever.
But then it rains and water drips down from the ceiling. Or a crack appears in a wall. Maybe the plumbing system starts to make unusual noises or the electrics sizzle and flicker.
As any homeowner knows, these issues need to be dealt with immediately, or they can quickly spell disaster. But the cost of fixing these issues is high and, for many in our community, unaffordable.
Habitat for Humanity of Bermuda, known as Habitat Bermuda, was established in April 2000, in response to the need for more adequate, affordable housing.
Board members give their time and expertise free of charge, there is a dedicated and hardworking core construction team and they have partnerships with many of Bermuda's building and hardware suppliers. They also receive considerable financial and physical support from locally based companies and individuals.
When first established, Habitat Bermuda's objective was to complete 12 individual projects over the course of a 12-month period, but last year they smashed that, completing 24 projects throughout the island.
"Typical of these projects would be serious roof damage, which has resulted in rotted ceilings and compromised flooring," explained Sheelagh Cooper, chair of the charity's board.
"This is often combined with missing or broken doors or windows. Last year, 85 percent of these projects involved elderly folks on fixed incomes unable to afford the cost of repairs."
In addition to the elderly, Habitat Bermuda also works with young families and proved its ability to take on large projects, as well as individual homes, with the completion of the Transformational Living Centre in 2021. Created in partnership with the Women's Resource Centre, TLC is now providing housing for ten families.
The charity is now embarking on another large project – the restoration and renovation of the old St James Rectory in Somerset. Working with the Anglican Church, which owns the building, and Bermuda Hospitals Board, Habitat Bermuda will turn this crumbling listed building into a rehabilitation facility for eight Mid-Atlantic Wellness Institute patients who originate from Somerset.
"This facility would give them a chance to learn how to take care of themselves in a home environment as well as participate in their community," said Ms Cooper.
But these are complicated buildings requiring expert designs, along with considerable labour and supplies.
Architect Akilah Swan, director of Aina Curated, became involved with Habitat Bermuda in 2018 when she volunteered her time and expertise for the TLC initiative.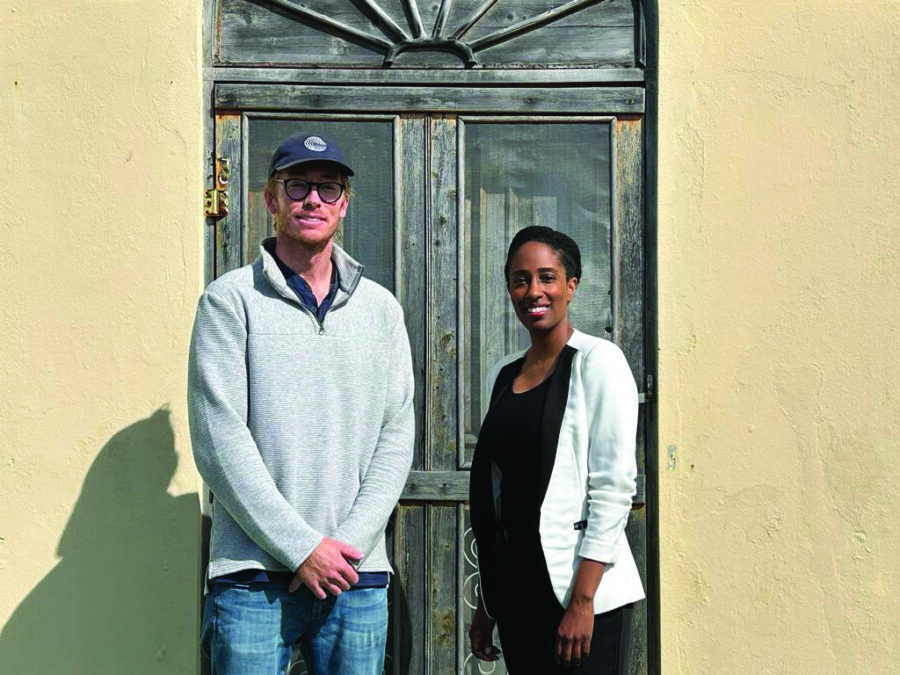 "I had been researching the complex reality of homelessness in America. My perspective was shifting as I considered who the homeless population is, seeing that young people and women take up a large sector of those without shelter," she said.
"Little did I expect that the following week I'd be invited to meet with Sheelagh Cooper to discuss an upcoming collaboration between Habitat for Humanity and the WRC."
Over the next few years, she helped develop the design concept for TLC. Now a Habitat Bermuda board member, she has been working with fellow board member, Eddy Thompson, architectural technician at CTX Design Group, on the conceptual planning and drawing work for St James Rectory.
"The greatest challenge of the Rectory, as with TLC, is the process of collaborating with the community stakeholders as well as understanding the unique and diverse needs of the project types," she said.
"With both projects, demystifying assumptions regarding the end users was critical. Reshaping the understanding of what a 'homeless person' or a 'mentally challenged person' looks like is paramount."
An additional challenge with the Rectory is the fact it is a listed building, built in the late 1700s.
"Although we are not changing the exterior of the building, other than to repair it and restore it, and the interior of the building is not protected by the grade listing, I was very sensitive to the historical significance of the interior elements in the approach to the design," she said. "As many features of the original building are being preserved as possible."
While every Habitat project is a team effort, nothing would be possible without project manager, Hewvonnie Brown. It is his responsibility to analyse the jobs, meet the clients, assess the work, source the building materials and manage the work crews, and he doesn't let supply-chain issues keep him from doing his work.
"We have relationships with places like SAL, Pembroke Paint, Baptiste," he said, listing just a few of the supply companies that help Habitat.
"These type of organisations are right on hand and work alongside Habitat for Humanity. We don't take a job on if we can't get the supplies. I will look at the job, then do a material search. Once I'm able to get the materials, then we will start the job."
He has been working with an eight-person core crew for a number of years and, each summer, he adds two summer students to the team so they can learn the trade.
Mr Brown loves what he does. Speaking from the site of a Habitat project in St George's where he has just finished fixing cracks and painting a woman's house, he said: "My crewmen and myself, we like coming in and we like helping people. We like to put a smile on people's faces. Every project is a highlight."
The only frustrating aspect is that he is not always able to help everybody.
"It's difficult not to be able to reach out to everybody, but better for us to reach out to somebody. If we had the capabilities to help everybody that needed help, we would.
"Sheelagh Cooper, Sandra Warner, the board members, the team that execute the work. We all work together to fit the mandate of the people, and the mandate of the people is to help them."