Students interested in marine science should look no further than the Bermuda Institute of Ocean Sciences (BIOS). The Institute offers two kinds of internship programmes: A paid internship for students aged 18 and older and another resumé-building experience for students aged 14 to 16. There are additional university-level summer courses with financial aid opportunities available.
As the director of education and community engagement at BIOS, Kaitlin Noyes is responsible for all the Institute's local programming. "We offer four to eight-week internships at BIOS to Bermudian students 18 and older through the Bermuda Programme," said Ms Noyes. "Approximately 10 participants investigate advanced ocean and atmospheric science topics under one-on-one guidance from a mentor."
The Bermuda Programme is an intensive summer internship and a chance for older students to take a 'deep dive' into everything from the study of coral reefs to the safety of water in our homes. It's also a great way for students to broaden their knowledge of marine and atmospheric sciences and learn about what happens behind the scenes at an active research station.
The internship hours are Monday to Friday from 9am to 5pm with occasional evening or weekend work, as required by the project. The internship is also a paid opportunity—students receive a weekly stipend.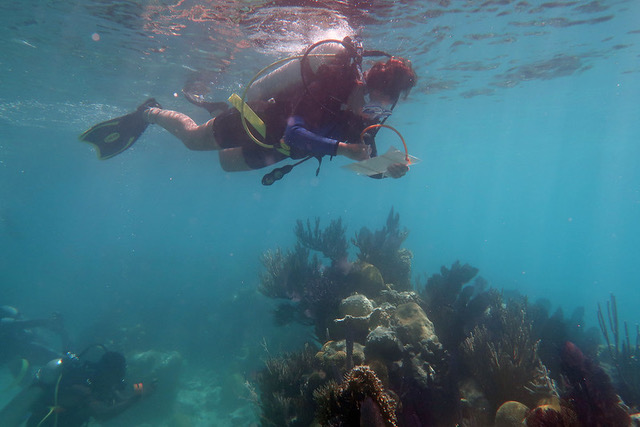 Since 1976 more than 250 internship opportunities have been provided to young Bermudians, with many applying their summer experiences toward further university studies. Some Bermuda Programme graduates have even gone on to work at BIOS and other related organisations in Bermuda.
"While there are no academic prerequisites, faculty tend to choose students who have laboratory experience in their field," Ms Noyes explained, adding that the programme is only open to Bermudians and PRC holders.
A second programme called Marine Science Internship is designed for budding marine scientists still in high school. "This is a two-week summer experience for about 10 students aged 14 to 16," said Ms Noyes. "The programme offers a strong foundation in scientific inquiry through hands-on exploration of the marine environment, augmented with resumé-building STEM skills."
Students can work with their home institutions on acquiring academic credit for participating in summer courses and, or internships at BIOS. However, getting an internship is selective. "Our programmes contain a comprehensive questionnaire in the application that help us to determine which students are the right match for the programme," said Ms Noyes.
She suggests students work with their academic advisor in advance to help ensure their application is as competitive as possible. She also suggested that students start planning early if they plan to seek academic credit.
Students who have interned at BIOS speak highly of the programme. "[My internship] allowed me to become more confident in my abilities in the lab and presenting," said Kristy Sanchez, a 2022 Bermuda programme intern. "It also improved my networking and social skills and I now have friends that will be doing science all over the globe. I am glad this summer transformed into something purposeful and beneficial for me."
These aren't the only two programmes for Bermudian students. Each summer, BIOS offers a range of courses for undergraduate and graduate students taught by BIOS faculty and visiting scientists. These courses give students the opportunity to study topics in marine science that might not be taught at their home institutions. Composed of lectures, laboratory exercises and fieldwork, they provide real-world experiences in a unique environment. Scholarships and financial aid are available upon application.
For more information on BIOS's university-level summer courses please contact [email protected].
Application forms for the Bermuda programme can be accessed at http://www.bios.edu/uploads/Bermuda-Program-Application.pdf. Completed packages must be emailed to [email protected] no later than April 1.
To apply for the Marine Science Internship, visit http://www.bios.edu/uploads/MSI-Application-Form.pdf. Packages are due by April 15. More information about summer courses can be found at http://www.bios.edu/education/summer-courses.
Interns in the Spotlight
Marcus Rewan
Marcus Rewan started his career at BIOS in 2013, at the age of 11, learning how to dive through the Institute's Ocean Academy and eventually worked his way up to a rescue diver certification. After completing the Marine Science Internship in 2017, he returned in summer 2019 and 2021 as a Bermuda programme intern.
Under the mentorship of microbial ecologist Rachel Parsons, Mr Rewan, now 21, is building on the knowledge gained during previous activities at BIOS while he works toward furthering his academic career. Responsible for carrying out a variety of microscopy protocols, he will work in Ms Parsons' lab through May 2023, during which time he will also be taking remote classes at Mount Saint Vincent University in Canada.
Kristy Sanchez
The Bermuda programme research internships provided valuable opportunities for ongoing skills development both in preparation for, and during the undergraduate career of Kristy Sanchez. Her internship gave her the opportunity to become more confident in the lab and improved her networking and social skills, allowing her to meet fellow young scientists and friends from around the globe.