KRYSTAL MCKENZIE 
Eat this, not that! If you're a diabetic, you've heard the instructions, but it's challenging to remember what to do on an everyday basis. 
Taken from the Diabetes Care Community online, they break food choices down by category, so here are some examples for you to update your shopping list and include the foods on the left: 
CHOOSE THIS: INSTEAD OF THIS: 
Grains and Starches: Grains and Starches: 
Whole grain or rye bread White bread 
Sweet potato White potato or French fries 
Brown rice or basmati rice Short grain rice 
Whole-grain cereals with no added sugar Cereals made with processed grains and added sugar 
Barley, bulgur, quinoa Pasta or rice 
Corn or whole wheat tortilla White flour tortilla 
Protein: Protein: 
Egg whites Whole eggs 
Lower-fat cuts of meat, such as sirloin Higher-fat cuts of meat 
Roast turkey or chicken Cold cuts or lunch meats 
Ground turkey Ground beef 
Skinless chicken or turkey breast Chicken or turkey with skin 
Salmon, trout, mackerel – baked or steamed Battered fried fish 
Lentils or legumes (chick peas, kidney beans) Ground beef 
for taco filling or pasta sauce 
Fats and Oils: Fats and Oils: 
Non-hydrogenated margarine Hydrogenated or "hard" margarine, butter 
Low fat sour cream on baked potato Butter or regular sour cream on baked potato 
Olive oil or canola oil Butter or vegetable oil for cooking; use olive oil for dipping bread instead of adding butter to bread 
To see the full list, go to diabetescarecommunity.ca, or take advantage of the services and resources at our very own Bermuda Diabetes Association.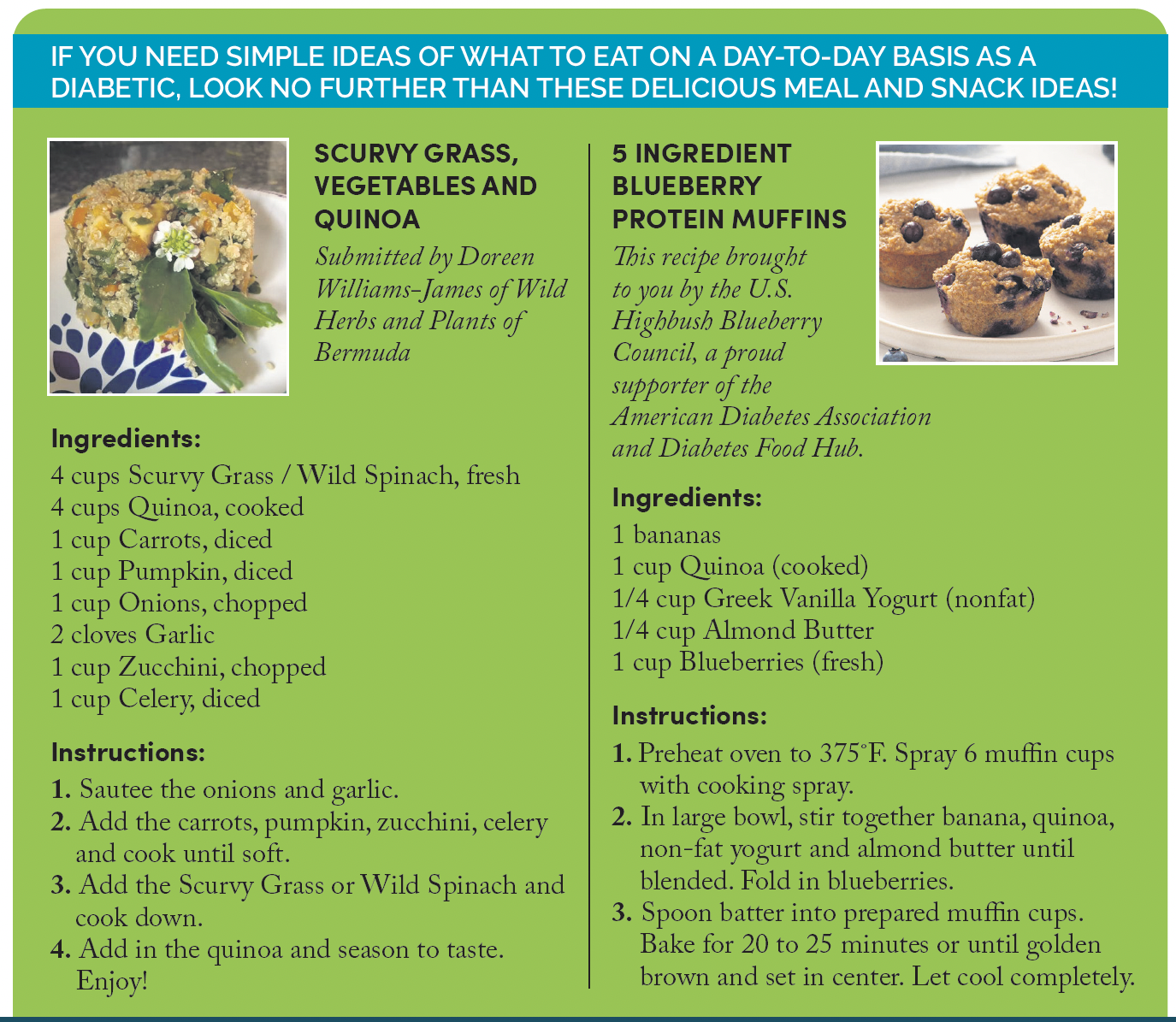 Lastly, if you find yourself relying more heavily on takeout and delivery, Kristen Smith, MS, RD, Spokesperson for the Academy of Nutrition and Dietetics, offers 10 tips for ordering from your favourite eatery: 
1. DO YOUR RESEARCH 
Ordering take-out gives you more time to look over the menu and check nutrition information. Many places have nutrition information or at least calorie counts listed with their online menus. 
"Read menu descriptions thoroughly to catch foods that could contain unexpected carbohydrates such as those labeled breaded, crusted, or crispy," says Smith. 
2. BE CAUTIOUS WITH DAIRY 
Restaurant kitchens are usually much more liberal with high fat dairy foods than you would be at home. You can always ask the restaurant to leave it off or look for a leaner menu option. 
3. USE THE PLATE METHOD 
Remember to fill half your plate with non starchy vegetables, one quarter with lean protein, and the rest with carbohydrates. Most restaurant meals have plenty of carbs and protein but may be lacking in vegetables. Order an extra vegetable side or add a salad to your meal. 
4. UPGRADE YOUR CARBS 
Not all carbs are bad. Whole grains are often packed with fiber and sometimes restaurants will offer whole-grain versions upon request. 
"Ask about brown rice, whole wheat bread, and whole wheat pasta options. These options still contain carbohydrates, but do take longer to digest, thus not increasing your blood sugar as rapidly," cites Smith. 
5. WATCH THE ADD-ONS 
Sometimes you'll open your takeout bag to find goodies you didn't even order. These little extras are meant to show good hospitality, but they can derail your otherwise healthy choices. 
6. USE YOUR OWN PLATES 
Instead of eating straight from the takeout containers, portion out some of the meal onto a plate and leave the rest in the container for tomorrow. Ta-dah! Two or three meals for one! 
7. FOCUS ON LEAN PROTEIN AND VEGGIES 
When you're scanning a menu, always zero in on the available lean protein and vegetable options. This is a great way to make sure you're getting the best nutrition and least empty calories for your buck. 
8. SKIP FRIED FOODS 
Most restaurants have plenty of appealing non-fried options, too. Look for things that are seared, baked, grilled, or steamed instead. 
9. MAKE SPECIAL REQUESTS 
Don't be shy, you are a paying customer, and you should get exactly what you want. 
"Substitute a portion of rice or pasta for steamed vegetables, for example," suggests Smith. You could also request sauces, which are often calorie dense and poured on with a heavy hand, on the side, or substitute fried foods for items that are grilled or baked. 
10. SEEK OUT BEANS 
Beans are packed with fiber, which makes them very filling and helps prevent blood sugar spikes. You'll find black and pinto bean dishes at Mexican restaurants while white beans are more common in Italian, Greek, or Mediterranean recipes – Plant-based protein with major health benefits!