Nisha Smith hopes the Deloitte Scholarship can help her actuary dream come true
BY TIM SMITH
Nisha Smith started her journey the hard way – but she's well on the road to fulfilling her dream of becoming an actuary.
Ms Smith, 23, who is studying qualitative risk and insurance at St John's University in Queen's, New York, was a relative late starter when she began her studies at Bermuda College.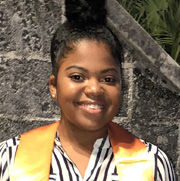 "I entered the actuarial programme a year behind everyone else. It took a lot of time and determination to catch up," she said.
"Despite this, I finished at the top of my class and received the Most Outstanding Actuarial Science Graduate award. I achieved this while also working two part-time jobs."
Ms Smith's appetite for hard work was one of the reasons she was selected for the prestigious Deloitte scholarship for 2021.
When her family background is taken into consideration, her attitude comes as no surprise.
"My mother and grandmother have been good role models in life," she said.
"My grandmother has instilled many values in me such as strength, compassion and determination.
"My mother has shown me that your past does not define you, it only makes you stronger.
"She's the hardest working person I know and at times has worked 20 hours a day to provide for her children.
"Her drive pushes me to do the best I can, and I hope that I will eventually ease her workload."
Ms Smith initially planned to become an accountant but after joining the College she found that she excelled in mathematics, and was introduced to actuarial science by math teacher Ali Arouzi.
"I realised the career aligned perfectly with my interests," she said. "There is also a high demand for actuaries in Bermuda."
Her first year at St John's consisted of mostly electives, but in the upcoming semester she will begin the classes that make up the acturial science component of her degree.
"I am excited for next semester because I finally get to dig my heels into the actuarial courses," she said.
"I'm looking forward to my economics class too. I think it's a huge advantage for a student to learn about the subject and understand its complex nature.
"I look for subjects that are relevant to today's society. I love taking classes that open my mind to new concepts and allow me to see things from a different perspective.
"The best feeling is finishing a course and being able to connect what was taught to events in the world.
"I also enjoy any mathematics course – the harder the better! I love being challenged with a complex question, sitting down to solve it and figuring out the answer."
She is expected to graduate in May 2023, but is aiming to finish a semester early.
"I have made it my goal to do the absolute best that I can," she said.
"Now that I'm able to give my full attention to school, I've maintained a 4.0 GPA. This was not an easy feat, but I've been determined to get strong results and not take the opportunity for granted."
Ms Smith's long-term plan of becoming an established actuary is still in its early stages, as she must also complete actuarial exams which "can take a very long time".
She added: "It is important to me that I give back to the community as much as I can. I would love to provide opportunities for students like myself and help them break generational limitations."
Her advice to those students is to apply to every relevant scholarship possible.
"It's also important that you do not wait until the last minute to apply," she said.
"I tracked each scholarship deadline in a spreadsheet in the months leading up. In this document, there was a checklist with all the requirements needed for each scholarship. I found this approach helped the experience feel less overwhelming.
"I must also stress the importance of preparing for an interview. The internet is a useful tool to research the company and understand what they do, their contributions to the community, their student programmes and past scholarship recipients."
The Deloitte scholarship award offers up to $20,000 per year for a maximum of three years and is available to Bermudian students pursuing an undergraduate degree with an interest in accounting, actuarial, financial advisory, risk advisory or other business-related studies.