by Sarah Lagan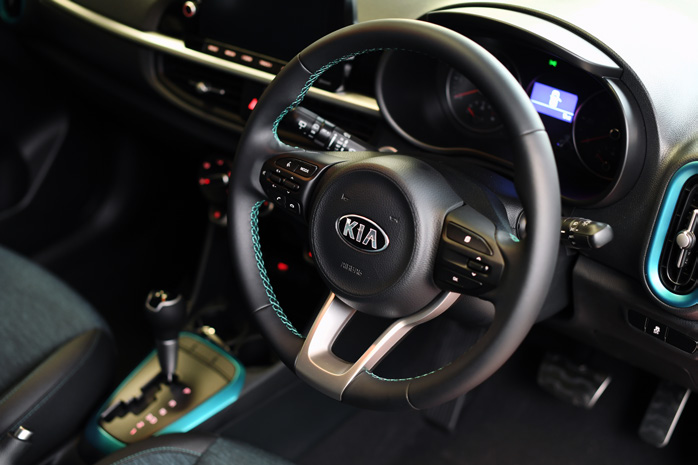 The trusty Kia Picanto has undergone a "facelift" that brings a fresh look to the island's top-selling car. 
While its racy new image does catch the eye, there are a couple of features that take this upgrade beyond the mere superficial. 
The display unit is bigger and better at eight inches, and the rear view camera with parking guidelines is now a standard feature along with the existing iPod USB port, and Bluetooth hands free. 
It's "fully loaded", I'm told by my rep at Bermuda Motors, the car's exclusive dealer which expects to shift about 20 Picantos per month. 
The leather-look seats (or real leather if you fancy spending just over a thousand extra) are especially comfy with their sleek feel and hugging design. 
It is as much the little city slicker as its predecessor: manoeuvrable, compact, obedient and a cinch to steer – all you need to get you through Hamilton's tight spots.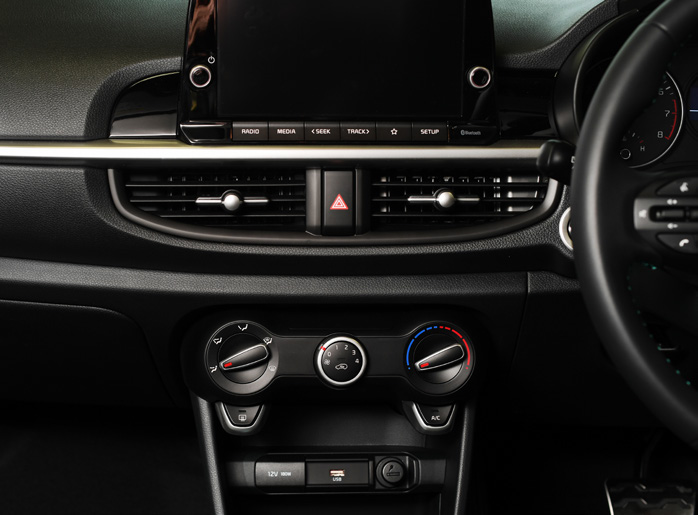 The Kia Picanto's mini makeover is largely cosmetic but one that that makes for a more sophisticated look overall. 
The distinctive, alternatively-coloured accents on either side of the front grill are gone. A pop of colour instead comes from a horizontal slit between the headlights. The car has retained its coloured stripe along the side for those who care about these details – I have to admit, the contrast between some combinations is quite striking like the white accent on a red body. 
The back end of the new model is decorated with two chrome faux exhaust pipes whose sole function, seemingly, is to emit an air of bravado. The actual exhaust is concealed under the car. 
The lower taillights have been revamped and are now thin strips to no obvious benefit other than to look chic. 
The aquamarine highlights inside some of the cars, on a mostly black interior, adds a futuristic touch. 
The Kia Picanto 2021 provides a refreshing change from its 2017 counterpart which has basically dominated Bermuda's roads since its release. 
There are many reasons for its popularity on an island like Bermuda. 
Small is good for those wishing to save a buck – 2020 was a brutal year for many financially and this car doesn't break the bank. It's Class B, so cheap to license and at $22,995 ($24,200 with leather upholstery) it's reasonable. The five-year warranty is a particularly welcome perk.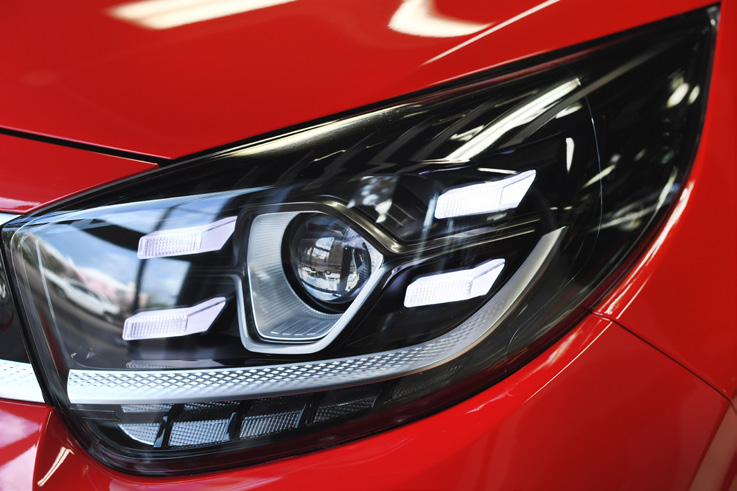 The driving itself is comfortable. It's not too nippy on the speed front or too sensitive on the brakes – the car just stops comfortably. 
It's a smooth and quiet drive with wide open view. 
The Kia Picanto's racy image defies its attention to safety detail. As is standard nowadays, it comes with an anti-lock braking system which helps reduce the risk of skidding under a hard brake. This safety feature is coupled with electronic stability control: wheel sensors that can detect the beginning of a slide and automatically apply light braking to individual wheels to help regain stability. 
When you stop on a hill, if you take your feet off the brake, you won't reverse and there are dual airbags. 
The car offers comfort and security. 
The Kia is practical but fun and can accommodate a small family. While it has the advantage of being small, it most certainly doesn't feel cramped on the inside. There was more than enough room for my 15-month-old daughter and her car seat on the test drive, and it can accommodate a second child seat, with a third child with a seatbelt. The 60/40 backseat fold down options means it is adaptable – you can carry large luggage or fit in a good day's worth of beach gear and the car still accommodates a little one comfortably.