by Annabel Cooper 
With tenants expected to start interior fit outs imminently, we speak to Rego Sotheby's partner and commercial real estate expert, Penny MacIntyre, about who is moving into this trophy building, what its renovation adds to the City of Hamilton and how she managed to rent out office space during a pandemic.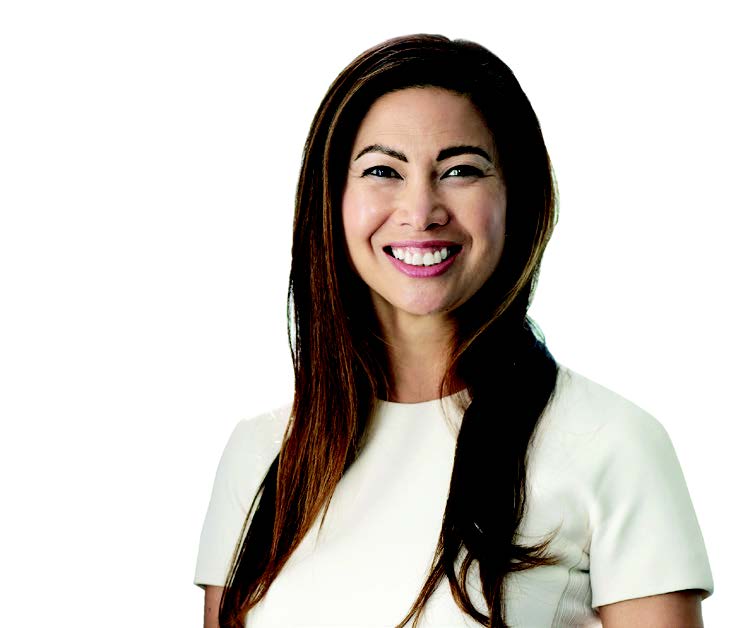 With its prime Albuoys Point location and panoramic views, Point House, said Ms MacIntyre, is "the pinnacle of office buildings in Bermuda and certainly elevates Bermuda's commercial business district so it looks more like a global city. It has all the attributes that international clientele looks for." 
Bought by the Green family in early 2019, the renovation has persevered through COVID-related delivery delays and labour scheduling to become what Alexander Green hopes will be "a beacon of modernity on Front Street," as well as "a breath-taking experience for office workers and visitors." 
Since the property first launched onto the market there has been considerable interest, particularly from international business, with Convex Insurance being the first company to confirm their tenancy. A local bank is also taking space and there will be a patisserie on the ground floor. The rest of the tenants are reinsurance or insurance companies. 
A big selling point for Point House, added Andrew Green, are the "amounts of natural light, modern balconies and incredible views over the water." An outdoor triangle-shaped terrace has been added to the first floor and floors two to six have balconies on all four corners offering a fantastic vantage point in every direction. 
In spite of the exceptional views and light, leasing to international companies when their facilities teams can't travel had its challenges. 
"We had to introduce video live feeds during walk through tours with iPads and cell phones so those who couldn't come here could understand which floors were suited for them," explained Ms MacIntyre. "It's very difficult to do something site unseen, but we had people familiar with Bermuda making the decisions." 
There are seven floors above ground and there is underground parking for three cars per floor. Base rent per year starts at $65 per square foot for the ground level and increases by $5 per square foot as you go up each floor. The whole building is office space, with the exception of the patisserie. 
Ms MacIntyre expects tenants' interior construction to take between five and nine months so the first could be in before the end of this year. 
While the current economic circumstances mean it's still a tenant market and predicting anything long-term is very difficult, she has a positive outlook for Bermuda's commercial real estate market. In part, this is because the Work from Bermuda initiative has drawn a "cross section of attention to Bermuda," highlighting to decision-makers that it is a beautiful place to live and work. 
Separately, there is the issue of supply and demand. Quality "Class A inventory" with built out space and water views, is hard to find, she said: "Point House is the last big office development in the pipeline for town."