ISLAND HOMES RECEIVE A QUARANTINE MAKEOVER TO RENEW THEIR PURPOSE. 
by Melissa Fox 
As Bermuda businesses continue under various COVID-related restrictions, the Island's design industry is tasked with meeting the increasing demand to reinvent the same four walls people have been staring at for the better part of a year. 
Forced to share the same square footage, families are re-evaluating the makeshift accommodations that saw their living spaces repurposed for the short term, but quickly become cumbersome as the new normal settled in. 
Answering the call for solutions that make sense are the creative designers and architects that have – literally – been shaping our Island for decades 
"Everyone in the Construction Association (CAOB) is busy, and we're seeing these effects all across the Island," said CAOB representative Will Irvine. "We're at the tip of the wedge with the continued increase in demand for residential work." 
Bermuda's design talent is stepping up to the plate with creative solutions to transform the boring and underutilized into the breathtaking and functional, adding significant value to heart and home.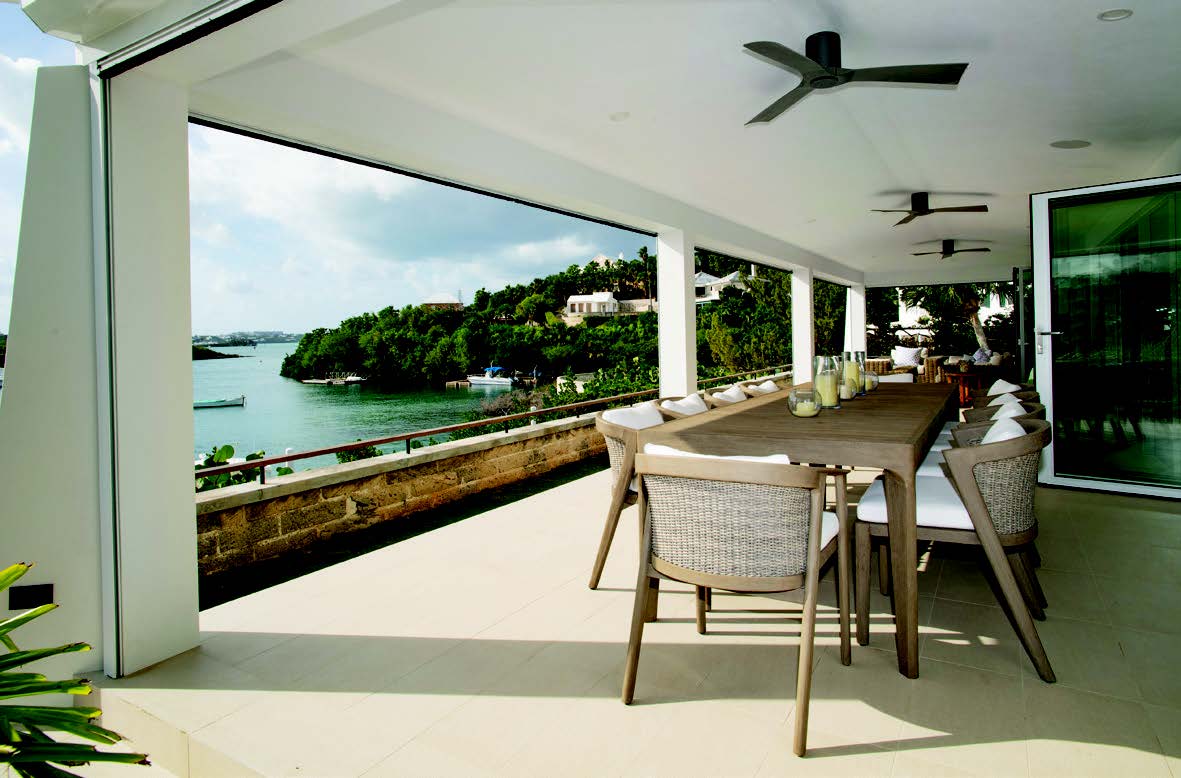 CTX Design Group – Patience & Persistence 
"We've seen a considerable uptick in work," says Lauren Grayston, a partner with CTX Design Group. "People are home and not travelling, they're investing back into their living spaces." 
She said the struggle is not in the design phase, but in keeping in line with delays related to a workforce under quarantine and supply chain disruption. Backorders and extended lead times push out project completion dates, but, "we cope with it by being versatile," Ms Grayston said. "Also patience and persistence. We just keep trying different avenues until a solution is found." 
What rooms are Bermudians most interested in revamping? 
"I have been loving the indoor/outdoor rooms we have been creating for clients to really maximize their home's square footage. "
"By installing large folding glass walls which accordion back to completely open up the kitchen/living/dining area onto a covered porch, we've been creating some beautiful secondary living spaces that often incorporate an outdoor kitchen," Ms Grayston said. "In this time of being so homebound, these rooms provide spaces for families to spread out and are perfect open-air entertaining space where they can socialize with friends." 
Broadview – A Focus on Personal Space
"The pandemic made the saying 'your home is your castle – or your sanctuary' ring true so loudly," said Anthony DeShields, Chartered Architectural Technologist with Broadview Ltd. Homeowners who may have spent disposable income on vacations are looking to "allocate those funds towards home improvements and additions to suit this 'new normal'."
With no two projects considered the same, the team at Broadview count problem-solving as a key component in their design philosophy as they seek out creative solutions to reimagine how clients use their space. 
"Our clients were forced to spend more time in their homes, with many realising that their living spaces no longer, or never did, suit their needs," said Melissa Woods, Senior Interior Designer. "Improving elements of the home can lead to improving quality of life. In some instances, clients focused on only one room, while others added extensions, and many completed full renovations." 
Launched in 2020, Broadview is the "new kid on the block", and building a business during a pandemic has given the brand a unique perspective on designing for life under lockdown. 
The challenge is to reach the clients goals amid project timeline disruption: "To overcome delays, we have had to adapt how we work with clients and contractors," said Colin Brown, Chartered Registered Architect. "This has involved earlier collaboration with clients to make final design decisions which then allow for more timely procurement of materials or items. With all of this said, we see these challenges as being temporary and not part of the 'new normal'."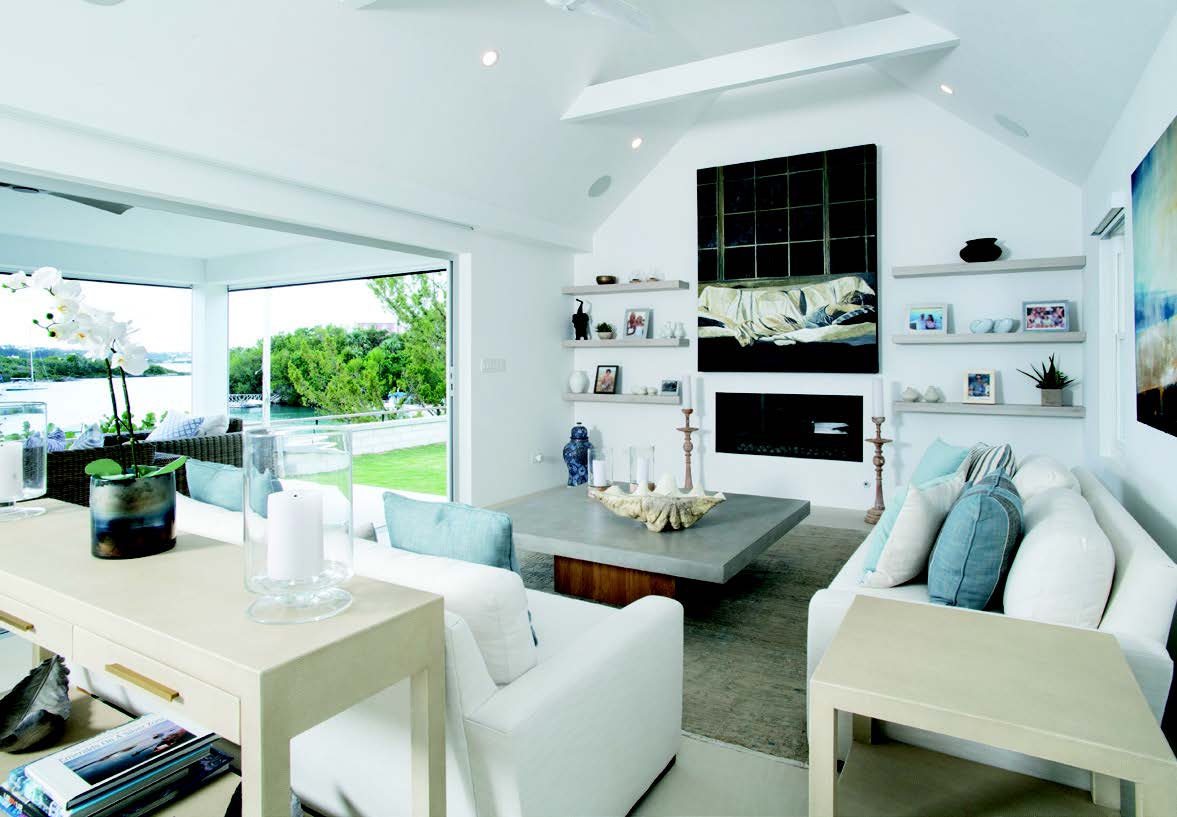 OBMI – Aims To Please
The team at OBMI has also experienced high demand in the need for creating something unique and useful in Bermudian homes, says Michele Smith, a Senior Interior Designer with the long-standing firm, though there have been challenges with local trades keeping stock. "Waiting for goods to arrive is challenging," she admitted "But we usually see the rewards in the end." 
One of the oldest firms on the island, OBMI has played part in redesigning Bermuda's architectural landscape. Over the past year, they've worked on a range of projects, varying from full renovations to upgrading rental homes, from bathroom upgrades to full interior furnishings, along with satisfying the growing need to create private workplaces within the home.
A prime example, a recent renovation that turned an underutilised attic into something useful. "Together with the client's vision, we created a bright space with two end sections, one used for a home office and the other for a guest space with a renovated bathroom," Michele explained. "The southernmost gable, which was only good for storage, now features a bench with Southshore views and is the perfect spot for reading and yoga." 
The focus has always been to please and build awareness, but "it's not like HGTV, so keeping the conversation real and honest about what we can provide, particularly on timelines and deliverables, is important."