BY JONATHAN KENT 
Bermuda's international business sector offers jobs that are well paid and fulfilling. But to land an attractive role, you need a great education, usually involving an overseas university, and that does not come cheap. Lack of further education funds is the single greatest obstacle between many capable and driven young Bermudians and a shot at a career in IB. 
The Association of Bermuda International Companies, the IB industry body that celebrates its 50th anniversary this year, has long recognised this challenge and its members have stumped up millions of dollars over the decades to address it. 
Now in its 44th year, the ABIC Education Awards constitute the biggest scholarship programme on the island, providing about 20 awards per year for Bermudians studying for undergraduate or graduate degrees in areas related to IB. ABICEA has helped 670 students with their college education since the programme launched in 1977. Over the past ten years alone, ABIC member companies have donated $5.5 million to scholarships. 
Many beneficiaries have gone on to enjoy stellar careers, including Patrick Tannock, ABIC's chairman, managing director of Axa XL and CEO of XL Bermuda's insurance operations, and Catherine Duffy, country manager for AIG Bermuda.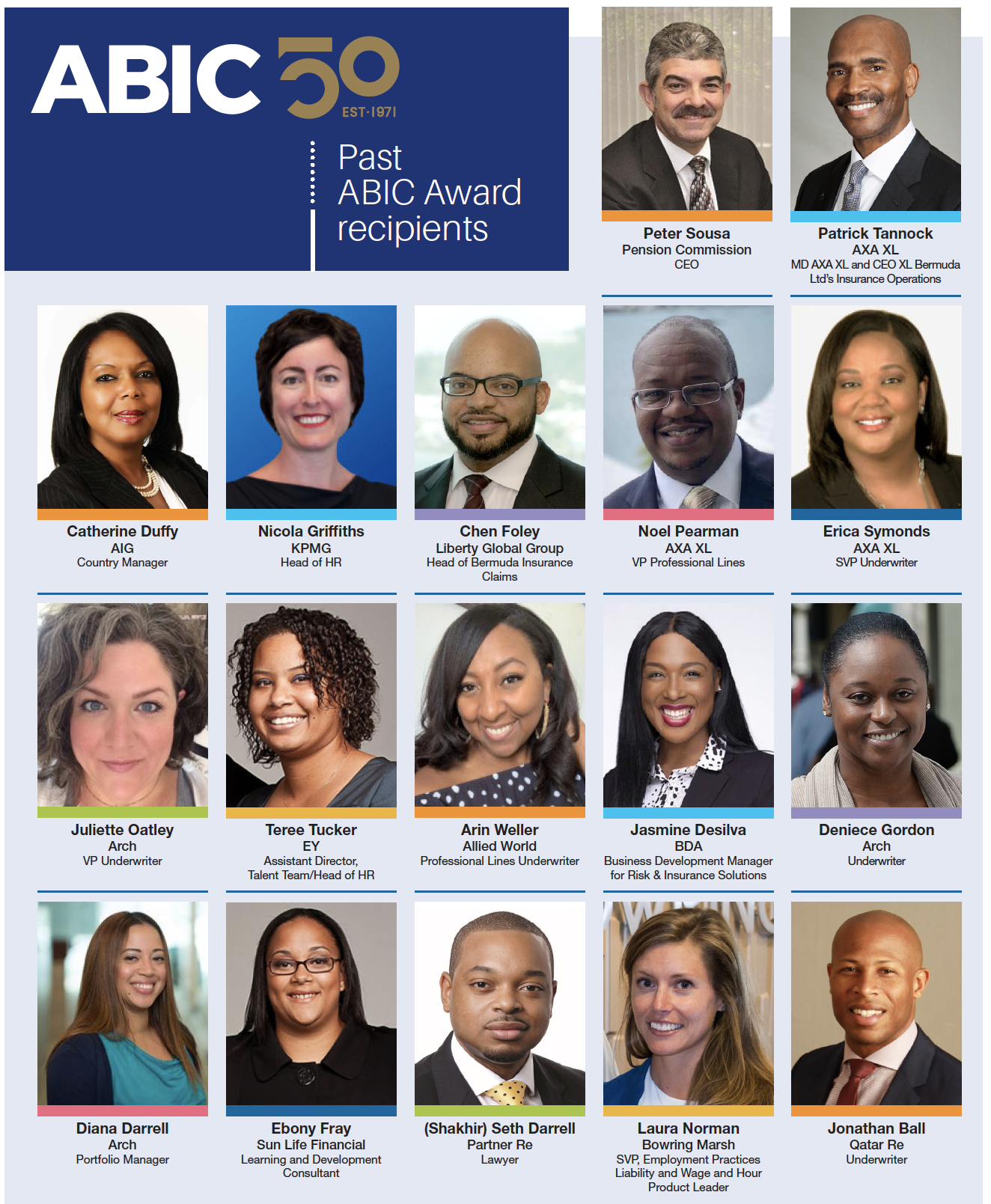 Valincia Swann, a longstanding certified public accountant who was a grateful ABICEA beneficiary, has taken great pleasure in giving back. For the past 12 years, Ms Swann has sat on the ABICA Scholarship Committee, which is responsible for vetting and interviewing the 50 to 75 candidates the programme attracts in any given year. 
"It's wonderful to see the best of our young people," Ms Swann said. "We give out more scholarships per year than any organisation. I think it has varied between 15 and 23 per year. Sometimes I wish we could give out more. 
"I've come out of meetings where we say, 'this is where we draw the line', and I'm in tears, because you know the students who are below that line and you know the financial need." 
Her own experience as a student was that "my mother [Sandra Swann Adams] worked three jobs to fund my education. Because you know your parent's working so hard, you dare not waste a cent of their money – there's a very high incentive to get good grades." 
Ms Swann earned an ABIC scholarship in time for the fourth year of her studies for a bachelor of commerce degree, majoring in accounting, at St Mary's University, in Halifax, Nova Scotia. "It took a big weight off my mom. I was very happy and privileged to receive the scholarship," she added. 
The degree set her on the road to a stimulating and varied career. She worked part-time at Arthur Andersen before sitting the CPA exam and passing all five parts at once – a rare achievement. She went onto to work for Bank of Bermuda, where she climbed the ranks to be treasury controller, before working a three-year stint in government, helping to set up the Pension Commission. It was then she worked with Roseann Maxwell Stovell, "whose management of the office really contributed to my professional and personal growth", Ms Swann recalled. 
In 2003, she went to work as vice-president, finance and operations at the Bermuda office of Nomura Securities, a Japanese-based asset management firm, before a ten-year spell as manager, investment information of Alternative Investment Management (Bermuda), a private family office for a high net worth Swiss family. She loved the work there. "They invested in everything from regular equities to artwork and everything in between. I learnt a lot about how to value investments," she added. 
These days she works as a consultant for a few clients, forever mindful that her qualifications have given the option to do that. Even with all her experience, Ms Swann retains an appetite for learning. She is following a captive insurance course at the Bermuda College and recently she completed a fintech course. 
Donita Stevens is another ABICEA recipient, using her education to good effect. The 32-year-old assistant vice-president, professional lines insurance underwriter at Argo Group, got her first exposure to the industry through the Bermuda Foundation for Insurance Studies. 
"BFIS paired me up with mentors and gave me shadowing opportunities with people in the industry," Ms Stevens recalled. "I remember myself and another student shadowing an actuary. It was a world I had never seen before." 
The former Saltus Grammar School student wanted to study risk management and insurance at Temple University, but the cost was an issue. 
"I applied for every scholarship I could," Ms Stevens said. "When I got the ABIC Education Award, it was a huge relief. I started at Temple in 2007 and the majority of all four years was taken care of by the scholarship. I didn't have to worry. I was able to focus on academia, rather than having to secure a job or work while I was in university." 
Even during the summer and Christmas breaks, when she came home and worked with an actuary at Validus, Ms Stevens was able to focus on her future. She also signed up for the Summer Internship Programme, which included stints in three different industries over a single summer, with spells at Ace (now known as Chubb) in insurance, HSBC in banking and KPMG in accounting. 
Ms Stevens reflects warmly on the help she received from BFIS and urges young people looking for a way into the industry to seek similar assistance. "Find an insurance organisation that helps young people: they're all around and they're here to help," Ms Stevens said. "They will get you hooked up with a shadowing opportunity or a networking opportunity with someone in the industry." 
Like Ms Swann, Ms Stevens is grateful to those who helped her to receive a top-class education and wants to do her bit for young Bermudians looking to follow in her footsteps. 
"I think it's important to pass it forward," Ms Stevens said. "I was very lucky in having the assistance that I did. I want to show others that there is a way. 
"When I first finished university and got my job, I went back to BFIS and volunteered for an alumni committee, which I co-chaired for the first three years after its inception. We helped to create scholarships for other young people." 
Young Bermudians with one eye on a scholarship should maintain a good balance of extracurricular activities, she advised, while ensuring that grades are consistently good. 
And when the scholarship is earned, the hard work really begins. "It takes discipline: like anything you want to succeed at," she said. 
ABIC's commitment to helping Bermudians into IB careers goes beyond the scholarship programme. ABIC administrates Bermudascholarships.com, the one-stop shop for all scholarships on the island. 
The industry body also leads awareness initiatives in schools, including the Middle School curriculum on IB and the Economy, and Careers in IB. At CedarBridge Academy and the Berkeley Institute, ABIC supports Virtual Enterprise International where students learn to create and run a business. Also young Bermudians in IB participate on careers panels for years 1 to 4, while ABIC members provide work placements for students through the Career Pathways Programme. 
However, It is the enduring ABICEA programme that stands out as an educational initiative that has truly served to unleash the potential of hundreds of young Bermudians. 
Ms Swann summed up why it matters. "I believe there should be no barriers to higher education for our young people, if they have the drive and the ability," she said. "I'm very passionate about that and that's why I've been involved with ABIC for so many years. I know there are people who have the drive, but not the financial means. I want to see them succeed as I have."