By The Family Centre 
Family Centre responded to the pandemic by encouraging and promoting a 'Mentally Healthy Bermuda'. 
In the early stages of the pandemic, our focus was on helping families to immediately access resources to meet their basic needs such as food and the technology needed to stay connected to the rest of the world during lockdown. 
Our therapeutic services remained accessible as we moved them to a virtual platform and provided public messages to our community that we were still providing help to children and their families during this unprecedented and stressful time. We actively used our social media forums to advise the community of the local resources available to assist them. 
Family Centre also provided a counsellor to assist individuals in crisis on the Government of Bermuda's Emotional Wellbeing Hotline. 
Family Centre was designated as an essential service with the support of the Third Sector Coordinated Crisis Response (CCRE) and other remarkable individuals, families, and corporate donors who specifically gave funds to support children and families in need because of the pandemic. This support was critical to putting food on the tables of many families in our programmes and services as well as access to the technology needed to stay connected with us, the local media and with their children's schools. 
The therapeutic team at Family Centre developed and launched the 5C Challenge. The challenge promoted wellness by encouraging families to practice the "5 Cs" (Connecting, Calming, Cooking, Creating and Caring) for physical and emotional wellbeing.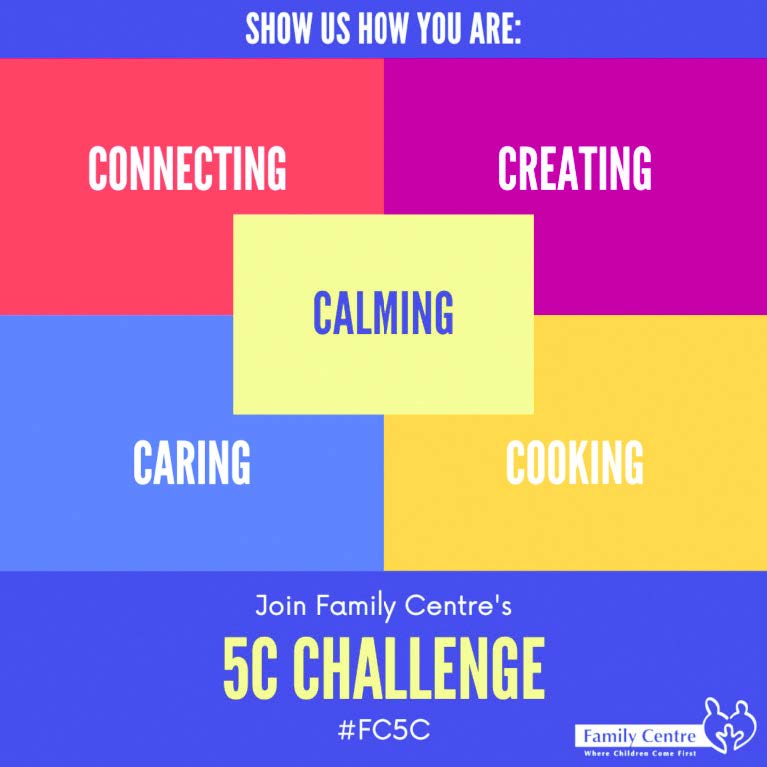 Family Centre produced and aired on Bermuda Broadcasting Station a televised Mental Health Panel featuring local partners with expertise in different areas of emotional wellbeing. The panel was moderated by our Executive Director, Dr Sandy De Silva, who is also a Registered Clinical Psychologist. The panel discussion covered mental health matters related to children, adults, couples, and families, as well as addictions and employer-employee related matters. 
Family Centre continued its community awareness campaign on the impact of domestic abuse on children given the rise of domestic violence during lockdown. Information was placed on grocery carts and local television reminding adults to stop and think about the impact of their actions on the often-ignored victims of domestic abuse which are the children in background. 
We honoured World Children's Day in November inviting primary schools, friends of Family Centre, partners, and donors to celebrate the day by wearing blue and bringing awareness to children's rights. 
The international call to action this year was to "reimagine a better future for every child." While children in our community and around the world may not be the "face" of the Coronavirus, they are at risk of becoming its hidden victims. 
The global increase in violence is a disturbing indicator that many young people aged 18 and under have experienced some form of early life trauma in any of the many forms of violence during the continuing pandemic. Family Centre is committed to ensure that World Children's Day serves as a reminder of our common responsibility to protect the rights and well-being of all children, especially the children in our own community. 
Throughout the pandemic, free Counselling Services were provided to children and their families on confidential telehealth platforms. We continued to accept new clients for counselling. 
Our Community Programmes were also delivered remotely to the youth and their families enrolled in our Youth Leadership Academy and Beyond Rugby programmes. Family Centre continued our advocacy work with our Family Forum community group and partners especially in critical spaces such as the Youth Development Zone. 
As of July 1, 2020, we returned to in-person delivery of programmes and services at Sunshine League House. With strict adherence to the Government's COVID-19 Guidelines, we held our children's specialized camps, youth summer projects and commenced in-person counselling services. 
As the impact of the COVID-19 pandemic has taken its toll on family life and the wellbeing of children, it is clear Family Centre's services and programmes are needed now more than ever. Already there is an increase in demand for mental health services in Bermuda. 
We are encouraged that families are putting up their hands to receive the help they need rather than suffer in silence. Our programmes and services are provided at no cost to families, thanks to dedicated and generous private and corporate donors who are working to ensure that Bermuda's families remain supported. 
For more information on Family Centre Programmes and Services please visit www.tfc.bm or email us at [email protected] or call us at 232-1116.