HERE ARE SOME RECIPES THAT ARE GOOD FOR YOUR HEART AND GREAT TO ENJOY DURING BERMUDA'S WINTER! 
ROASTED "HEART-Y" BOWLS 
Recipe from Myra Dill, Nutritionist and Behavioural Change Coach at EFit Bermuda 
You can simply roast a variety of vegetables you already have on hand or you can have some fun with different roasting flavors. Here's one of my favorite mixes below using as much local produce as I can. I also love to simply roast whatever veggies I have on hand (carrots, peppers, onions etc)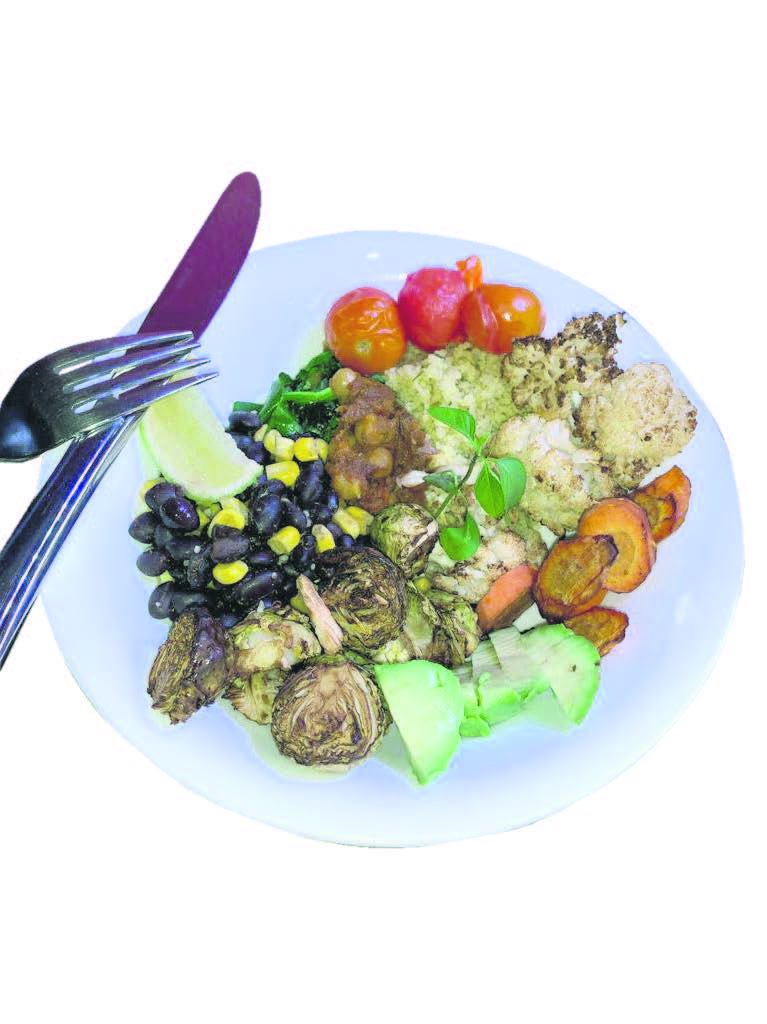 BASE 
1 bag or bunch, Baby spinach 
2 cups prepared cauliflower rice OR package of couscous made per directions 
CILANTRO-LIME BLACK BEANS 
1 (15-ounce) can black beans, rinsed 
½ cup frozen corn 
½ tsp ground cumin 
½ tsp salt 
¼ cup chopped basil 
2 TBSP fresh lime juice 
To make: In a small saucepan on medium heat, combine black beans, corn, ground cumin, and salt and cook until warm. Add chopped basil and fresh lime juice. 
BERMUDA HONEY – CHILI SWEET POTATOES 
2 TBSP olive oil 
2 TBSP Bermuda honey 
1 tsp chili powder 
¼ tsp cayenne 
¼ tsp salt 
2 medium sweet potatoes, 1/2-inch chunks 
To make: Whisk together olive oil, maple syrup, chili powder, cayenne, and salt. Toss with sweet potatoes. Roast on rimmed baking sheet at 425°F until golden brown and tender, stirring halfway through, 35 to 40 minutes (or 18 mins in air fryer at 400F) 
MARINATED BRUSSELS SPROUTS 
2 TBSP balsamic vinegar 
2 TBSP olive oil 
1 TBSP Dijon mustard 
¼ tsp salt 
¼ tsp Pepper 
1 lb Bermuda Brussels sprouts, halved 
To make: Whisk together balsamic vinegar, olive oil, Dijon mustard, salt, and pepper. Toss with halved brussels sprouts. Roast on a rimmed baking sheet at 425°F until liquid has evaporated, 20 minutes. (Or add to air fryer for 9 mins while potatoes are halfway done) 
DIRECTIONS 
Assemble bowls: Combine spinach, couscous, black beans, sweet potatoes, brussels sprouts. 
Add a protein: I love adding roasted chickpeas or hemp seed hearts or add a 6-minute boiled egg or some feta or goat cheese. You can also top this with shrimp, salmon, or to keep it budget friendly, add drained tinned tuna (in water). 
Top with extra herbs – basil, cilantro or chopped fennel to add additional layers of flavor and eye appeal. 
Serves 4. Estimated cost per serving if using additional egg and hempseed heart is $5.80 per person (using produce bought from local farmers)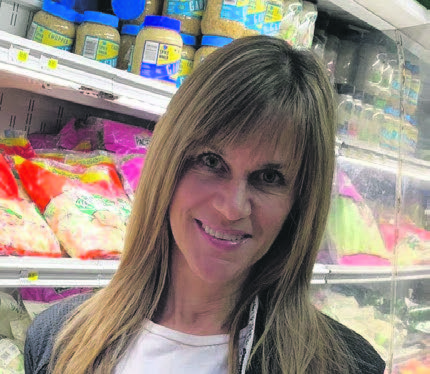 ---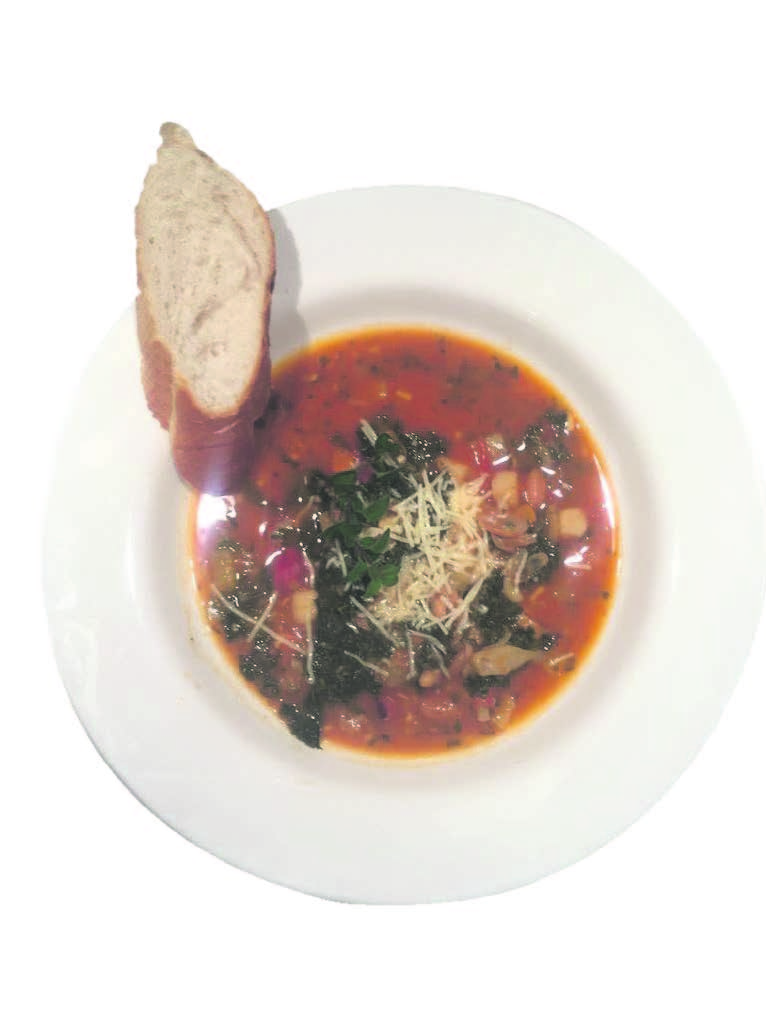 HEARTY WINTER VEGETABLE AND WHITE BEAN STEW WITH KALE 
by Chef Ben Tompkins 
2 TBSP Vegetable oil, plus 1 tsp separated 
4 oz Button mushrooms, halved 
2 medium Spanish onions, diced 
1 tsp kosher salt, divided 
1 cup carrot, peeled and diced 
1 cup celery, trimmed and diced 
1 fresh fennel, wispy greens and core removed, diced 
4 cups Winter veg mix – ex. turnip, rutabaga, parsnip, (avoid beets) peeled, trimmed, and diced – see step 1 
4+1 garlic cloves, minced 
1 can 28 oz whole plum tomatoes from Italy – no calcium chloride 
2 can 15 oz cannellini beans or another white bean, drained and rinsed 
2 cups potato, peeled and diced, in 2 cups water 
1 box 32 oz vegetable stock 
1 TBSP dry Italian seasoning 
1t ground black pepper 
2 cups white cabbage, thinly sliced (or a bag of slaw mix!) 
1 zucchini, trimmed and diced 
4 cups fresh kale, stalks removed, cut in large dice 
¼ cup packed fresh parsley, finely chopped 
¼ cup packed fresh basil and oregano, finely chopped 
2 TBSP fresh Parmesan (optional) 
¼ cup High quality Extra Virgin olive oil 
Additional herbs, cheese, and oil for serving 
DIRECTIONS 
Peel, pare, and trim ALL vegetables and herbs. Place unusable trim (potato peel, kale stalks, waxed rutabaga rind, dirty roots) in compost immediately. Place all usable trim (onion & garlic skin, carrot peels, celery tips, etc.) in a saucepan and cover with 3 cups cold water and bring to a boil, then simmer.

 

Meanwhile, decide on the size you will dice your vegetables. It's your choice. Too big however and it's difficult to eat with a spoon – too small and some vegetables will disintegrate before others finish cooking. I like a generous ¼" cube. Once peeled, I like to roughly square up the rounder roots (except potatoes) and add the trim to the stock pot along with any herb stalks and a bay leaf.

 

Heat 8 qt Dutch oven, or large soup pot, on medium heat. When hot, add 2 TBSP oil and heat briefly. Add onions, mushrooms and ½ tsp kosher salt. Stir vigorously to combine and increase heat to medium high. Cook 5 minutes until veg begin to sweat.

 

Add carrot, celery, fennel, and winter veg mix. Stir to combine and continue to sweat an additional 8 minutes or so. Stir frequently to prevent sticking. When veg begins to colour – push to one side of the pot. Add remaining 1 tsp vegetable oil to now empty side of the pot and drop in 4 cloves of minced garlic. Stir gently in oil until fragrant then fold in.

 

Add canned tomatoes – using juice to deglaze bottom of the pot. Add diced potatoes and the 2 cups of water, beans, box of stock, dried herbs, and pepper. Carefully drain homemade stock into stockpot, gently pressing to release juice. Compost solids. Bring stew to one boil, reduce heat and simmer gently 30 minutes.

 

Increase heat and return to boil. Add cabbage (or slaw mix), zucchini, and kale to pot. Use back of spoon to gently submerge kale into stew. Bring back to a simmer and cook 30 minutes more.

 

To finish – smash remaining garlic clove with the side of your knife. Sprinkle remaining salt on mashed garlic and continued to mince. Add chopped herbs and continue to chop and mix into a paste. Remove stew from heat and stir in herb/garlic paste and olive oil. Taste and season gently and repeat as needed.

 

Finish with Parmesan cheese if desired.